Russia Blames U.K. for Staging Gas Attack As Trump and May Consider Counter Response
A spokesperson for the Russian Defense Ministry said on Friday that a suspected chemical attack in Syria was staged by Britain's military forces.
Russian Defense Ministry spokesman Igor Konashenkov provided what he claimed were statements from medical professionals at the hospital where the victims in rebel-held Douma were treated. The statements, reviewed by the Associated Press, claim that people with video cameras came into the hospital and caused a "panic" by yelling about chemical weapons, but that there were no actual victims suffering from chemical injuries.
Without evidence, Konashenkov said that Britain was "directly involved in the provocation," the Associated Press reported. Russian foreign minister Sergei Lavrov made similar remarks during a Friday news conference.
The statements came as the U.S., U.K. and France reportedly consider responses to the attack, which Westerm leaders believe was ordered by the Syrian government. President Donald Trump went so far as to say that he would be sending "nice" and "smart" missiles at Syria and called President Bashar al-Assad a "gas killing animal."
Britain's Ambassador to the U.N. Karen Pierce called Russia's claim that her country was behind the chemical attack "a blatant lie," according to a tweet by the Associated Press.
Prime Minister Theresa May also vowed to "take action" against the Assad regime. Trump agreed with May on the necessity of a counter-response, according to a spokesperson for the Prime Minister.
The Syrian government, meanwhile, has denied any involvement in the April 7 incident, which left at least 70 dead and hundreds injured in a town that had been resisting government forces amid a seven-year-war. Russia, long an ally of Assad, has repeatedly denied Syrian involvement in the attack.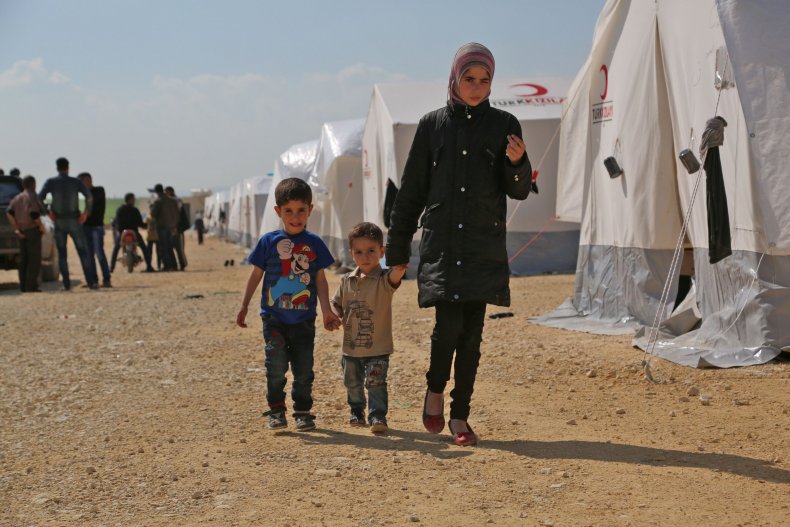 Russian Foreign Ministry spokeswoman Maria Zakharova said that a looming missile strike would be counterproductive and attempted to dissuade the United States from launching countermeasures.
"Smart missiles should be fired at terrorists and not at the legitimate government which has been fighting terrorists," Zakharova wrote on Facebook. "Or is the trick to destroy all the traces with a smart missile strike and then there will be no evidence for international inspectors to look for?"
On Tuesday, Russia vetoed a resolution that would have set up an investigation into the attacks.