Russia Blitzes Ukrainian Targets on Video With Deadly Orlan-10 Drones
A Russian Orlan-10 drone dropped bombs on a target in the Donbas region of Ukraine, Russian military officials said Tuesday, sharing video of the reported event.
The Russian Ministry of Defense (MoD) said the Orlan-10 unmanned aerial vehicles (UAVs) are used to assist civilians allegedly being used as human shields as well as to carry out reconnaissance operations to find Ukrainian ammo depots and military bases.
The footage released by Russia reportedly shows Russian troops loading one Orlan-10 UAV with missiles before it takes to the sky and bombs targets in a field.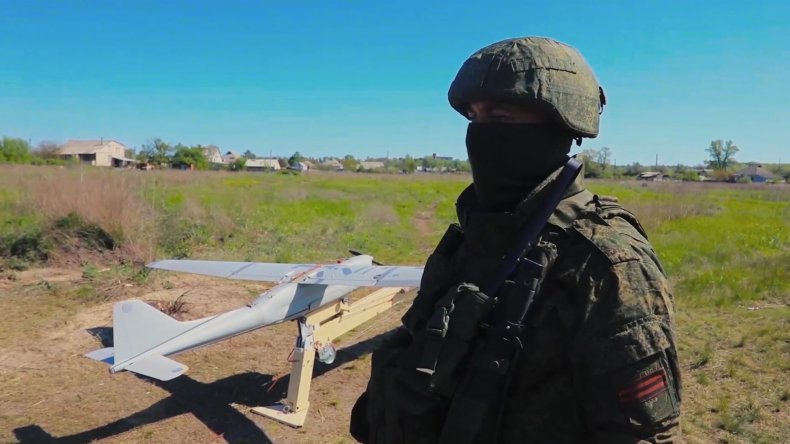 UAV operator Yevgeny said: "We are carrying out aerial reconnaissance operations, finding targets. We then pass on the coordinates to our artillerymen. They, in turn, prepare the artillery fire."
On May 17, the Russian MoD said that 265 Ukrainian fighters of the Azov Battalion surrendered at the Azovstal iron and steel plant in the under-siege city of Mariupol on Monday. Their fate remained unclear Tuesday.
In a statement obtained by Zenger News, the Russian Ministry of Defense (MoD) said on May 17: "The surrender of militants of the nationalist 'Azov' unit began yesterday at the 'Azovstal' plant in Mariupol.
"Over the past day, 265 militants laid down their arms and surrendered, including 51 seriously wounded. All those in need of medical care were sent for treatment to a hospital in the city of Novoazovsk, Donetsk People's Republic."
However, the General Staff of the Armed Forces of Ukraine said the invasion is not going as well as the Kremlin may have hoped.
From February 24 to May 17, the total combat losses of Russian troops stand at around 27,900 personnel, according to the General Staff of the Armed Forces of Ukraine.
The Ukrainian military also says that Russia has lost 1,235 tanks, 3,009 armored fighting vehicles, 578 artillery systems, 198 multiple launch rocket systems, 90 anti-aircraft systems, 201 warplanes, 167 helicopters, 2,109 motor vehicles and fuel tankers, 13 vessels, 436 unmanned aerial vehicles, 43 units of special equipment and 97 cruise missiles.
The Ukrainian military added that the Russian Armed Forces' greatest losses on May 16 were sustained in the Lyman and Zaporizhzhia directions.
Meanwhile, Turkish President Recep Tayyip Erdogan has suggested that he may block Finland's and Sweden's applications to join NATO after he accused the Nordic nations of harboring Kurdish militants who he regards as "terrorists."
Tuesday marks the 83rd day of the Russian "special military operation."
This story was provided to Newsweek by Zenger News.