Russia Is Blocking 'Hundreds' of Ships From Ukraine's Ports and the U.S. Wants It to Stop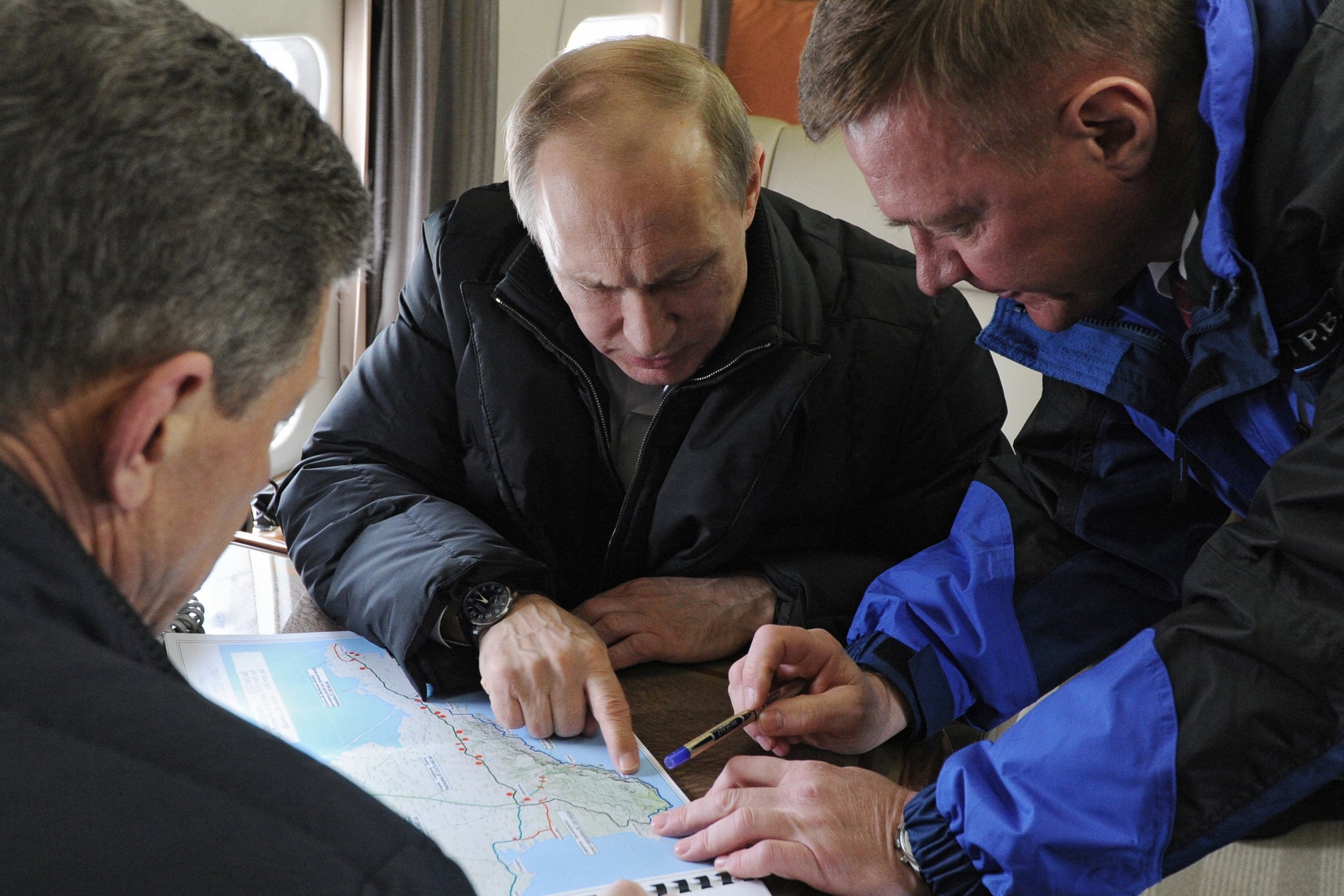 The United States has accused Russia of "harassment" in foreign waters by barring or delaying "hundreds of commercial vessels" from reaching ports in neighboring Ukraine.
The Department of State called on Moscow to restore international shipping firms' regular access to Ukraine's Sea of Azov coastline, as the Kremlin now exercises control over both sides of the strait that flows in and out of it. Russia annexed Crimea from Ukraine in 2014 and unveiled a drawbridge in the spring, spanning from the western to the eastern part of the strait, sealing the sea's only major link with the world ocean.
"Russia's actions to impede maritime transit are further examples of its ongoing campaign to undermine and destabilize Ukraine, as well as its disregard for international norms," the department wrote in a statement. The U.S. accused Russia of beginning to disrupt maritime travel to Ukraine in April, adding that "in recent weeks has stopped at least 16 commercial ships attempting to reach Ukrainian ports."
"The United States supports Ukraine's sovereignty and territorial integrity within its internationally recognized borders, extending to its territorial waters," the department said. "We call on Russia to cease its harassment of international shipping in the Sea of Azov and the Kerch Strait."
Ukraine has already filed a lawsuit against Russia's bridge to Crimea, arguing last year that the 12-mile road and railway link between the peninsula and Russia's Krasnodar region endangers its own ports in Mariupol and Berdyansk. Following the State Department's statement, Ukraine's Ministry of Foreign Affairs accused Russia of "stealing Ukraine's energy and fisheries resources, harming the livelihoods of Ukrainian fishermen, and blocking traffic to Ukrainian ports with its illegal bridge over the Kerch Strait, among other serious violations."
"Ukraine believes that Russia must and will be held accountable for its serious breaches of the international law of the sea," the statement from Kiev read.
Kiev and a majority of countries at the United Nations have refused to recognize Russia's control of Crimea as legitimate, casting aspersions over Moscow's right to build a bridge to its coast at all. However the perimeters of the bridge are what the Ukrainian government has objected to as well, suggesting they could be deliberately damaging to Ukrainian business in Mariupol and Berdyansk.
"The vessels that go there have a minimum draft of 9.6 meters (31 feet) and maximum 14 meters (46 feet). These are large, Panamax-type ships," Ukraine's Minister for Transport, Yury Lavrenyuk told Deutsche Welle in June. "Despite this Russia stipulates a maximum draft of eight meters."
Russia went on the offensive in response to the latest comments, as the Russian Embassy in Washington, defending ongoing delays at the strait as "legitimate inspections of vessels at the Sea of Azov."
"U.S. authorities keep generating new baseless accusations against Russia to misdirect attention from gross human rights violations in its satellite countries...not to mention in the U.S. itself," the embassy wrote in a Facebook post.