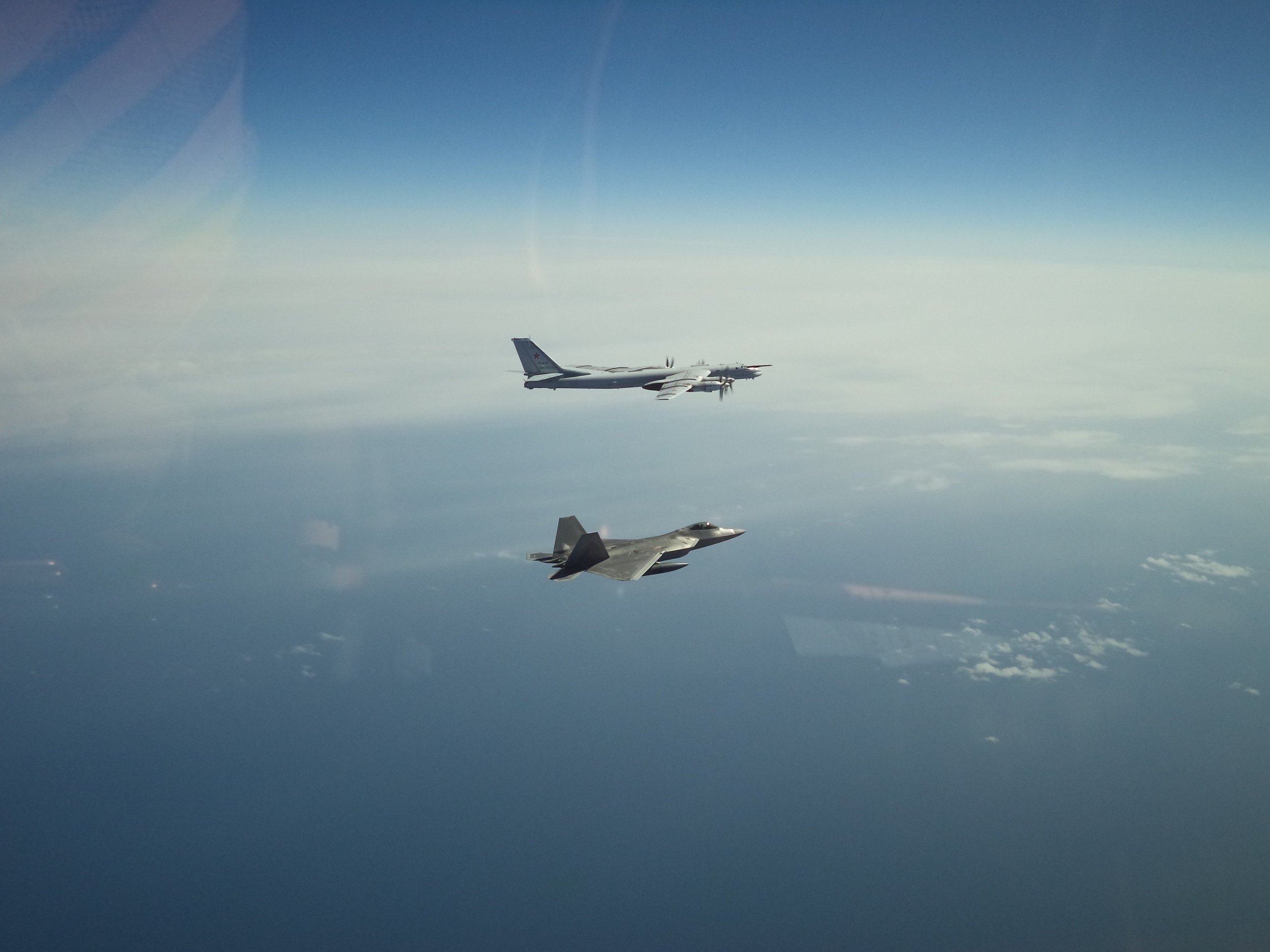 Russia has flown nuclear-capable bombers and fighter jets off the coast of Alaska twice in two days, drawing a response from the U.S. Air Force.
The Russian Defense Ministry said Wednesday in a statement that "two Tu-95MS strategic missile carriers of the Russian Aerospace Forces carried out planned flights in the airspace over the neutral waters of the Chukotka, Bering and Okhotsk seas, as well as along the western coast of Alaska and the northern coast of the Aleutian Islands." The statement was nearly identical to that of the previous day, when four Tu-95MSs took a similar route and were also "escorted by F-22 fighter jets of the USAF" at certain points.
This time the flight took 11 hours, as opposed to more than 12 last time, but Moscow again maintained that "long-range pilots make regular flights over neutral waters of the Arctic, North Atlantic, Black and Caspian seas and Pacific Ocean" and that this was "carried out in strict accordance with the International Airspace Management System without violating the borders of other states."
And once again, the North American Aerospace Defense Command (NORAD) put out a statement that also noted the presence of Russian Su-35 fighter jets.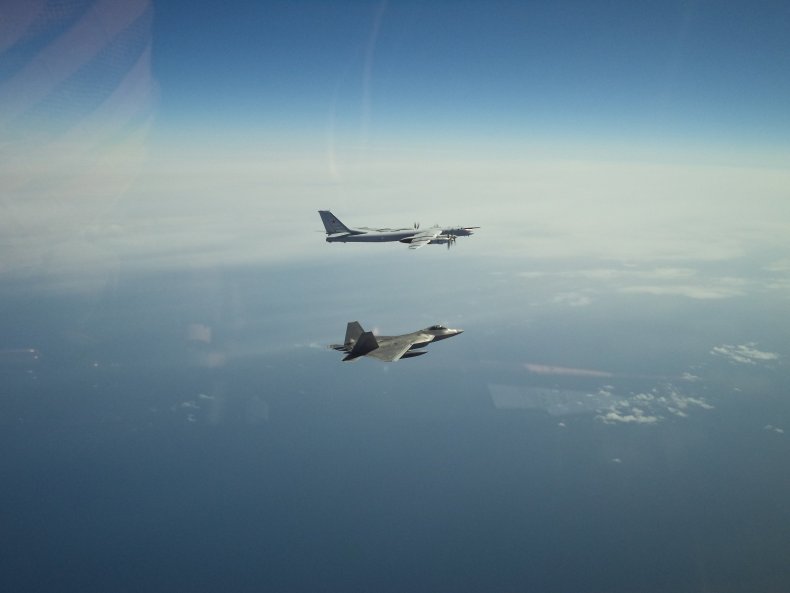 NORAD, which is the joint U.S.-Canadian organization that guards the skies over the northern stretch of North America that comprises the territory of the two allies, dispatched four F-22 fighter jets, accompanied by a KC-135 refueling aircraft and an E-3 airborne early warning and control aircraft. The entire incident took place in international airspace, over Alaska's Air Defense Identification Zone (ADIZ).
"Two pairs of F-22 fighter jets, each with an E-3 intercepted Tu-95 bombers Su-35 fighter jets entering the Alaskan ADIZ May 21. The bombers entered the ADIZ and were intercepted by two F-22s, exited and then re-entered the Alaskan ADIZ accompanied by two Su-35 fighter jets," a tweet from NORAD's official account read.
"NORAD committed an additional two F-22s and E-3 to relieve the initial intercept aircraft. A KC-135 refueling aircraft supported both of NORAD's intercept teams. The Russian aircraft remained in international airspace and at no time entered U.S. or Canadian sovereign airspace," it added.
As Newsweek noted in coverage of the previous day's incident, such occurrences were not uncommon as the U.S. and Russian mainlands were within 55 miles of one another and the two countries actually shared a chain of Bering Sea islands known as the Aleutian Islands. In a follow-up tweet, NORAD noted that it "intercepted an avg of approx. six to seven Russian sorties entering its ADIZ since Russia resumed long range aviation patrols in 2007."
"#WeHaveTheWatch," NORAD added, referring to a popular U.S. Navy slogan.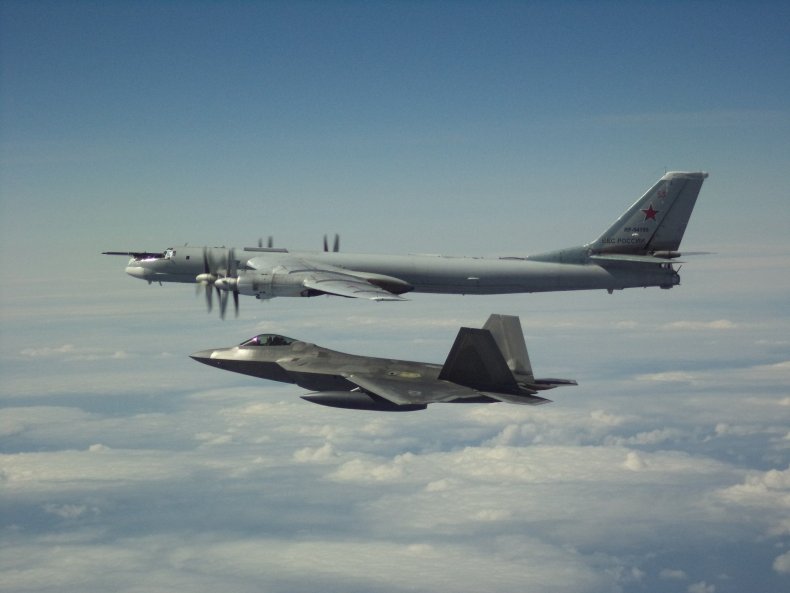 In yesterday's series of tweets, NORAD cited Air Force General Terrence J. O'Shaughnessy, the head of the military's Northern Command, as saying, "Our ability to deter and defeat threats to our citizens and vital infrastructure starts with detecting, tracking, and positively identifying aircraft in our airspace. We are on alert 24 hours a day, seven days a week, 365 days a year."
In two separate incidents that took place weeks apart in March, Russian Su-27 fighter jets intercepted a U.S. RC-135 reconnaissance aircraft and a U.S. B-52H strategic bomber flying over the Baltic Sea, where forces belonging both to Moscow and the U.S.-led NATO Western military alliance were located.
The U.S. and Russia, often considered the world's top two military powers, have long been in competition and, while their decades-long Cold War ended with the collapse of the Soviet Union in the early 1990s, their rivalry has witnessed a resurgence in recent years. Washington has viewed Moscow's recent military expansion and advancements as a threat to its own global dominance and has begun reconsidering arms control treaties as it sought to deploy a global missile shield that Russian officials have viewed as a threat to their own country's security.