Russian border guards are complaining about a lack of equipment amid the ongoing war in Ukraine, in line with grievances heard on the battlefield, a think tank has said.
The Institute for the Study of War (ISW), a U.S.-based think tank, noted in its latest analysis of the conflict in Ukraine on Monday that these complaints about a shortage of equipment have been amplified by Russian war correspondent Alexander Kots, who serves on the Kremlin's human rights council.
Publicly available figures indicate that Russia has lost a huge amount of equipment since Vladimir Putin invaded Ukraine more than 18 months ago. CNN reported on Monday that Ukraine is replacing its military equipment on the battlefield with dummies so that the Russian army wastes shells destroying decoy weapons.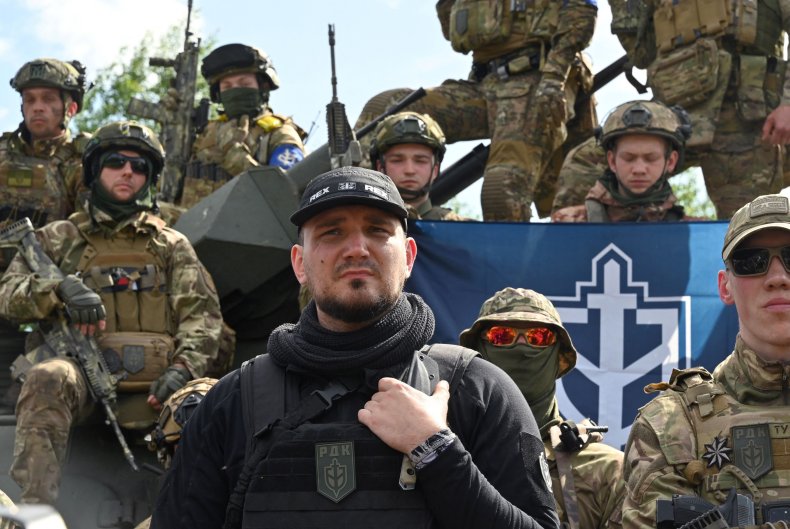 Russian troops stationed at the border with Ukraine are expressing "similar grievances about limited capabilities and equipment to those voiced by Russian troops serving in Ukraine and continued to express concern over potential Ukrainian raids into Russia," the ISW said.
Russian fighters serving in the Ukrainian Armed Forces—rebel groups the Russian Volunteer Corps (RVC) and the Freedom of Russia Legion—crossed from Ukraine into Russia's Belgorod region in late May. Days later, in early June Russian soldiers fighting the anti-Vladimir Putin militia complained that "entire regiments" were being wiped out, while Newsweek was told that the fighters had captured some of Russia's "trophy" equipment.
Newsweek has contacted Russia's Defense Ministry via email for comment.
Border guard units are poorly equipped and authorities have failed to supply them with sufficient digital communications systems, reconnaissance and strike drones, mobile transport, and medical supplies, Kots said.
He also noted that these grievances come from almost all border service departments within the Russian Federal Security Service (FSB).
Kots said in a post on his Telegram channel that he received a letter from Russian border guards that he took to be "a cry from the heart."
"These are guys who are caring and committed to fighting the enemy, who stand in the borderlands. And who are ready not only to repel attacks, but also to permanently terrorize the enemy," he wrote.
"But they just don't have enough resources for this. Here we are not talking about training camps, but about the systemic discrepancy between the equipment and armament of the combat operations units and the modern realities of combat operations."
"[Kots] noted that border service units formed task forces to participate in the Soviet war in Afghanistan and were equipped with artillery, aviation, and armored vehicles, implying modern FSB border guard units need similar capabilities," the ISW said.
The think tank added that Kots claimed these border guard units only receive anti-tank missiles and mortars from personal connections with Russian military units, and advocated for Russian authorities to provide better equipment—including self-propelled artillery systems and electronic warfare systems—to current border guards, especially those in Bryansk, Kursk, and Belgorod oblasts, which border Ukraine.
"[Kots]' reference to the Soviet border guards' participation in the war in Afghanistan and call for the provision of more complex systems suggest that Russian border guards continue to be concerned about the threat of possible Ukrainian cross-border raids into Russia and Ukrainian drone attacks on Russian territory," the ISW added.
Do you have a tip on a world news story that Newsweek should be covering? Do you have a question about the Russia-Ukraine war? Let us know via worldnews@newsweek.com.