Russia Breaks New Coronavirus Cases Record for Third Time in a Week
Russia has recorded its highest number of new coronavirus cases and deaths, with one prominent virologist from the medical institute that developed the country's vaccine against the disease warning that the peak rate of infections is still some weeks off.
For the third time within a week, the country broke its record for cases, with government figures on Tuesday showing a new daily record for infections of 13,868. The daily death toll of 244 was also 12 more than the country's previous record number of fatalities of 232, recorded on May 29.
Russia registered a record 12,126 new infections last Friday, which was quickly topped by 13,592 on Monday. Moscow recorded 4,618 infections on Tuesday, its highest number since mid-May.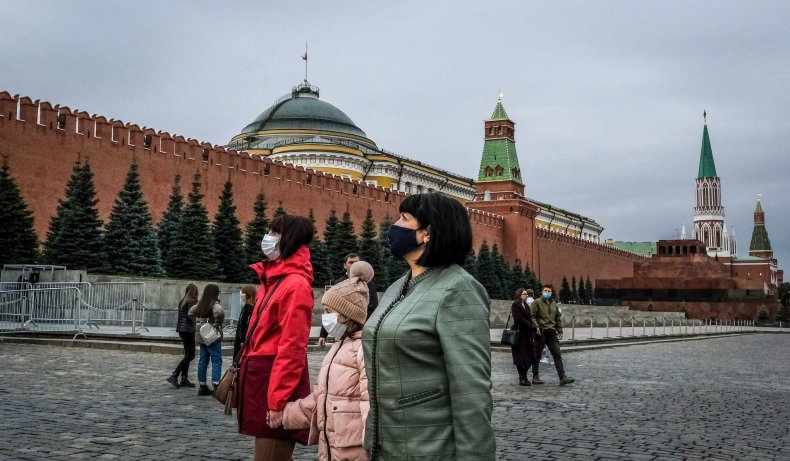 This brings the total number of cases to 1,326,178—the world's fourth highest, with the death toll standing at 22,966, although the country's statistics agency has suggested that the real toll may be twice as high.
Anatoly Alshtein, a virologist at the Gamaleya Research Institute which developed the Sputnik 5 vaccine, told TASS the infection rate has not yet hit its peak, and might "drag on" if Russians did not comply with anti-pandemic measures.
"Considering how quickly it started to grow, pretty soon we can reach peak numbers in a few weeks," Alshtein told Tass.
Despite the soaring numbers which The Moscow Times reported have prompted officials in nearly three dozen out of the country's 85 regions to put in place restrictions, there are no plans for nationwide measures to be implemented.
"Despite a growing number of cases, today in Russia we are not talking about blocking the economy, suspending some business activities, some sectors of the economy, because we see no reason to do this," Anna Popova, head of the consumer safety watchdog told an online government conference discussing the country's response to the pandemic, according to Tass.
She also called for the country to back the development of its vaccine, Sputnik 5, which was championed by Russian President Vladimir Putin, although is at the center of international controversy over the pace of its development, and its efficacy.
She said that the "information campaign" regarding the vaccine "is now extremely important...to prevent COVID dissidence, to prevent dissidence in relation to the vaccine."
"Because the vaccine is something that will certainly give us much more confidence," she added.
The graph below provided by Statista gives a snapshot of coronavirus numbers across the world.