Russia has started broadcasting propaganda on Ukrainian radio and television channels in Mariupol and other parts of the country under Russian control, a sign the Kremlin is stepping up efforts inside Ukraine to manipulate information about the invasion.
The Russian government has faced international condemnation for suppressing news of the war within its own borders. But Russia is also moving aggressively to block independent coverage — and spread disinformation — in the areas it now controls in Ukraine, further isolating civilians who are already cut off from the rest of the country and facing a growing humanitarian crisis.
An announcement last week on a radio station in Mariupol, which has been mostly cut off from electricity and access to clean water, told residents that "help won't come" and urged them to surrender, according to a video recording of the broadcast that was obtained by Newsweek and independently verified.
"In case of further resistance, you are destined to die. Your only chance to survive is to give up your arms and leave Mariupol through the humanitarian corridor," an ominous-sounding voice warned in Russian. The speaker said the message was coming from the Donetsk People's Republic, one of two separatist regions in eastern Ukraine that Russia has recognized as independent.
The message was broadcast the same week that Ukrainian officials accused Russia of bombing civilian targets in Mariupol and blocking a humanitarian convoy from reaching the city.
"On one hand, you have the physical bombing of cities," Volodymyr Omelyan, who served as Ukraine's minister of infrastructure from 2016 to 2019, said in a phone interview with Newsweek. "On the other hand, Russia wants to control information and make fake news, which gets people scared."
"They're trying to broadcast through TV channels and regional media in Ukraine" as a means to sow fear and confusion in the country, Omelyan added.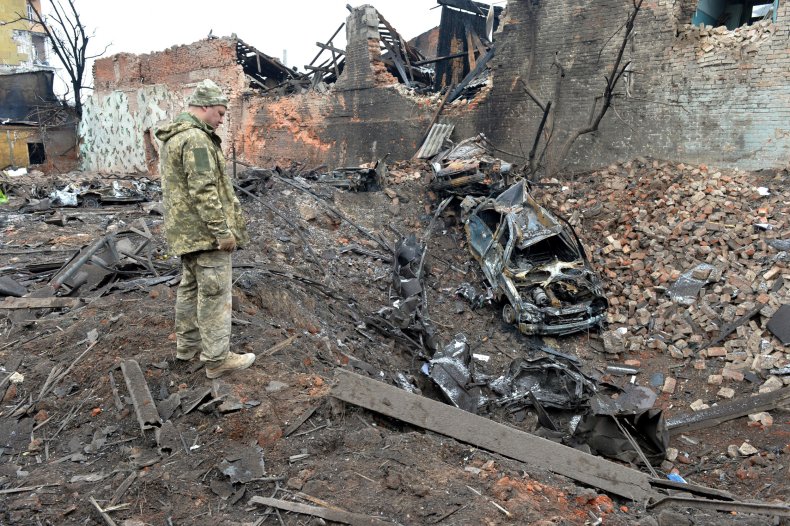 Sources shared another recording with Newsweek of what they said was a broadcast by Russian authorities on a Ukrainian radio station in the Zaporizhzhia region, though the video could not be independently verified. In the message, a voice in Russian says that measures would be taken to lower the cost of gas and heating, and cancel "all debts on credit and borrowing" for residents in the area, in order to boost the local economy.
The message referred to Zaporizhzhia, the site of a Russian attack on the country's largest nuclear power plant, as a "liberated" area.
In the southern port city of Melitopol, the official put in charge by Russian forces after they abducted its mayor announced Sunday that the region would start broadcasting Russian TV channels. The official, Galina Danilchenko, asked residents to tune in to "receive credible information."
The push to seize control of local Ukrainian airwaves, including the previously unreported radio broadcast in Mariupol, comes as Russia continues targeting media and internet infrastructure across Ukraine.
Russia has been "systematically bombing TV towers" from the start of the invasion, Maryan Zablotskyy, a member of the Ukrainian Parliament, told Newsweek in a phone interview. "It's one of the first things they did."
Russia fired two rockets Monday at a television tower in the western city of Rivne, killing nine people, according to Ukrainian authorities.
A Russian airstrike targeting the main television tower in Kyiv, the Ukrainian capital, during the first week of the war killed five people and knocked out some broadcasts, Ukrainian officials said at the time.
Russia has also targeted television and radio towers in Kharkiv, Ukraine's second-largest city, as well as Korosten, Lysychansk and other cities throughout the country. The operations of more than 30 Ukrainian television stations and dozens of radio stations have been affected by Russia since the war began, according to the media advocacy group Reporters Without Borders.
The organization filed a complaint with the chief prosecutor of the International Criminal Court earlier this month alleging that the attacks were a war crime because Russia was deliberately targeting non-military infrastructure.
"These crimes are all the more serious for clearly being part of a plan, part of a policy, and for being carried out on a large scale," Christophe Deloire, the secretary-general of Reporters Without Borders, said in a statement.
Russia has denied targeting civilians or civilian infrastructure, while defending its actions in Ukraine.
Independent news coverage has continued in parts of Ukraine that have not fallen to Russian forces. There is a large international media presence in western Ukraine, which until recently had not been targeted by Russian airstrikes. Many Ukrainian television and radio shows have also continued to operate, and several people said in phone interviews that they try to seek out trusted news sources and are wary of fake news or disinformation from Russia.
"We're all trying to get official information," said Alesia Batsman, a prominent media personality who runs a popular website and news show on YouTube. "We understand how important that is now."
News and information about the invasion is also widely available on social media platforms like Facebook and through Telegram, a secure messaging app where Ukrainians share photographs, videos and articles about the war.
Russia did not take these new forms of information sharing and communication into account when launching the invasion, said Michael David-Fox, the director of Georgetown University's Center for Eurasian, Russian, and Eastern European Studies.
President Vladimir Putin of Russia "may be overly optimistic that a propaganda barrage like the one we've seen in Russia can turn people's outlooks around in Ukraine," he said.
Ukraine's President Volodymyr Zelensky and his top officials have relied on social media in the early weeks of the war to combat Russian disinformation. Zelensky's decision to remain in the capital while rallying the world in support of Ukraine has turned him into an international hero, said Zablotskyy, the member of the Ukrainian Parliament.
"A selfie video of him in the center of the city or his office gets the message out immediately," Zablotskyy said.
That can continue, along with traditional forms of news, so long as Kyiv and other areas have access to the internet. At the start of the war, many Ukrainian television channels quickly set up back-up streams to be able to shift entirely online if Russia were to knock out their TV towers, a source at one of the country's largest television stations said.
SpaceX CEO Elon Musk also sent a tranche of Starlink terminals to Ukraine, providing more access to the satellite internet service. Downloads of the Starlink app skyrocketed on Monday, according to a Wall Street Journal report.
But those options won't help right now in cities controlled by Russian forces where electricity and internet access has been cut, and there is little information coming in or going out, said Omelyan, the former infrastructure minister.
"If you're isolated, especially in a city like Mariupol or Kharkiv" without "regular access to information, you feel abandoned," Omelyan said. "That's what the Russians are trying to do, to try and make people think the war is lost."