Russia Built a Robot That Can Shoot Guns and Travel to Space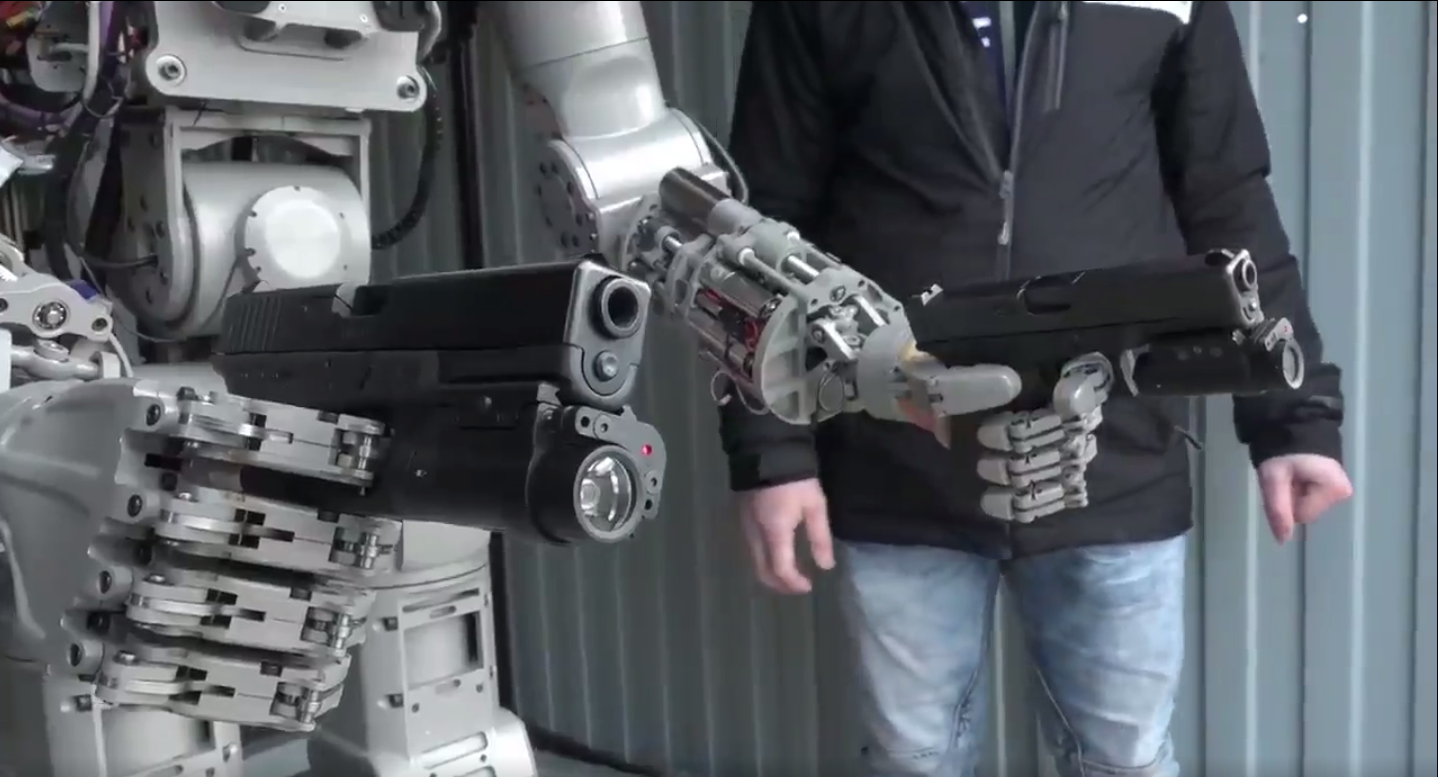 A Russian technology company and military research agency have teamed up to create a firearm-wielding robot that they plan on sending to space.
The futuristic sharpshooter named FEDOR (Final Experimental Demonstration Object Research) was initially designed by Russian firm Android Technics and the government's Advanced Research Fund for search and rescue missions. The project was commissioned by the Russian government as its first domestically produced anthropomorphic robot.
"FEDOR was designed as an android able to replace humans in high-risk areas, such as rescue operations. For this purpose, it was necessary to teach him to work independently in an urban environment, navigate the terrain, drive a car, to handle special tools, first aid and other actions," Andrey Grigoriev, director of Russia's Advanced Research Fund, told Russia's state-run RIA Novosti last week.
Related: Will AI Turn Humans into Pets?
FEDOR garnered praise from Russian Deputy Prime Minister Dmitry Rogozin, who lauded the robot's "decision-making and motor skills" in a tweet Thursday in which he also declared that Russia was "not creating a Terminator, but artificial intelligence that will be of great practical significance in various fields." A day later, he shared a video of FEDOR firing two pistols akimbo-style at targets.
Not only can FEDOR dual-wield handguns, its advanced programming also allows it to perform other complex tasks such as driving and steering vehicles, as well as various fitness exercises. The Russian government plans to send the robot to space, where it would be the sole passenger on Russian space freighter Federatsiya's first flight in 2021, Australia's Nine News reported.
FEDOR still reportedly needs work, however, and Russia's Advanced Rearch Fund announced last week an open contest in conjunction with Russia's Ministry of Education to find programmers capable of developing high-tech software for the robot, according to Grigoriev. The competition will reportedly begin in May and run through February 28, 2018. It is open to Russian undergraduates, graduate students, researchers, professors and creative teams.