Putin Says Scientists Killed in Mystery Nuclear Blast Were Testing 'the Most Advanced and Unparalleled' Weapon
Russian President Vladimir Putin has told the families of the scientists who were killed in a nuclear explosion in the country's Arctic north they were testing an "unparalleled" weapon.
There was much speculation about what caused the blast at a test facility in Nyonoksa in the Arkhangelsk region on August 8, which killed at least five people and sparked local fears about increased radiation levels and the secrecy surrounding the incident.
International experts believed the explosion involved the Burevestnik nuclear-powered intercontinental cruise missile, which NATO calls the SSC-X-9 Skyfall.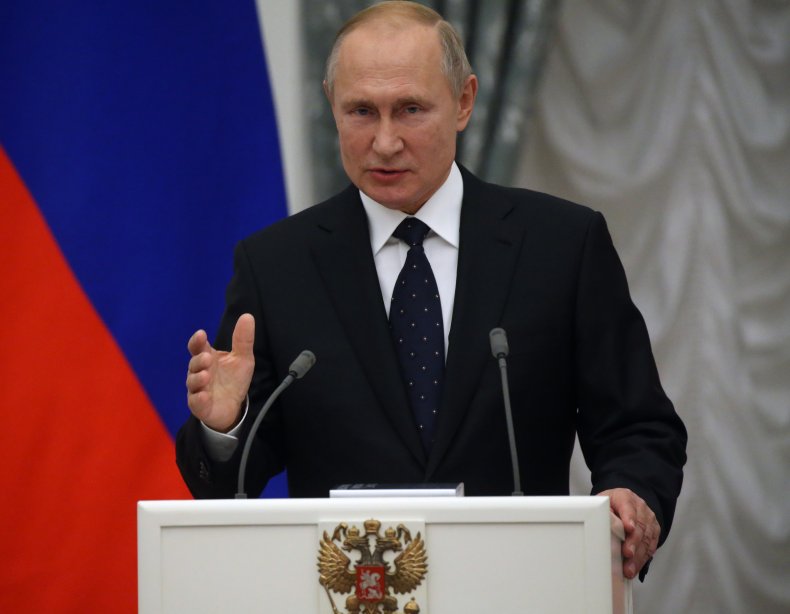 In a ceremony at the Kremlin on Thursday for the families of the dead, Putin paid tribute to the efforts of the dead scientists by awarding them the Order of Courage.
He said that the scientists were working on "the most advanced and unparalleled technical ideas and solutions, about weapons designed to ensure Russia's sovereignty and security for decades to come," in the speech which was broadcast on news channel Russia 24 and picked up by The Moscow Times.
"The very fact of possessing these unique technologies is the most important reliable guarantee of peace on the planet today," he said.

Without specifying what kind it was, Putin added, "we will certainly be perfecting this weapon regardless of anything," he said.
"This is not any ordinary work that led to this tragedy. To devote oneself, one's life to such a thing is the courageous, serious choice of a real man, citizen and patriot of the country," he added in the same speech, in comments reported by RIA Novosti.
"The world is for our children, for your children who are growing up with you, they are rightly proud of their fathers. We are all proud of them and will always remember them," Putin added.
Russia's nuclear agency Rosatom said the scientists had been testing on an offshore platform at the Nyonoksa naval test range in August when a fire broke out and an engine exploded.
Radiation levels hit up to 16 times more than normal in the nearest big city, Severodvinsk, around 30 miles away. Many locals were concerned about the lack of transparency about the explosion.
Monitoring stations nearby stopped transmitting data and medical staff in Archangelsk complained they were not warned about the radiation contamination risk when they treated workers who were injured in the blast.
U.S. intelligence sources told CNBC that the blast happened during an attempt to salvage a lost missile from a previous test.
"There was an explosion on one of the vessels involved in the recovery and that caused a reaction in the missile's nuclear core which lead to the radiation leak," a source told the news network in August.