Russia Calls Ceasefire for Evacuation of Citizens From Decimated Mariupol
Russian military officials say they'll halt fighting in Mariupol, one of Ukraine's most war-ravaged cities, to allow thousands of civilians to flee.
The Russian Defense Ministry made the announcement Wednesday as Ukrainian officials and others reacted skeptically to claims from Russia that it would draw down its troops. But Ukrainian officials said they have agreed to a humanitarian corridor to provide relief for residents of Mariupol who have remained in the city without food, water, heat or electricity.
The ministry said it will allow civilians to leave from the southern port city of Mariupol to Zaporizhzhia, roughly 140 miles away, according to a statement obtained by Sky News. Under the arrangement, the Russian military will allow civilians to leave using the corridor of Berdiansk under its control.
A day earlier, Ukrainian President Volodymyr Zelensky said that while positive signals were coming from negotiations to end the conflict, he said "these signals do not drown out the ruptures of Russian shells."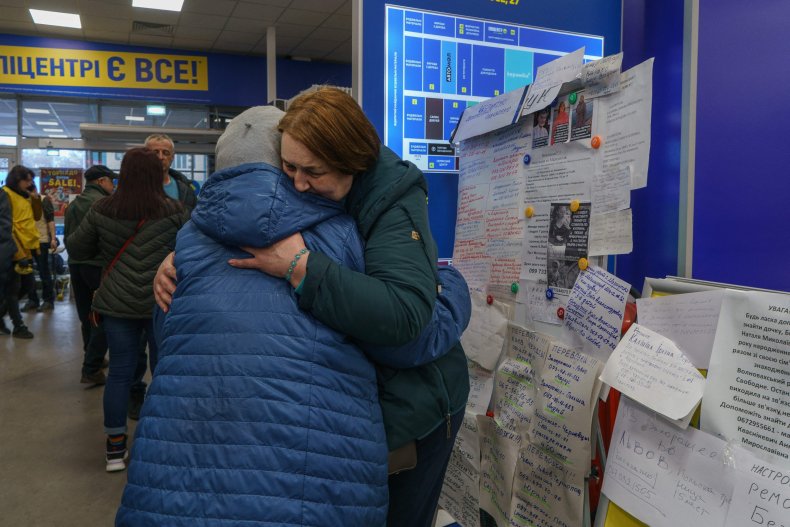 Despite Zelensky's suspicions, Ukraine's Deputy Prime Minister Iryna Vereshchuk said Wednesday that humanitarian corridors have been agreed to in the Zaporizhzhia region to allow tens of thousands of civilians in Mariupol to evacuate.
"For this humanitarian operation to succeed, we propose to carry it out with the direct participation of the UN High Commissioner for Refugees and the International Committee of the Red Cross," the Russian Defense Ministry said in its statement.
The International Committee of the Red Cross (ICRC) said on Twitter Wednesday that images of its damaged warehouses in Mariupol have been circulating online and it does not have "firsthand information of what happened."
"But right now, tens of thousands are trapped in the city and need help," the humanitarian group said. "They urgently need a safe passage out. We need to be able to safely bring them aid."
Caitlin Kelly, ICRC spokeswoman, told Newsweek in an email that its teams are currently traveling with medical supplies and relief items to help civilians safely leave Mariupol. She said teams will be ready Friday if all parties agree to terms around the route, start time and duration, adding that "it's desperately important that this operation takes place."
Filippo Grandi, United Nations high commissioner for refugees (UNHCR), said on Twitter Wednesday that he had arrived in Ukraine to discuss ways to increase aid for people affected by the war. He said that 4 million refugees had fled Ukraine five weeks since Russia invaded Ukraine.
Neither Grandi nor the ICRC mentioned a ceasefire or humanitarian corridor in their tweets. Newsweek has reached out to the UNHCR for comment.
Vereshchuk said the Ukrainian government was also considering proposals for additional humanitarian corridors in the Kharkiv, Kyiv, Kherson, Chernihiv, Sumy, Zaporizhzhia, Donetsk, Luhansk and Mykolaiv regions.
However, Zelensky said in a speech Wednesday that he remained skeptical after nearly five weeks of fighting.
"We do not believe anyone—we do not trust any beautiful verbal constructions," he said. "There is a real situation on the battlefield. And now—this is the most important thing. We will not give up anything. And we will fight for every meter of our land, for every our person."
Update (3/31, 4:30 p.m.): This story has been updated to include comment from ICRC.