Russia Calls Report of Poland Missile Strike a 'Provocation'
Russia dismissed reports its missiles struck a Polish village on Tuesday as a "provocation" amid mounting concerns of further strained tensions between Russia and the West.
U.S. security officials said Russian missiles crossed into Poland, which borders Ukraine, on Tuesday, according to the Associated Press. The missiles reportedly struck the village of Przewodów, killing two people. Polish authorities were holding an emergency meeting due to a "crisis situation" but had not publicly commented on the strike.
Russia released a statement in response to these reports through state-run media organization Tass.
"The statements of the Polish media and officials about the fall of 'Russian' missiles in the Przewoduv region are a deliberate provocation, the Russian armed forces did not strike any targets near the Ukrainian-Polish border, the Russian Defense Ministry said," Tass reported.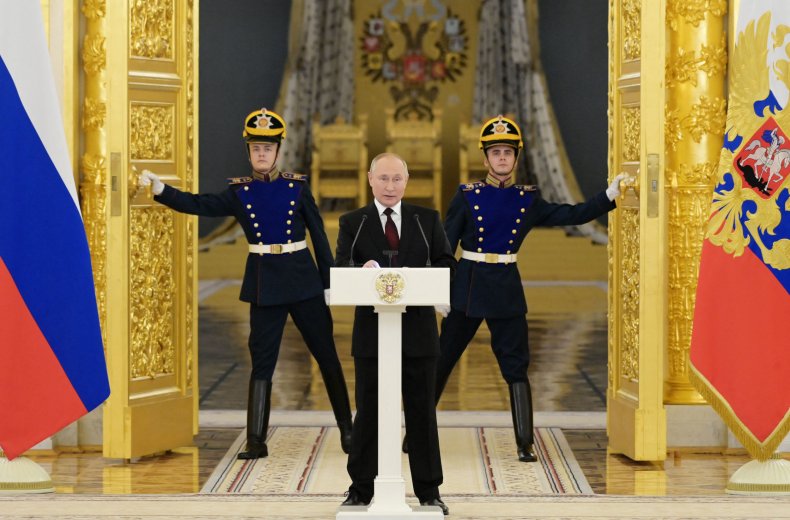 The strike represents the first time a Russian missile hit a country that is a part of the North Atlantic Treaty Organization (NATO). Any NATO member state that has been attacked can trigger an international response by invoking Article 5, but Poland has not done so or indicated it plans to.
The reported strike drew international concern on Tuesday from Poland's allies, including the United States.
Pentagon press secretary Patrick Ryder said on Tuesday U.S. defense officials are aware of the reports and committed the U.S. to defending NATO.
"When it comes to our security commitments and Article 5, we've been crystal clear that we will defend every inch of NATO territory," he said.
A Pentagon spokesperson told Newsweek: "We are looking into these reports and closely coordinating with our ally Poland."
Artis Pabriks, deputy prime minister and minister of defense in Latvia, said in a tweet: "My condolences to our Polish brothers in arms. Criminal Russian regime fired missiles which target not only Ukrainian civilians but also landed on NATO territory in Poland. Latvia fully stands with Polish friends and condemns this crime."
In the aftermath of the strike, some social media users fretted over how the international community would respond, prompting "World War III" to trend on Twitter.
Russia launched several strikes against Ukraine's infrastructure as its military struggles to achieve substantial goals nearly nine months after Russian President Vladimir Putin launched the invasion.
While strikes did not hit Moldova, they prompted widespread power outages in the country, located south of Ukraine, as a safety precaution. One Ukrainian official warned the Russian strikes could affect neighboring countries just hours before the Polish strikes were confirmed.
Update 11/15/2022 6:00 p.m. ET: This article was updated with additional information.