Alleged Cat Drug Mule Swapped Out for Impostor During Russian Court Appearance, Claims Lawyer
The true identity of a prison yard cat is at the center of a Russian drug smuggling case.
Two men have been accused of using a secret pocket in a cat's collar to get hashish and amphetamines into a prison in Novomoskovsk, in the Tula region, south of Moscow.
The cat had lived in the yard of the prison before being taken home by a released inmate, according to The Moscow Times.
Police arrested the men near the jail's fence and the cat they allegedly used was taken away as evidence, in August 2018. Footage of the arrest was posted on YouTube by the local news channel Sloboda Tula.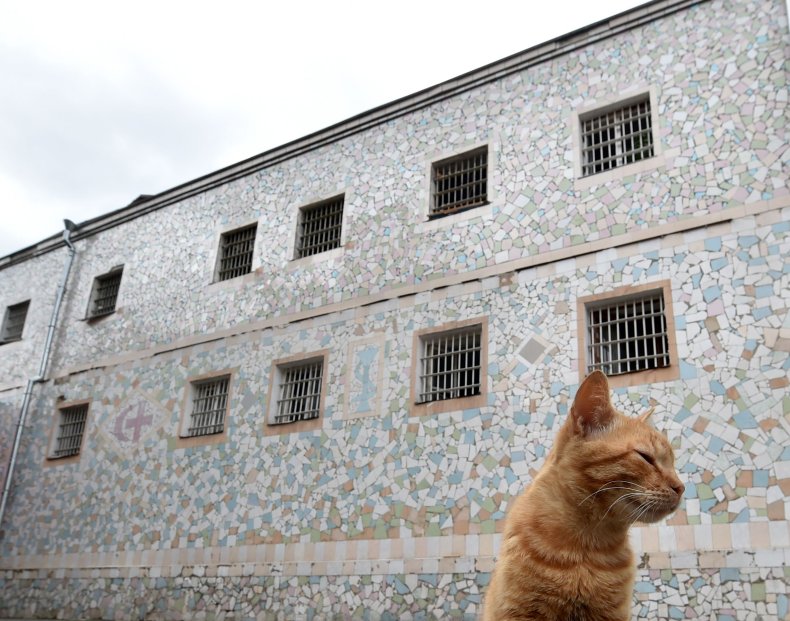 Prosecutors say the men wanted to release the gray/black tabby near the prison and then wait for it to return to them after the drugs had been transferred.
Dmitry Sotnikov, a lawyer for one of the alleged felons, Eduard Dolgintsev, urged investigators to test how the original cat could have carried out such a drug-smuggling operation.
However, the whole case threatened to fall apart after animal keepers said they had misplaced the cat, The Moscow Times reported.
But during a court hearing on Monday, prosecutors said the cat had, in fact, been relocated, and it was placed on the judge's desk, in a crate.
But Sotnikov said it was a different cat to the one that had been photographed during the initial investigation.
For Sotnikov, the appearance of the copycat was an attempt to swap evidence.
"It raises the question of why do you need to falsify the evidence and who is responsible for this falsification," he told Kommersant.
The case has been adjourned until Thursday after Sotnikov complained to the court.
Anatoly Loginov, a partner at legal firm Pen & Paper Bar, told Kommersant that swapping evidence was against Russia's Criminal Code, adding: "Of course the court should be presented with the exact object that is recognized as material evidence."
Another unusual Russian cat story took place last month, when Gennady Shcherbakov, 59, was arrested for allegedly drunkenly throwing a feline at a police officer in the stairwell of a Moscow apartment building.
The officer suffered injuries to his face after the feline sunk its claws into his face, according to the Baza Telegram channel.
Shcherbakov denied the charge of violence against the police, insisting that the cat had jumped at the officer of its own will. If convicted, he could face five years in prison.