Russia Has 'Changed Its Approach Again' After Costly Advances: U.K.
Russia has likely shifted its approach to President Vladimir Putin's war in neighboring Ukraine in recent weeks to pursue a "long-term operation," the British Ministry of Defense has assessed.
In its latest assessment of the conflict in Ukraine, which hit the one-year mark on Friday, the ministry noted that Russia's strategic goal in Ukraine since 2014, when Putin's forces first invaded the country and annexed the Crimean peninsula, has highly likely been consistent, "to control its neighbour."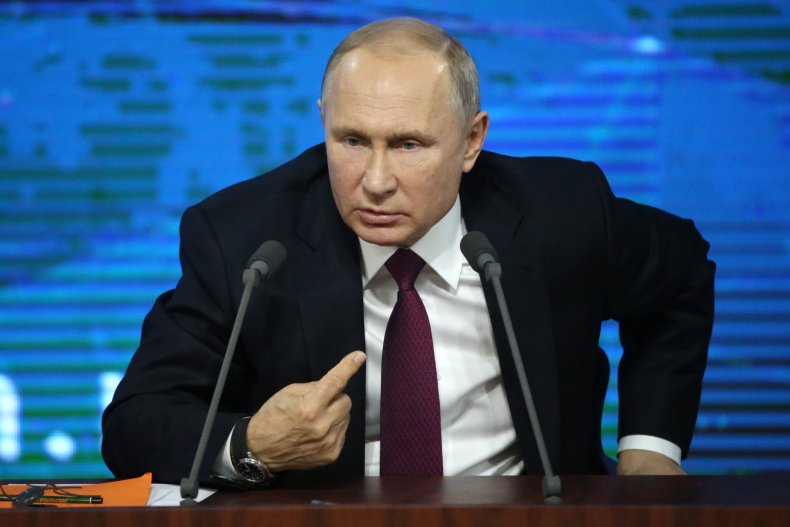 Russia pursued this objective from then, up until Putin's ongoing full-scale invasion of Ukraine in February 2022, "through subversion" and by "fomenting an undeclared war" in Ukraine's eastern Donbas region.
"On 24 February 2022, Russia pivoted to a new approach and launched a full-scale invasion which attempted to seize the whole country and depose its government," the ministry said.
It assessed that by April 2022, Russia realized this new approach had failed, and so focused on expanding and formalizing its rule over the Donbas and Ukraine's south.
"It has made slow and extremely costly progress," the British Defense Ministry said, noting that in recent weeks, Russia had likely changed its approach once again.
"Its campaign now likely primarily seeks to degrade the Ukrainian military, rather than being focused on seizing substantial new territory," it said.
The Russian leadership is now likely "pursuing a long-term operation where they bank that Russia's advantages in population and resources will eventually exhaust Ukraine."
Ukrainian President Volodymyr Zelensky published a video on the anniversary of the start of Putin's full-scale invasion on his Telegram channel, describing the past 12 months as "a year of pain, a year of hope, a year of tears, a year of unity, a year that continues."
"On February 24, millions of us made a choice: not a white flag, but a blue and yellow flag. Not an escape, but a meeting. Meeting the enemy. Resistance and struggle," Zelensky said.
"This is the year of our indestructibility. We know that this will be the year of our victory!" he stressed.
Former Russian President Dmitry Medvedev also published a statement on his Telegram channel on Friday morning, vowing Russian victory.
"It's been a year since the special operation has been going on," wrote Medvedev, who now serves as deputy chairman of Russia's Security Council. "Victory will be achieved. We all want this to happen as soon as possible. And that day will come."
On Thursday, the United Nations General Assembly voted overwhelmingly to adopt a resolution condemning Russia's invasion of Ukraine.
During an emergency session Thursday, 141 nations approved the resolution calling for Russia to "immediately, completely and unconditionally withdraw all of its military forces from the territory of Ukraine."
Newsweek has contacted Russia's Foreign Ministry for comment.
Do you have a tip on a world news story that Newsweek should be covering? Do you have a question about the Russia-Ukraine war? Let us know via worldnews@newsweek.com.