Russia Has 'Changed Tactics' as Ukraine War Heads for Next Phase
Russian forces "have changed their tactics" as the first anniversary of the full-scale invasion of Ukraine approaches, according to Kyiv.
On Thursday, the Ukrainian Air Force reported fresh waves of missile strikes hitting different regions of the war-torn country throughout the night.
Writing in an operational update on Facebook, the air force said Moscow had targeted critical infrastructure. Russia launched 32 missiles, it added, including eight "Kalibr" missiles from a frigate in the Black Sea.
Ukraine's air defense systems intercepted half of the missiles, the air force said. Strikes were reported in the central regions, as well as in the north and west of Ukraine.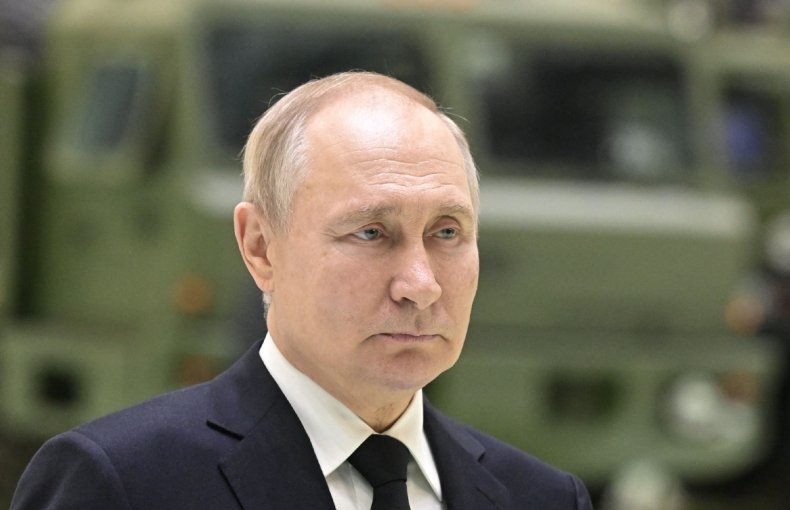 The missile strikes took place in a two-hour window between 1.40 a.m. and 3.45 a.m. local time, according to Ukrainian General Valery Zaluzhny. The missiles were a mixture of cruise missiles, guided air and anti-ship missiles, the commander-in-chief of Ukraine's armed forces added.
"The Russians have changed their tactics somewhat," Andriy Yermak, the head of Ukrainian President Volodymyr Zelensky's office, wrote on Telegram when discussing the strikes. "They conduct active reconnaissance, use false targets."
Newsweek reached out to the Russian Defense Ministry for comment.
On Wednesday, Kyiv said six Russian balloons had been seen above the capital. The balloons were shot down by Ukrainian air defenses, it added.
"According to information that is now being clarified, these were balloons that move in the air under the propulsion of wind," the administration said, adding they may have been intended to "detect and exhaust our air defenses."
Yuriy Ihnat, a spokesperson for Ukraine's air force, suggested the appearance of balloons could be a move towards protecting its reserves of reconnaissance drones, according to Reuters.
He said Moscow could favor the balloons over the likes of the Orlan-10 reconnaissance UAV, or unmanned aerial vehicle. It is not known how many Orlan-10 drones Russia has lost, but Ukraine's air force most recently said it had downed one Orlan-10 on February 11.
The air force lists Orlan-10 drones as one of the operational-tactical level UAVs deployed in Ukraine. In an updated tally, Ukraine's General Staff of the Armed Forces said on Thursday that Russia had lost a total of 2,012 operational-tactical level UAVs since the invasion began.
"Reconnaissance drones like the Orlan-10 are now being used more sparingly (by Russia), and they thought 'Why don't we use these balloons?' So they are using them," Ihnat said during a Ukrainian television broadcast.
Ukrainian officials have predicted that Russian forces will imminently launch a new offensive to coincide with marking one year since the beginning of the full-scale war.
Ukraine's defense minister, Oleksiy Reznikov, said at the start of this month that Moscow would attempt to "try something around February 24" because of the "symbolism" of the date. Other Ukrainian officials have suggested this could come even sooner, although western analysts have doubted Russia's ability to successfully carry out new offensive operations.