Russia, China and Iran Have 'Ongoing' Election Interference Campaigns Ahead of Midterm Elections, Officials Say
Russia, China, Iran and some other foreign countries have "ongoing campaigns" to influence U.S. elections ahead of the November midterms that are causing concern within the national intelligence communities.
On Friday, less than three weeks away from the November 6 elections, the Office of the Director of National Intelligence, the Department of Justice, the FBI and the Department of Homeland Security issued a joint statement on combating foreign influence in U.S. elections.
"We are concerned about ongoing campaigns by Russia, China and other foreign actors, including Iran, to undermine confidence in democratic institutions and influence public sentiment and government policies," the statement read. "These activities also may seek to influence voter perceptions and decision making in the 2018 and 2020 U.S. elections."
Interference campaigns could come in the form of social media posts stirring controversy on divisive issues, spreading propaganda, sponsoring content in English-language media and seeding disinformation on candidates, according to the agencies.
The agencies are worried, but actual interference has not yet been proven.
"Currently, we do not have any evidence of a compromise or disruption of infrastructure that would enable adversaries to prevent voting, change vote counts or disrupt our ability to tally votes in the midterm elections," the statement read.
Some state and local governments have reported attempts by foreign governments to hack into their networks and voter registration databases. According to the agencies, authorities have successfully blocked the intruders.
"We will continue to work with state and local election officials to increase the security and resilience of their systems and remain committed to supporting their actions to counter any threat to or attack on the 2018 midterm elections and beyond," the statement added.
The statement was issued the same day that the Justice Department charged a Russian woman, Elena Alekseevna Khusyaynova, with conspiracy for allegedly trying to meddle and influence the 2018 midterm elections through social media. They were the first charges to be brought against a foreign national for attempting to interfere in the upcoming election cycle.
"This case serves as a stark reminder to all Americans: Our foreign adversaries continue their efforts to interfere in our democracy by creating social and political division, spreading distrust in our political system, and advocating for the support or defeat of particular political candidates," FBI Director Christopher Wray said in a statement Friday.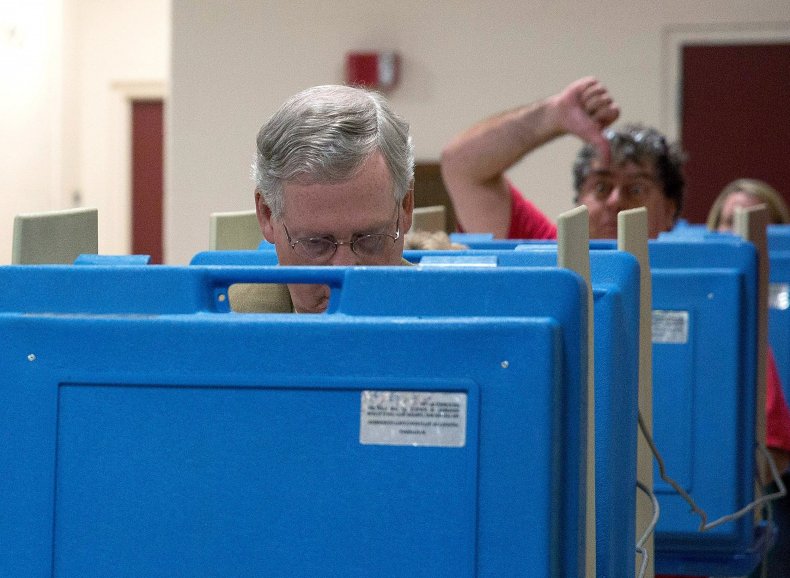 Election interference became an alarming issue in the aftermath of the 2016 presidential election, with special counsel Robert Mueller carrying out an investigation into possible collusion between President Donald Trump's campaign and Russia to damage his opponent Hillary Clinton.