Russia and China Declare Closer Military Ties in 'New Stage' As They Resist U.S.
Russia and China—the two leading rivals of the U.S. military—vowed in their latest meeting to pursue new defense ties as they faced heightened pressure from Washington in the form of military dominance and economic sanctions.
In recent years, Chinese President Xi Jinping and Russian President Vladimir Putin have invested heavily in building up their own armed forces and enhancing bilateral military cooperation. Major General Shao Yuanming, deputy chief of staff of the Joint Staff Department of China's Central Military Commission, and Colonel General Sergei Rudskoy, chief of the Main Operational Directorate of the Russian military's general staff, co-hosted the 20th round of strategic consultation between the two nations Wednesday in Beijing.
"The two sides exchanged views and reached broad consensus on current international and regional hotspot issues and on further deepening China-Russia military cooperation under the new situation," a statement on the official China Military Online read.
"The two sides indicated that they will firmly implement the important consensus reached by President Xi Jinping and President Putin, further enhance the level of bilateral military cooperation and make positive efforts to help the strategic cooperation between the two militaries to take new steps in the new stage," it added.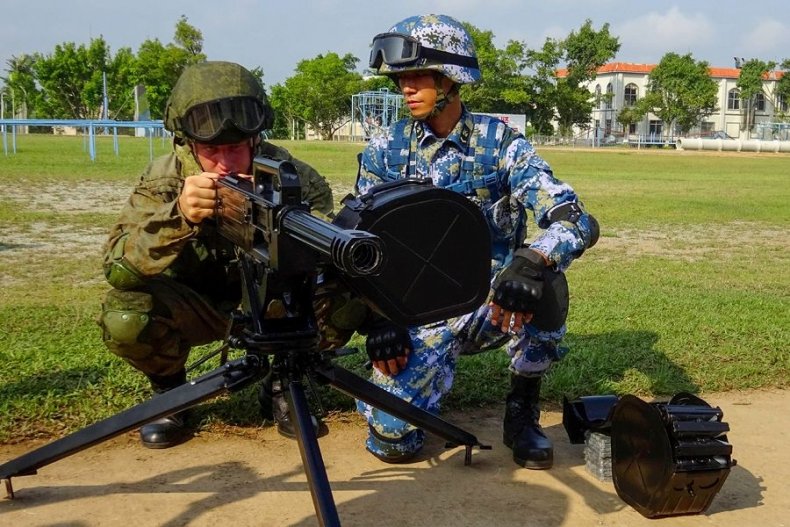 Russia and China are often considered the world's second and third most powerful countries, respectively, behind the U.S. The Pentagon's massive budget and warfighting experience give it a sizable lead over its top adversaries, but Moscow and Beijing are taking advantage of a global power shift from West to East and are working together to increase their own military, political and economic clout.
As the world's largest communist powers at the onset of the Cold War, the Soviet Union and China joined a short-lived Treaty of Friendship, Alliance and Mutual Assistance. Mutual mistrust and ideological differences led to deteriorating relations, and the two even fought a brief conflict in 1969. A year into his first term as president, Putin signed a new Treaty of Good-Neighborliness and Friendly Cooperation with China in 2001 and the relationship has accelerated since Xi came to power in 2013.
Related: U.S. is Asia's strongest power, but China is catching up and Russia is helping
Like Putin, Xi has a vision to expand and modernize his country's armed forces. Russia's wealth of natural resources has helped to literally fuel China's rapid growth, and the two have pursued frequent joint military exercises to showcase the extent of their collaboration. This partnership, however, has been met with deep suspicion by the West—especially the U.S.
In his "America First" National Security Strategy, President Donald Trump said China and Russia challenge American power, influence and interests, attempting to erode American security and prosperity. They are determined to make economies less free and less fair, to grow their militaries, and to control information and data to repress their societies and expand their influence."
The 2019 National Defense Authorization Act drafted earlier this month by the House Armed Services Committee included new sanctions for both Russian and Chinese industries.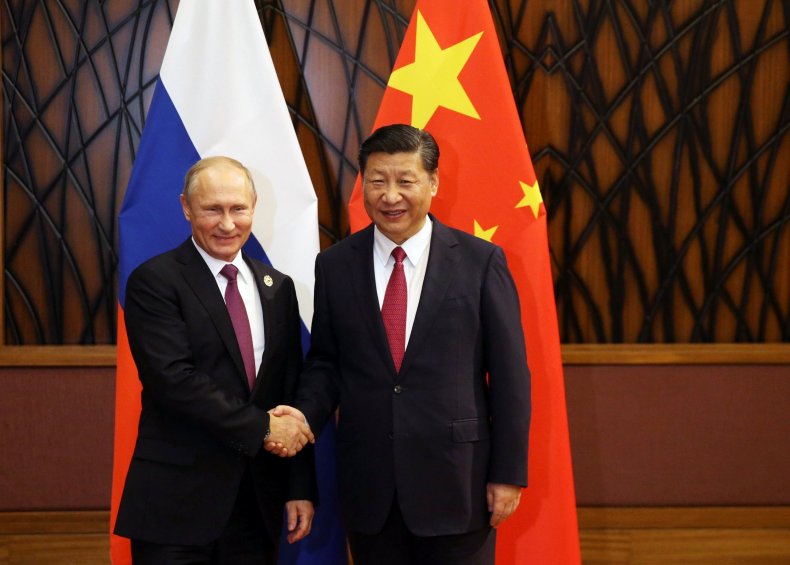 Russia and China criticized the document and have resisted U.S. efforts to push back against their rise on the world stage. Igor Morgulov, a deputy of Russia's foreign minister, said Tuesday that ties between Russia and China "are undergoing their best period in all of history," calling them "an island of stability in the midst of a raging ocean."
Similarly, Russian Defense Minister Sergei Shoigu told his Chinese colleagues last month that "time changes everything, but fortunately, it does not change our relations both personally between us and between our states, and the very close, friendly relations of the heads of our states serve as a guarantee of this."
As for China, newly-appointed Defense Minister Wei Feng told the Moscow International Security Conference last month that he had "come to show Americans the close ties between the armed forces of China and Russia, especially in this situation. We've come to support you."