Russia, China, Iran Step Up Talks as Afghanistan Loses Border Control
China, Russia and Iran are stepping up talks geared toward preserving stability across Central Asia, including in Afghanistan, where the country's government is rapidly losing control of its borders to Taliban advances in the wake of a U.S. military withdrawal.
As the U.S. pulled the last of its forces out of a 20-year war set to officially conclude by the end of August, fighters of the Taliban movement have gained control of key border crossings with neighboring Iran, Tajikistan and, most recently, Turkmenistan.
The Taliban, with which the U.S. struck a peace deal in March of last year, has downplayed the prospect of a civil war erupting, and regional powers often critical of the U.S. presence in Afghanistan are intensifying efforts to prevent such an outcome in its absence.
"The situation is rapidly deteriorating," the Russian embassy in Washington told Newsweek. "We attribute it to the hasty pull-out of the U.S. and other NATO countries' troops."
Moscow has a long shared history across Central Asia, much of which was incorporated into the Soviet bloc during the existence of the USSR. However, Moscow's attempt to defend a communist government in Afghanistan in the 1980s was thwarted by local resistance with international backing, including that of the U.S.
But the conflict among mujahideen parties that followed Russia's exit gave rise to the Taliban and Al-Qaeda, and the U.S. eventually found itself struggling to defend a Kabul government for twice as long as the Soviets had. Ironically, Russian is now claiming that the U.S. has a responsibility to prevent another Afghan collapse.
"Our criticism of the U.S. policy is aimed at encouraging Washington to take a more comprehensive approach on addressing the issues in Afghanistan," the Russian embassy said.
Russia's own efforts to do so are embodied in direct outreach to Afghan parties, the embassy noted. Last week, Russian National Security Council Secretary Nikolay Patrushev held security talks with Afghan counterpart Hamdullah Mohib in Moscow, and on Thursday, Kremlin presidential envoy for Afghanistan Zamir Kabulov hosted the Taliban.
The Russian strategy also involved international efforts, including the "extended troika" that includes China, Pakistan and the U.S. In April, the parties agreed, the embassy said, "that the withdrawal of foreign troops should be conducted in a responsible manner, ensure a steady transition, the peace process should not be disrupted, no fights or turbulence shall occur in that country."
"Unfortunately," the embassy added, "that is not the case."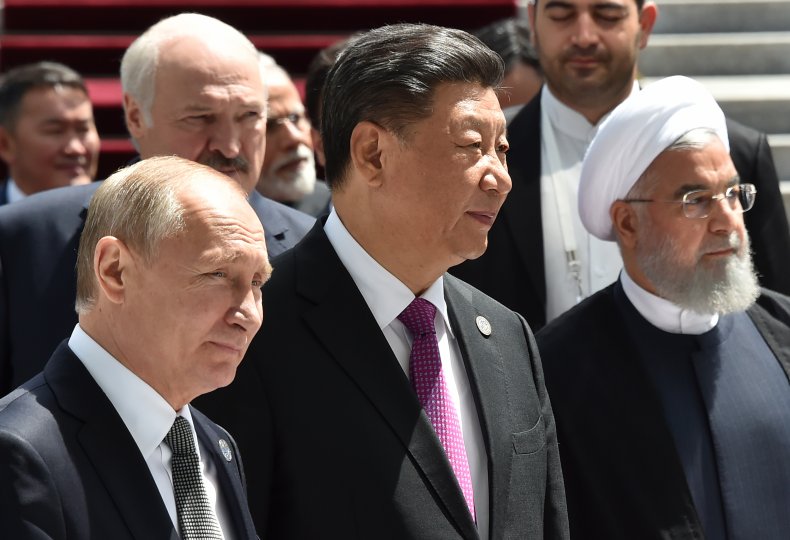 China, which also has a long-spanning political, economic and cultural history across the region, is also raising the alarm.
In Beijing, Chinese Foreign Minister Wang Yi is preparing a visit next week to Turkmenistan, Tajikistan and Uzbekistan, all of which neighbor Afghanistan and are considered strategic partners by China.
The trio are also members of the Shanghai Cooperation Organization, alongside India, Kazakhstan, Kyrgyzstan, Pakistan and Russia.
Chinese Foreign Ministry spokesperson Wang Wenbin told a press conference Friday that all Shanghai Cooperation Organization members are "close neighbors of Afghanistan and can play an active role in promoting the process of peace, reconciliation and reconstruction in Afghanistan," which he noted was now "at a critical juncture" due to the exit of U.S. and allied forces.
And, in comments mirroring the Russian position, he linked the top diplomat's visit directly to this fluid situation.
"Against the backdrop of the hasty withdrawal of U.S. and NATO forces and the complicated evolution of the situation in Afghanistan," Wang Wenbin said, "this meeting is of important significance for properly dealing with the changing situation in post-withdrawal Afghanistan, jointly advancing the peace and reconciliation process, strengthening efforts to fight the three evil forces, namely, terrorist, separatist and extremist forces, and effectively maintaining regional security and stability."
Beijing views this "evil" trifecta as the greatest threat to both its own national security and that of the region, which borders Xinjiang province, home to vocational education and training centers that Washington has likened to "concentration camps" for China's Uighur Muslim minority group.
China has repeatedly defended the sites as part of a broader counterterrorism strategy against Uighur militant groups such as the East Turkestan Islamic Party, or Turkestan Islamic Movement, which has been active in Afghanistan as well as Syria. As the U.S.-China geopolitical rivalry worsens, Chinese officials argue that Washington is seeking to stir unrest in Xinjiang.
And, like Russia, China blames the U.S. for the deteriorating security conditions in Afghanistan.
"As so many facts have proven, between the morally right thing to do in the world and selfish interests, the U.S. always chooses the latter," Wang Wenbin said. "The U.S. has been trying to force its so-called freedom and democracy on others and push for regime changes around the world. This has led to conflict, war, terrorism, refugees, among other complications that still persist today."
In the latest instance, he argued, "the U.S., in disregard of its responsibilities and obligations, hastily withdrew from Afghanistan, leaving a mess and turmoil to the Afghan people and regional countries," a decision that has "further exposed the hypocritical face of the U.S. under the cover of 'defending democracy and human rights.'"
As the U.S. pullout nears its completion, China also sees value in engaging Afghan parties directly. The Taliban has reciprocated this message, with spokesperson Suhail Shaheen telling South China Morning Post's This Week in Asia on Wednesday that the group saw China as a "friend" whose security and investments are "very important for us."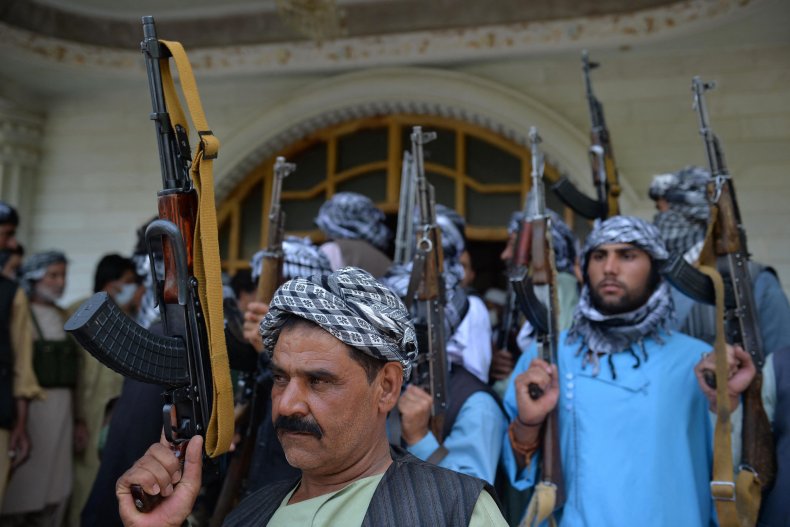 Across Afghanistan's western border, Iran has also reached out to both sides of the conflict in the neighboring nation.
Tehran hosted both the Afghan government and Taliban officials in a two-day round of talks that concluded Friday. The two rivals produced a six-clause statement in which they rejected war and vowed to pursue a peaceful settlement.
Iranian Foreign Minister Mohammad Javad Zarif outlined his own vision for peace.
"Courage in peacetime is more important than courage in war," Zarif said, "because one should show altruism and indulgence for the sake of peace, abnegate maximum demands, and pay attention to the other side's demands, particularly in these negotiations that there is no other party, as the two sides are brothers and are in the pursuit of peace and calm for the Afghan nation."
"What I want from you," he added, "is to seize this opportunity and end the war in Afghanistan as soon as possible and provide the people of Afghanistan with an opportunity for development."
But concerns still exist as Afghan soldiers flee across the border amid Taliban gains. Iranian Foreign Ministry spokesperson Saeed Khatibzadeh affirmed that Tehran would address any threats in line with Iran's own interests and bilateral agreements with Kabul.
"The Islamic Republic of Iran will take the necessary measures in accordance with the laws and regulations and in accordance with the border agreements with Afghanistan and within the framework of good neighborliness," he told reporters.
In Washington, President Joe Biden has highlighted the necessity of other powers investing in a stable Afghanistan as the U.S. drew its longest-ever war to a close. He noted in remarks Thursday that "there's a number of countries who have a grave concern about what's going to happen in Afghanistan relative to their security."
It was up to them, he said, to augment their approaches.
"Countries in the region have an essential role to play in supporting a peaceful settlement," Biden said Thursday. "We'll work with them, and they should help step up their efforts as well."