Russia, China Join Forces Against Push to Punish Iran
As the West sought to punish Iran over its violent crackdown on protesters this week, Russia and China banned together to show support in hopes of deepening the allegiance between the three nations.
On Thursday, the United Nations Human Rights Council held a special session to address "the deteriorating human rights situation in the Islamic Republic of Iran, especially with respect to women and children" and voted on a resolution to promote accountability for the alleged atrocities.
Of the council's 47 member nations, 25 voted to create a new fact-finding mission to investigate alleged human rights violations related to the protests in Iran. China was among six votes against the resolution. Although Russia was suspended from the council earlier this year for its invasion of Ukraine, Russia called the U.N. meeting "counterproductive" and claimed the creation of such a mission was "illegitimate."
Iran has seen an unprecedented level of protests over the last two months after Mahsa Amini, a 22-year-old Kurdish woman, died while in custody of Iran's "morality police" on September 16. This month, Iran issued the first death sentence in connection with the unrest, reminding many of the deadly months that followed the 1979 Islamic Revolution.
In response to the protests, the U.S. and the European Union have imposed sanctions on Iran for its treatment of demonstrators, but Russia and China have remained defiant against such measures, weighing their options on the international stage.
In a statement about Thursday's special session, Russian Permanent Representative to the United Nations Office in Geneva Gennady Gatilov said: "Such initiatives have nothing to do with concern for human rights because their goal is to pin labels and put pressure on unwelcome states, using human rights as an excuse," according to Russian state-run news agency Tass.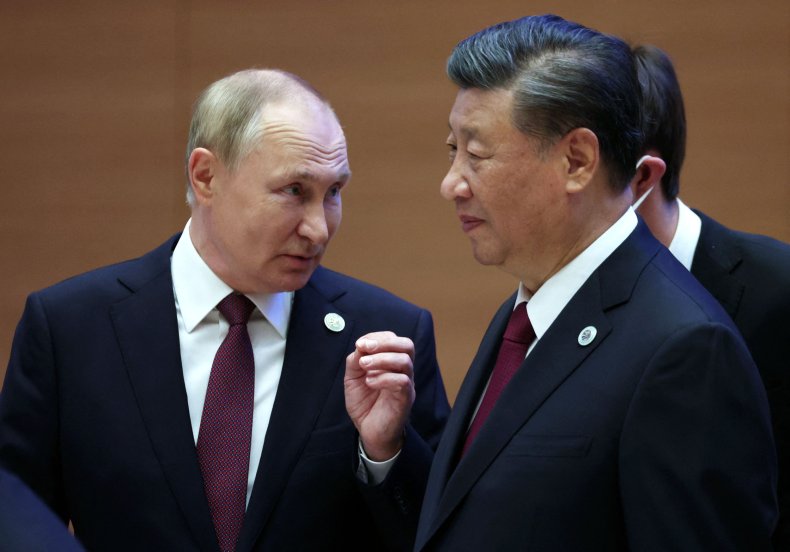 Timothy Heath, a senior international defense researcher at the RAND Corporation, said the interactions between Russia, Iran and China are important to monitor because of the pressures that each nation faces.
"Russia's war effort is failing, Iran's economic situation and domestic political situation is in turmoil and China's economic situation has been worsening," Heath said. "There's a good chance they will feel growing incentives to collaborate and assist one another, or else [they'll have to] watch each other fall one by one."
Heath, who specializes in Chinese national strategy, politics and military, said Thursday's vote was no surprise given the increasingly sympathetic attitude Beijing has displayed toward Iran. In recent weeks, China has advocated for a less punitive approach toward Iran while mounting their criticisms of the West's response.
Russia, which has been increasing its military dependence on Iran's drones for its war effort in Ukraine, has taken a similar position, avoiding any disturbance of its relationship with Tehran.
"Russia wants the status quo, and it will use its powers at the U.N. to try to keep the status quo in place," Michael Kimmage, a former member of the U.S. secretary of state's policy planning staff, told Newsweek.
Kimmage, who held the Russia/Ukraine portfolio during his time at the State Department, said Russia and Iran are not exactly allies, but "they have lots of business that they conduct together and they want to keep it that way."
However, China faces a slightly different situation than Russia. While Russia has essentially been cut off from the Western markets as a result of its invasion of Ukraine, China still deals a lot with the West, thus capping how far China can go in backing Iran.
"However sympathetic it may be towards Iran and Russia, China needs the West economically," Kimmage said. "So, there's a limit to how much China can afford to antagonize the U.S., Europe and Japan because those are the markets that drive the Chinese economy."
Because China needs Western markets more than it needs to maintain goodwill with Iran, Heath said China is unlikely to openly violate the sanctions the U.S. has imposed, and thus will avoid doing business where it's not allowed.
"The position that makes the most sense for China is to politically criticize the Western approach, advocate for a more measured approach, but abstain from any formal violation or break with any U.N.-backed sanction," he said.