Russia, China Pledge to Not Use Nuclear Weapons First, Avoid Firing Missiles at Each Other
Russia and China reaffirmed their friendship treaty amid increasing concerns about their growing relationship and the two countries continued a vow not to fire strategic missiles at each other.
Russia President Vladimir Putin and Chinese President Xi Jinping extended the 20-year Treaty of Good-Neighborliness and Friendly Cooperation, a document Putin credited with taking their relationship to "unprecedented height." An extension that's set to last for five years, it outlines that both countries will support each others' right to defend their "national unity" and territories.
Article 2 has both countries promising to using "peaceful means" to resolve their differences, not the use of force, threat of force or economic pressures.
"The contracting parties reaffirm their commitment that they will not be the first to use nuclear weapons against each other nor target strategic nuclear missiles against each other," the treaty states.
Russia and China have grown closer as their relationships with the United States has deteriorated. Although Putin's summit with President Joe Biden was seen as a positive step, America and Russia failed to see eye-to-eye on a number of topics, but they agreed to work together on the issue of nuclear weapons.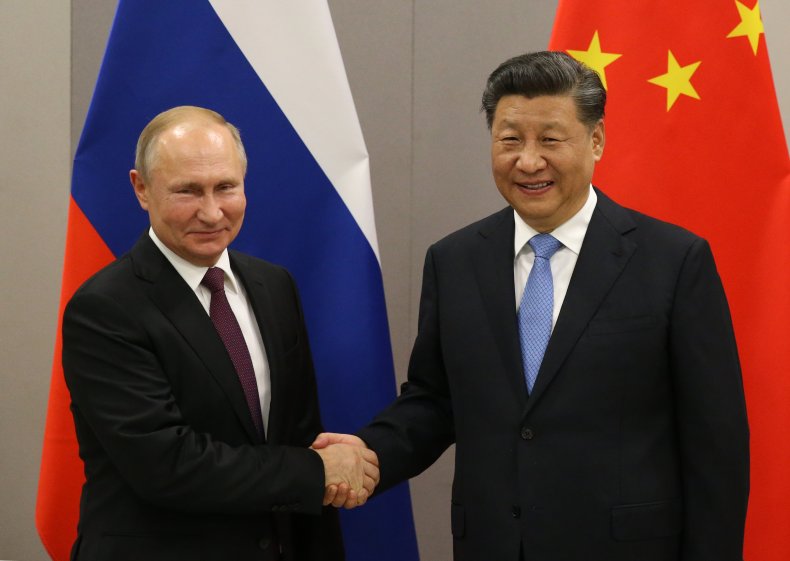 In a joint statement, the two countries agreed to "embark" on dialogue that would "lay the groundwork" for future arms control and risk reduction measures, acknowledging that "nuclear war cannot be won and must never be fought."
One of two biggest nuclear powers, Putin's endorsement of Russia's nuclear deterrent policy raised concerns. The policy allows him to use nuclear weapons in response to a strike with conventional weapons, or if Russia gets "reliable information" about the launch of an attack against its territory or allies.
The strategy is "purely defensive," according to General of the Army Valery Gerasimov, chief of the General Staff of the Armed Forces, but he defended Russia's ability to use nuclear weapons at the Moscow International Security Conference last week.
During Monday's video conference, both Xi and Putin referred to each other as friends and Putin called their relationship an "example of 21st-century interstate cooperation." Xi also lauded the two countries' partnership for entering a "new era."
China and Russia commonly refer to their relationship as a "strategic partnership" and although they've jointly pushed back against the West, they've denied there are plans for a military alliance. However, Chinese officials have alluded to the possibility of one, saying there's no end to how far the relationship can go, and in the fall, Putin said he could imagine a military alliance.