Russia's and China's Presidents Are Winning Big as They Challenge U.S. and Take Power From West
Updated | Russian President Vladimir Putin and Chinese President Xi Jinping have easily won national elections that will propel their respective drives to expand global influence and improve military capabilities, as experts say people are seemingly turning away from the Western-style world order traditionally led by the U.S.
Putin reportedly secured 76.6 percent of votes Sunday to win an unprecedented fourth term as president, which—along with his four-year tenure as prime minister—would give the Russian leader nearly a quarter century of power, a feat rivaled only by Soviet leader Joseph Stalin.
Related: Russia says U.S. no longer rules the world, as tensions mount in Middle East, Europe and space
Meanwhile, Chinese President Xi Jinping faced even less opposition during his unanimous re-election vote Saturday at the 13th National People's Congress. The ruling Communist Party's recent abolition of presidential term limits means Jinping could potentially enjoy an even longer term than Putin, another Cold War–era feat not seen in China since the days of Mao Zedong, who led the country's Communist revolution.
The two men preside over countries that represent the most potent challenges tothe U.S. in terms of global military power and political influence. As Moscow and Beijing both look to check Washington's ambitions abroad, they have boosted their own countries' cooperation with one another and, after back-to-back victories last weekend, Putin and Xi were among the first to congratulate one another.
"This decision by the National People's Congress of China has become another proof of your great authority, a recognition of your efforts in ensuring dynamic socioeconomic development of the country and protecting its interests on the global stage," Putin said in a message to his Chinese counterpart on Saturday.
Just one day later, Putin got his response after his own landslide win.
"Currently, the China-Russia comprehensive strategic cooperative partnership is at the best level in history, which sets an example for building a new type of international relations featuring mutual respect, fairness and justice, cooperation and all-win results, and a community with a shared future for mankind," Xi said in a message to Putin, according to the ruling Communist Party-owned China Daily.
"China is willing to work with Russia to keep promoting China-Russia relations to a higher level, provide driving force for respective national development in both countries, and promote regional and global peace and tranquility," he added.
After World War II, the relationship between Russia and China, often ranked second and third in terms of leading military powers after the U.S., comprised a historic communist alliance that threatened to dominate the global order, but ideological differences led to a major falling out. Putin signed a new treaty with China in 2001, and the pair's relationship has only strengthened since Xi came to power in 2013.
The U.S. and other European powers have accused Russia of interfering in their internal affairs, including working to sway elections, something Moscow has denied. As the NATO Western military alliance and Russia build up arms and conduct dueling military exercises across the continent, however, Russia has already cut lucrative deals with a number of Washington's allies in the Middle East and outpaced U.S. military efforts in Syria.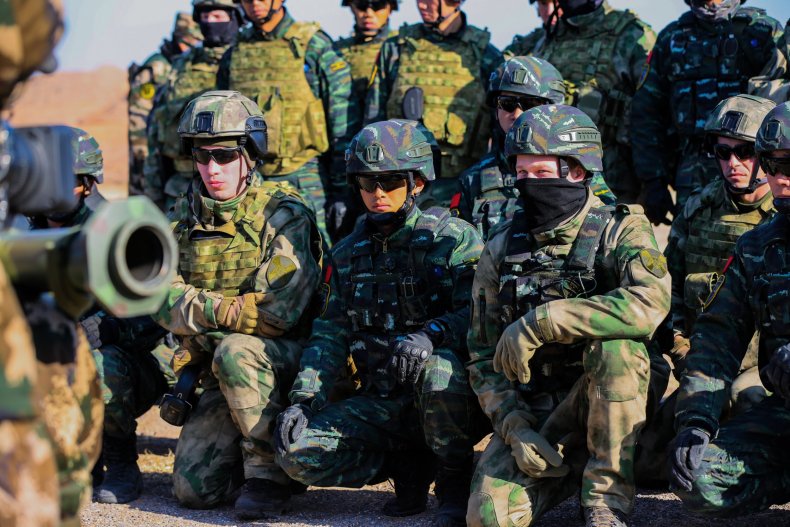 Like Putin, Xi has also set out to modernize and enhance his armed forces, but saw this as part of his greater "One Belt, One Road" project. The global initiative has inspired billions of dollars worth of Chinese construction, infrastructure and resource-gathering deals around the world, especially across Asia and Africa. Chinese forces have also begun training for deployments abroad, focusing especially on areas where Beijing's most vital economic interests lie.
While the U.S. and its massive defense budget kept it far ahead of even its closest competitors, a shift in political and economic clout from West to East has allowed Russia and China some gains, such as Putin's array of new powerful, nuclear-capable weapons unveiled earlier this month.
"The economic landscape has equalized in a way that the military landscape has not," Charles A. Kupchan, a senior fellow at the Council on Foreign Relations told Newsweek, adding that it was "only a question of time" before Russia and China's defense industries began to catch up as global influence underwent a "rebalancing."
Kupchan explained that the world is going through a period "in which power is shifting away from Western democracies." He described "a general weakening of the legitimacy of the effective popularity of democratic leaders," while the opposite was happening for "illiberal and non-democratic leaders." He said the isolationist foreign policy doctrine of President Donald Trump's administration has also served as a hindrance to U.S. interests abroad.
"To the degree that Trump has a coherent foreign policy, it is one that entails stepping away from multilateral leadership," Kupchan told Newsweek. "We're taking ourselves out of the game, they're inserting themselves in."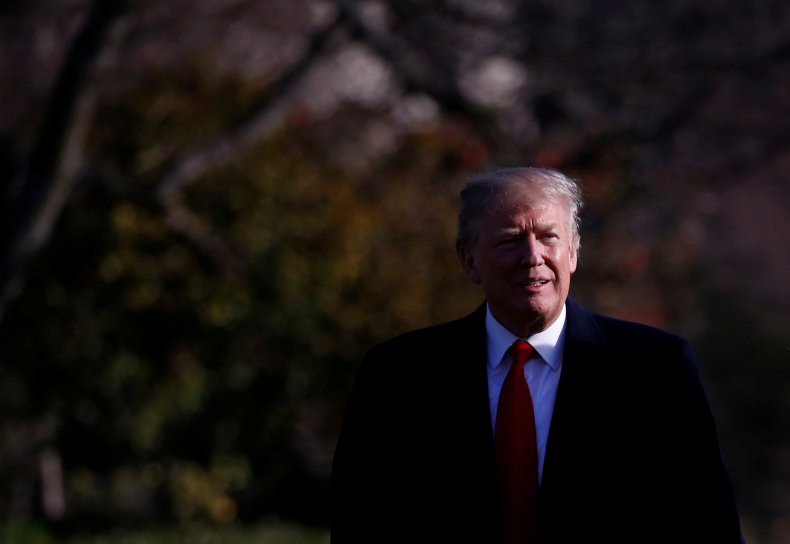 Torrey Taussig, a post-doctoral fellow at the Brookings Institution, also observed this trend. Surveys have shown decreasing enthusiasm for traditional democratic norms and a growing preference for authoritarianism. While Taussig described Putin and Xi's cooperation as "a marriage of convenience at best" with the potential to devolve into regional rivalry—perhaps as significant as the Sino-Soviet split over half a century ago—she said current international tides have played right into their hands.
"The West has, in recent years, been mired in political turmoil and economic stagnation. Citizens have expressed declining trust in domestic institutions and mainstream political parties. Concurrently, Putin and Xi have consolidated power at home and are expanding their military and economic influence beyond their borders," Taussig told Newsweek.
"The confluence of these trends has led to a feeling of political influence shifting from West to East," she added.
As China prepares to host Putin as part of the Shanghai Cooperation Organization summit in June, Chinese Prime Minister Li Keqiang told the National People's Congress on Tuesday that Beijing and Moscow should continue strengthening bilateral cooperation, including increasing trade by up to $100 billion.
"As for whether I want to send some kind of a signal to Russia's population, it is the following: We should understand that our countries are the largest neighboring states for each other," Li said, according to the state-run Tass Russian News Agency.
"I am confident that stable development of comprehensive strategic partnership and cooperation between China and Russia is beneficial for both countries and the whole world," he added.
The West and especially the U.S., however, have painted Russia's and China's rise as a destabilizing factor. In his "America First" National Security Strategy unveiled in December, Trump asserted that "China and Russia challenge American power, influence and interests, attempting to erode American security and prosperity. They are determined to make economies less free and less fair, to grow their militaries, and to control information and data to repress their societies and expand their influence."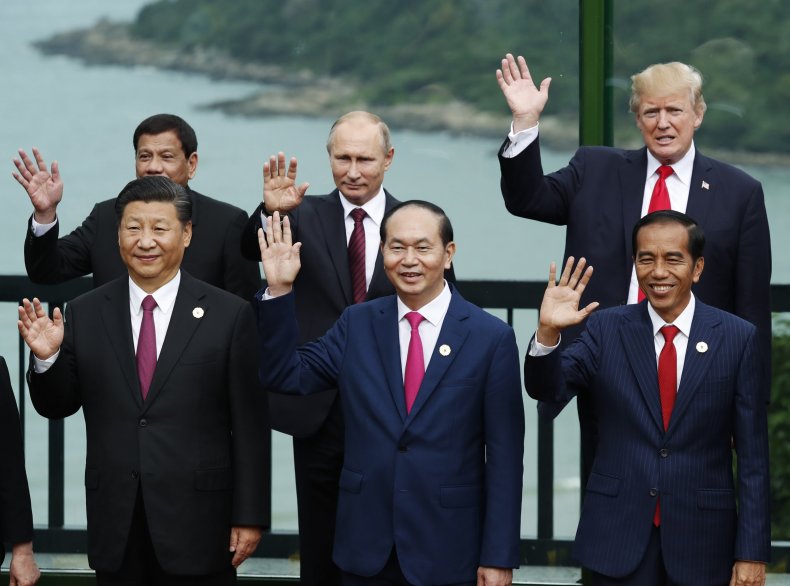 Both Russia and China have attempted to counter this narrative, arguing that their heightened role in world affairs would create a more diverse international environment. They often accuse the U.S. of being stuck in the Cold War and seeking to dominate multilateral dialogue.
No congratulations arrived from the White House after Putin's election, and presidential spokesman Dmitry Peskov shared the Kremlin's reaction on Tuesday.
"This should not be regarded as an unfriendly step. Putin remains open to normalizing relations with our U.S. partners, where it is of interest and crucial. The president has been getting many congratulatory messages from foreign leaders. Some may be unable to make a phone call due to a tight schedule, and others, for a different reason. There is no reason to make a mountain out of a molehill about anything here," Peskov said, according to Tass.
"Lastly, there is a good old saying: 'Sleep on it,'" he added.
Hours later, the Kremlin said in a statement that "Donald Trump congratulated Vladimir Putin on his victory in the presidential election" and that the two leaders discussed international issues regarding Syria and Ukraine, as well as economics and energy.
The conversation was described as "constructive and businesslike with a focus on overcoming the accumulated problems in Russian-American relations," but Trump has already begun to receive criticism for calling Putin, a man once described as his political ally.
Western nations have had little to say about Xi's and Putin's recent re-elections, especially due to widely held beliefs that the two incumbents' respective political systems favored them to win from the start. Kupchan noted, however, that observers should not so readily dismiss the popularity the leaders enjoyed at home simply due to differences in the method in which the leaders obtained and maintained power.
"I think it's important to stress that to whatever degree there may have been some election-rigging, these are leaders that have a lot of wind in their sails," Kupchan told Newsweek. "They have a lot of popular support, and that's a stark contrast to what's happening in a lot of Western societies."
This article has been updated with a statement from the Kremlin describing a congratulatory call from President Donald Trump to Russian President Vladimir Putin after the latter won a landslide re-election over the weekend.