Russia Claims to Have 'New Evidence' of U.S. Bio Labs in Ukraine
The Russian deputy ambassador to the United Nations said Thursday that Russia has "new evidence on military biological programs" that he alleged were "carried out at the U.S. bio labs in Ukraine."
Dmitry Polyanskiy said in a post on his Telegram channel that they had demanded an open meeting of the UN Security Council to present the evidence. The meeting is scheduled for 10 a.m. ET on Friday, he added.
The U.N. Security Council's May calendar showed that two "committee informal consultations," one in the morning, one in the afternoon, were scheduled for Friday.
Since the start of the war in Ukraine, Russian officials have alleged several times that the U.S. is running bio labs inside Ukraine's borders, even though the accusations have yet to be proven. The U.S. has repeatedly refuted the allegations, but Polyanskiy's post indicates that Russia has not been deterred from voicing them.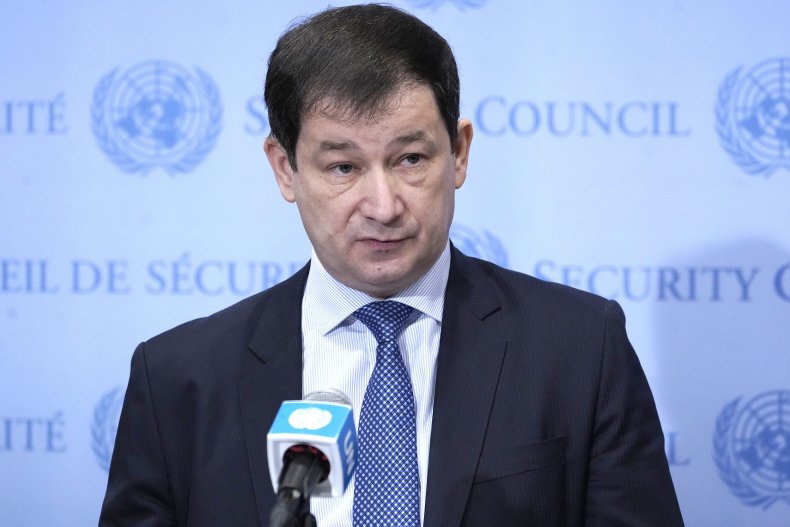 Polyanskiy did not provide any additional details about the "new evidence" he plans to present at the meeting.
Russia voiced such allegations long before the start of the Russia-Ukraine War in late February, but some U.S. officials said the accusations that have emerged since the start of the conflict could be an attempt from Russia to justify its attack on Ukraine.
State Department spokesperson Ned Price said in a March 9 statement that Russia's allegations are "outright lies" and that the country is "inventing false pretexts in an attempt to justify its own horrific actions in Ukraine."
"The United States does not own or operate any chemical or biological laboratories in Ukraine, it is in full compliance with its obligations under the Chemical Weapons Convention and Biological Weapons Convention, and it does not develop or possess such weapons anywhere," the statement read.
"It is Russia that has active chemical and biological weapons programs and is in violation of the Chemical Weapons Convention and Biological Weapons Convention."
White House Press Secretary Jen Psaki said in a series of tweets the same day that Russia might be using the allegations to create a "false flag operation" because it was potentially planning to use chemical or biological weapons in Ukraine.
"This is all an obvious ploy by Russia to try to try to justify its further premeditated, unprovoked, and unjustified attack on Ukraine," Psaki said.
Newsweek reached out to the Pentagon, State Department, Russian Foreign Ministry and Ukrainian Foreign Ministry for comment.