Russia Claims Missiles Destroyed Ukraine Weapons Depot, Releases Video
Russia claimed on Tuesday that several missiles struck a Ukraine weapons depot near Odesa, destroying a logistics hub holding foreign weapons. To back this claim, the Russian Defense Ministry released a video of missiles being launched from the ground, though their destinations are not seen.
According to the Kremlin-operated network RT, Russian Defense Ministry spokesman Major General Igor Konashenkov stated in a press briefing on Tuesday that several supersonic Oniks missiles struck a logistics center at a military airfield near the Black Sea port of Odesa.
Konashenkov said that a hangar with Bayraktar TB2 combat drones made in Turkey was destroyed, along with weapons supplied to Ukraine from the United States and Europe. Newsweek was unable to independently verify the attack.
The Defense Ministry released a video found on RT, which shows three separate missiles launched from the ground.
On Sunday, Russia also claimed that its military had struck weapons from the U.S. and European countries and destroyed a runway at a military airfield near Odesa using high-precision Onyx missiles, Reuters reported, adding that they could not immediately verify the report.
However, on Saturday, Ukrainian President Volodymyr Zelensky stated that Russian airstrikes had destroyed the runway at the main airport in Odesa. "The Odesa airport runway was destroyed. We will, of course, rebuild it. But Odessa will never forget Russia's behavior towards it," Zelensky said.
However, Russian airstrikes continue further into the city as Russian forces have turned attention to Ukraine's south and east. On Monday, Zelensky called Russia "a terrorist state" after a missile struck a dormitory building in Odesa.
Ukrainian authorities reported that the strike killed and injured several civilians, including children.
"Unfortunately, there are dead and wounded," Maxim Marchenko, Odesa regional administrator, said on Telegram. "We will not leave it like that."
Zelensky said in a statement that a 14-year-old boy was killed by the missile, and a 17-year-old girl was wounded by shrapnel in the attack.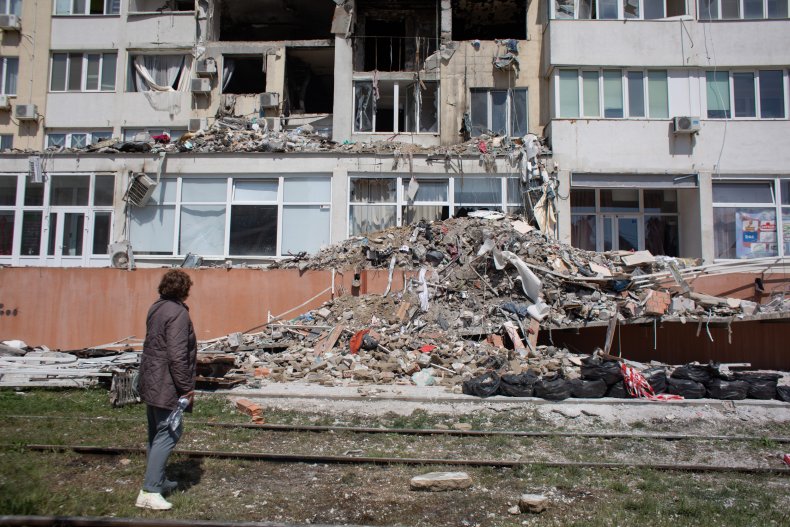 "What did these children and the dormitory threaten the Russian state with?" said Zelensky. "And that's how they fight."
Attacks on the port city of Odesa have increased in the last month after Russian forces failed to take Kyiv. Last month, several videos were released showing the aftermath of an attack on an apartment block. Andriy Yermak, head of the Office of the President of Ukraine, announced the attacks on Facebook, saying, "Five killed and 18 wounded Ukrainian citizens. These are only the ones that were found."
"And most likely, there will be more," he continued. "Among the killed is a three-month-old baby. The little one who was supposed to meet her parents on her first Easter. Nothing is sacred. Absolutely. Evil shall be punished."
The United Nations warned in April that Russia's forces blocking Ukrainian ports such as Odesa could result in worldwide food shortages.
Newsweek reached out to the Russian and Ukrainian foreign ministries for comment.