Russia Claims U.S. Threatened to Send Spy Maria Butina to Guantánamo Bay, Calls Her 'Prisoner of Conscience'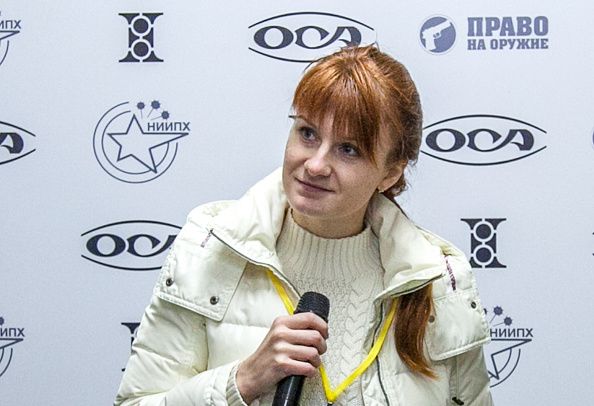 Maria Butina, the 29-year-old Russian woman who pleaded guilty on Thursday to committing conspiracy against the U.S., only confessed to being a spy because the U.S. had threatened to send her to Guantánamo Bay, Russian politician Anton Morozov alleged Thursday.
Russian officials are known for spreading disinformation and propaganda that is unrelated to the facts. In this case, federal investigators spent over a year monitoring Butina and collecting evidence of her work as a foreign agent, and there is no evidence to suggest that U.S. investigators threatened to send her to the military prison.
Butina appeared in court in Washington at 10:30 a.m. ET on Thursday. She agreed to cooperate with investigators and provide details about Russian efforts to infiltrate Republican political circles to influence U.S. foreign policy. A statement of offense signed by Butina claimed that she had started working as an agent for the Russian government around March 2015 without notifying the U.S. Office of the Attorney General, and that she had conspired with a Russian official and at least one American.
But Russian officials have continued to defend the young woman despite her admission of guilt. Morozov said that Butina had caved under pressure, according to the Russian outlet Ria Novosti. Russian spokeswoman Maria Zakharova, meanwhile, described Butina as a "prisoner of conscience" and claimed that she had undergone "physical and psychological experiments."
One day before her guilty plea, however, Russian President Vladimir claimed that he had never heard of Butina.
"She's facing 15 years in prison. For what? When I heard that something was happening to her…I started by asking all our secret service chiefs: Who is she? Nobody knew anything about her!" Putin said during a press conference.
The maximum sentence Butina could serve is five years in prison, but she could get a lighter sentence for cooperation.
Still, Putin's claim of ignorance appears unlikely. The Russian Ministry of Foreign Affairs changed its Twitter avatar to a picture of Butina shortly after she was arrested in July. What's more, Russian officials have visited the young woman in prison on numerous occasions and the Russian government passed several diplomatic notes to the State Department about her case, according to reports. Russian Foreign Minister Sergei Lavrov also brought the issue up with his American counterpart Mike Pompeo during bilateral meetings.
Some analysts pointed out that other Russian citizens jailed in the U.S. do not receive comparable attention.
Butina is believed to have worked under the direction of Alexander Torshin, a Russian Central Bank official and ally to Putin who was mentioned in the plea agreement. According to the statement of offense, Butina was paid around $125,000 to attend meetings and events with the aim of building ties between Russians and Republican officials.
She did so by infiltrating the National Rifle Association, the National Prayer Breakfast, the 2015 Nevada Freedom Festival, and other conservative organizations, according to officials.
"Butina opined that the circumstances were favorable for building relations with a certain U.S. political party (hereafter, "Political Party #1"). Butina predicted that the candidate nominated by Political Party #1 would likely win the upcoming U.S. presidential election," the court documents read.
Political Party #1 is believed to be the Republican Party.