Russia Claims the U.S. Is Trying to Overthrow This Government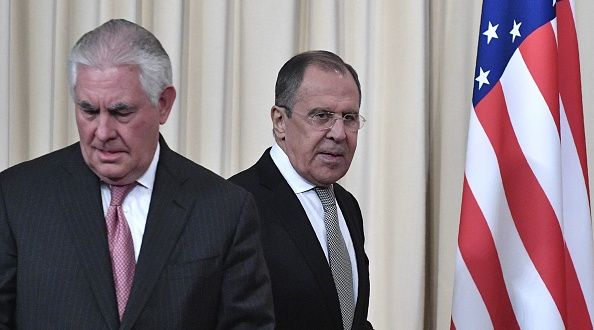 The U.S. and its Western allies want to abandon peace settlement negotiations to end the Syrian war and overthrow Bashar al-Assad directly, Russian Foreign Minister Sergei Lavrov railed during a press conference Thursday.
Western nations have a secret plan to use the negotiations—dubbed the Geneva process—to "shift the peace process" and promote regime change, Lavrov said during a visit to Serbia. He has repeated Russia's long-standing suspicion of U.S. and European diplomatic efforts to influence how Syria will be governed after the violence ends.
The comments come as Moscow worked to undermine a proposed U.N. resolution that would have established a 30-day ceasefire to allow humanitarian assistance in Ghouta, a rebel-held suburb near the Syrian capital of Damascus. The Syrian military, backed by the Russian air force and a handful of Iran-backed militias, has launched a violent campaign to retake Ghouta from the rebels. Reports of numerous civilian casualties have been surfacing over the past week.
Russia used its veto power in the U.N. Security Council to block the proposed resolution on Thursday. Moscow claims that it already allowed militants to leave Ghouta peacefully and that the rebels—some of whom are backed by the U.S.—refused. Russia's U.N. envoy Vassily Nebenzia distributed a list of proposed amendments that his country would like made in order to allow the resolution to pass. He also claimed that the reports of civilian casualties are "fake news" and the product of "mass psychosis."
The U.S., however, supported the U.N. resolution on Ghouta.
"The United States strongly condemns recent attacks on the people of Syria in Eastern Ghouta by Russia and the Assad regime. We offer our condolences to the families of those killed and wounded and call on the international community to condemn these horrific attacks," the White House said in a statement Wednesday.
"The targeted destruction of medical facilities in Eastern Ghouta and the continued use of siege tactics, which starve Syrian civilians and prevent humanitarian access, are especially troubling," the statement underscored.
Russia is a longstanding ally of Assad, who rules Syria from his bastion of safety in the capital Damascus while the remainder of the country is ripped apart by warring factions. The U.S. accuses Assad of committing war crimes against his own citizens. Russia, too, has been accused by human rights groups of killing thousands of civilians in Syria with airstrikes.
Meanwhile, Russia has attempted to broker its own peace deal. But in late January, the Moscow-sponsored talks ended in failure when some attendees refused to leave the airport to participate—and others taunted Kremlin spokesman Dmitry Peskov by screaming about Russian war crimes.The U.N.'s special envoy for Syria, Staffan de Mistura, declared last week his intention to forge ahead with the Geneva talks, building on any progress made during the talks in Russia in January.
Russia Claims the U.S. Is Trying to Overthrow This Government | World