Russia on Monday closed its airspace to airlines from the European Union and Canada following sanctions issued targeting Russia's aviation section following the invasion of Ukraine.
Flights from 36 countries, including 27 members of the European Union, are not allowed to fly in Russian airspace. The closure will likely affect several airlines that use Russian airspace to get from Europe to Asia.
Russia's aviation agency, Rosaviatsiya, announced the ban as a "retaliatory measure" after a growing number of countries restricted Russian airlines from entering their airspace following the invasion of Ukraine.
The European Union announced on Sunday that it was banning all Russian aircraft from its airspace.
"We are shutting down the EU airspace for Russian-owned, Russian registered or Russian-controlled aircraft," EU Commission President Ursula von der Leyen posted on Twitter.
Russia's closure of its airspace is creating headaches for airlines and passengers. So far, dozens of flights have been canceled while others made extensive detours from original flight paths. Without access to Russian airspace, flights have had to divert south while also trying to avoid areas in the Middle East, Reuters reported.
Rosaviatsiya said flights from restricted countries could still land in Russia for exceptional circumstances, but they must secure special clearance from the aviation authority or foreign ministry, Reuters added.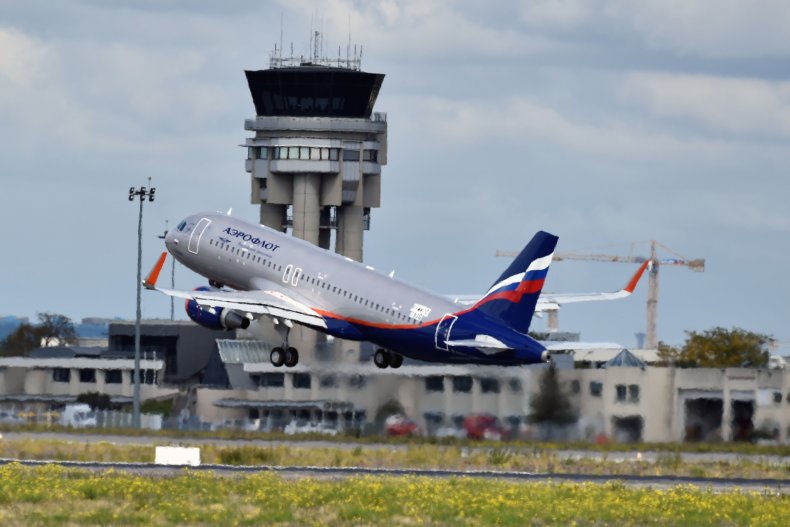 Meanwhile, some airlines announced the cancellation of flights for specific destinations due to the challenges of restricted airspace. Finnair said flights to Russia will be canceled until May 28, while flights to Japan, Korea, China are canceled until March 6. The flights to Asia will resume once a new flight path can be finalized, but not all flights to Asia are canceled.
"We continue flying from Helsinki to Bangkok, Phuket, Singapore and Delhi and from Stockholm Arlanda to Phuket. We will avoid using the Russian airspace which lengthens the travel time by approximately one hour," Finnair said in a statement.
Though the U.S. has not announced a ban on Russia entering its airspace, Delta Air Lines announced on Friday it was canceling its codeshare operations with Russian national airline Aeroflot.
"We have removed our code from Aeroflot-operated services beyond Moscow's Sheremetyevo Airport and removed Aeroflot's code from Delta-operated services from Los Angeles and New York-JFK," Delta said in a statement.
The U.S. Embassy warned citizens Sunday to consider leaving Russia immediately while some commercial options were still available.
The U.S. listed Russia as a Level 4 travel advisory, warning citizens not to travel to the country due to " the unprovoked and unjustified attack by Russian military forces in Ukraine, the potential for harassment against U.S. citizens by Russian government security officials."
Update 2/28/22, 12:59 p.m. ET: This article was updated with additional information.