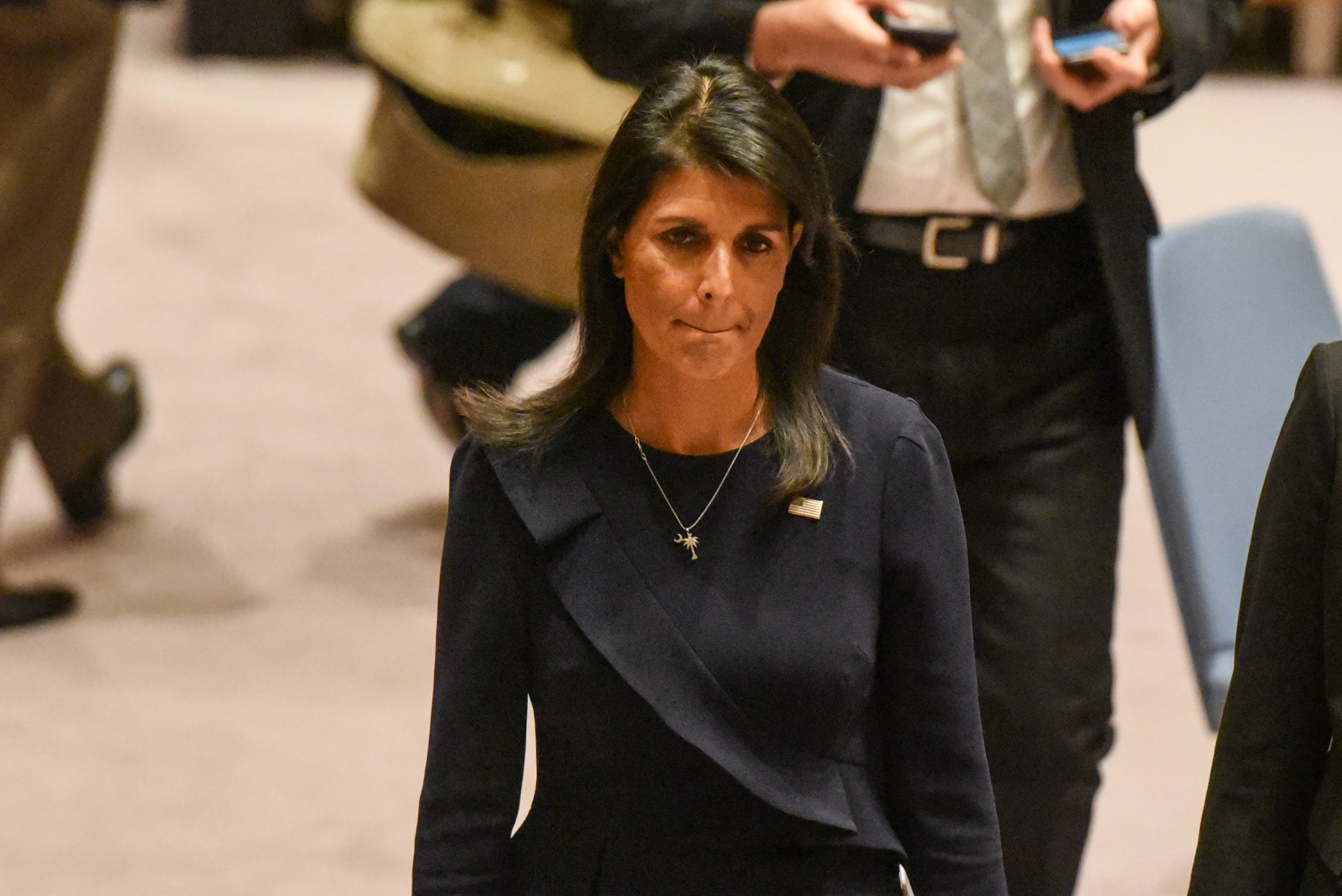 U.S. Ambassador to the United Nations Nikki Haley said on Thursday that Russian interference in the 2016 U.S. presidential constituted "warfare," thus offering a far stronger rebuke of President Vladimir Putin's dubious activities than her boss, President Donald Trump.
"Don't interfere in our elections," Haley said firmly to Putin's Russia while speaking at the Spirit of Liberty conference held by the George W. Bush Institute in New York City. "We have to be so hard on this and we have to hold them accountable."
She added: "When a country can come interfere in another country's elections, that is warfare. It really is, because you're making sure that the democracy shifts from what the people want. This is [Russia's] weapon of choice and we have to make sure we get in front of it."
Haley said U.S. intelligence agencies are working "overtime" to prepare for Russian cyber threats.
Meanwhile, Trump has taken a very inconsistent stance on Russian election interference, and he has called for an end to the investigation into his campaign's alleged collusion with the Kremlin.
"The whole Russian thing was an excuse for the Democrats losing the election and it turns out to be just one excuse," Trump said Monday. The president also claimed the American public is "sick" of the Russia probe and that there was "absolutely no collusion" between that country and his campaign.
This isn't the first time Haley has been at odds with Trump on this topic—the president has even expressed doubts election interference occurred at all. Other members of the Trump administration, including Defense Secretary James Mattis, have also been more forceful than the president on the Russia election issue.
Haley was joined at the conference by two former secretaries of state, Madeleine Albright and Condoleezza Rice.
Throughout their conversation, Albright made her feelings on Trump abundantly clear.
She spoke of the value of a free press, on which many feel Trump has taken a troubling stance, and of the need for the U.S. to set an example for the world.
Albright also warned Haley that the president's apparent preference for military options and isolationism over diplomacy would impede the Trump administration's ability to promote U.S. interests worldwide.
"Nikki.... If funding for the United Nations is cut and you go and try to work on reform, you are not going to be listened to because you don't have the leverage," Albright said.
The former secretary of state said she's worried Trump doesn't have enough diplomatic support to deal with complicated matters such as the current heightened tensions with North Korea over its nuclear program and long-range missile tests.
"I do believe that we need a strong military. But the difference between the budget for the Pentagon—over $600 billion—and for the State Department—under $50 billion—is crazy. We do not have a lot of tools. It is necessary to have a functioning diplomatic service and to have people that...are really out there," Albright said.
Accordingly, she called on the Trump administration to "strengthen America" by improving its relationships with its allies.