Russia Conducting Military Drills Near Ukraine, Bombing Runs in Baltic Sea
Russia conducted military drills at the Ukrainian border and bombing practices in the Baltic Sea amid a standoff with the U.S. and NATO over concerns over a possible invasion.
The newest drills on Wednesday included thousands of troops and heavy firepower. Artillery units practiced firing live ammunition in the southwest region of the country. Russia also deployed fighter jets and paratroopers in Belarus for joint military exercises next month, The Hill reported.
Russian state news agency Tass said 20 warships and vessels were deployed to the Baltic sea on Monday for combat training sessions. The training included air defense live-fire exercises, the Fleet's press office said.
Warplanes in Kaliningrad on the Baltic Sea performed a series of bombing test runs and dozens of Russian warships sailed to the Black Sea and the Arctic for additional training exercises, according to the Associated Press.
All eyes are on President Vladimir Putin to see if he plans to use his military forces to move in on Ukraine. However, Russia has denied having any plans to do so.
The military maneuvers show Russia's growing numbers and extensive weaponry, causing concern from other nations. Amid high tensions with the U.S., NATO and Ukraine, Russia has amassed about 100,000 troops near the Ukrainian border.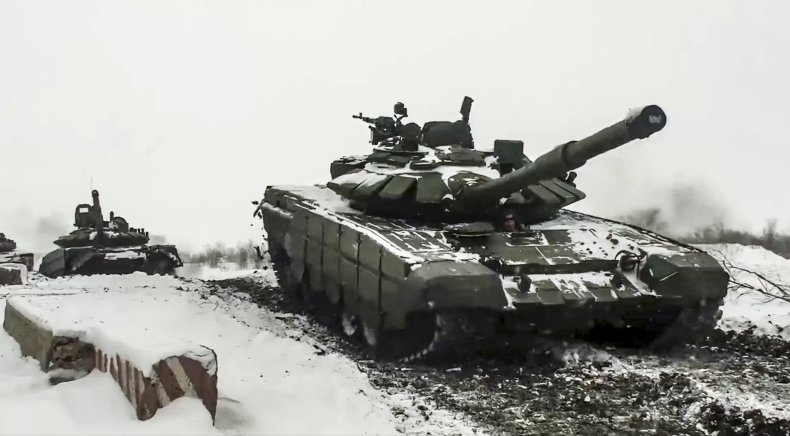 "The mobility of the military, its preparedness and its equipment are what allow Russia to pressure Ukraine and to pressure the West," said Pavel Luzin, a Russian security analyst, according to The New York Times. "Nuclear weapons are not enough."
Robert Lee, a U.S. Marine Corps veteran and Russian military expert, told the Times that Russia has T-72B3 tanks at the Ukrainian border with a thermal optic system for nighttime fighting. Additionally, Russia's guided missiles have double the range compared to some other tanks.
Russian ships and submarines are equipped with Kalibr cruise missiles. Iskander-M rockets are also set up along the border and can "hit targets just about anywhere inside Ukraine," Lee said.
The Russian military exercises were meant to check combat readiness, the Russian Defence Ministry said, according to Reuters.
The announcement of Russia's new drills came after the Pentagon Press Secretary John Kirby announced that 8,500 U.S. troops would be on standby if NATO activates a rapid-reaction force.