Russia Hits Back at Biden and Obama's Criticism of Country's Climate Policy
Russian foreign ministry spokeswoman Maria Zakharova has rejected U.S. criticism of Moscow's commitment to tackling the climate crisis, as she took a swipe at the world's "second largest greenhouse gas emitter."
Her comments come as Russia bristles over claims from two U.S. presidents that it is neglecting its responsibility in tackling global warming.
On Monday, former U.S. President Barack Obama criticized Russia—as well as the world's biggest polluter China—for a "dangerous lack of urgency" in cutting emissions.
Last week, President Joe Biden told the COP26 summit that in Russia "literally, the tundra is burning" and that despite his country's "serious climate problems" Putin is "mum on willingness to do anything."
Greenpeace said Russia endured its worst forest fires in modern history this summer.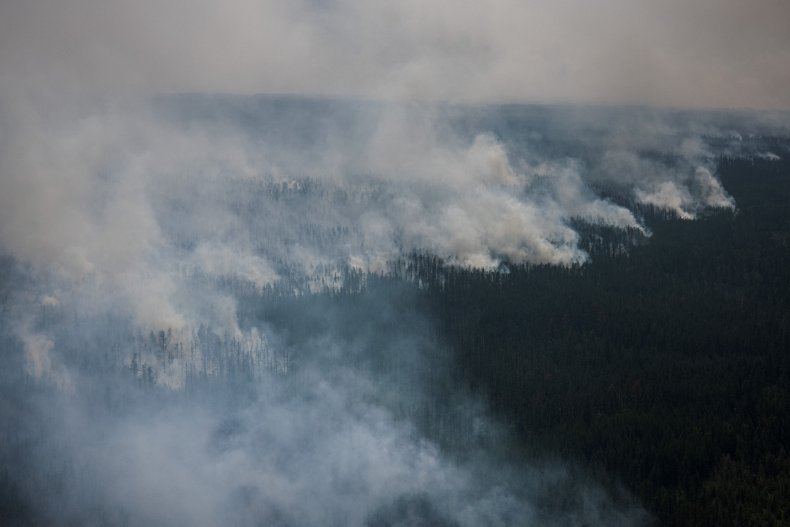 Biden's comments prompted the Kremlin spokesman Dmitry Peskov to respond, "let's not forget that forests are burning in California."
Meanwhile, after Obama's remark, Zakharova took a similar approach, telling reporters: "Those baseless accusations raise eyebrows, at the very least."
"We call upon the United States, the world's second largest greenhouse gas emitter, to refrain from baseless attacks on anyone," she said, according to news agency Tass.
She said the U.S. should "work jointly on international platforms in order to efficiently tackle negative consequences of climate change."
She said that Russia was developing its low-carbon power generation sector which exceeds 40 percent of energy needs.
This consists of nuclear, hydroelectric, wind and solar generation and with the addition of natural gas, "the share will increase to 86 percent, which is among the world's best."
She added that other green measures would be taken as part of Russia's program over the next 15 years to "conserve energy and raise the economy's energy efficiency."
Critics had pointed to the in-person absence of President Vladimir Putin at the climate summit, although he did give a video address and Russia sent a sizable delegation to Glasgow.
Russia, the world's fourth highest emitter of greenhouse gases and heavily reliant on its export of fossil fuels, did not sign the U.S.-led Global Methane Pledge at COP26 to cut methane emissions 30 percent by 2030.
However, Russia did join over 100 countries at COP26 in promising to end deforestation by 2030.
Meanwhile, in Putin's video address, he pledged a carbon-neutral economy by 2060, although this is 10 years later than 2050 net-zero targets that were talked about by many leaders at the summit.
In his address, he also said that Russia would rely on forest ecosystems to meet its climate goals, telling delegates, "after all, our country accounts for around 20 percent of the world's forestland."
This week, the Kremlin gave approval for a push to make Sakhalin Island in Russia's far east to be carbon neutral by 2025.