'It's Not a Sin:' Russian Police Crack Down on 'Blasphemy' Memes but Ignore Homophobic Hate Speech
Authorities in Russia have ignored complaints of violent anti-LGBTQ speech, while simultaneously moving to prosecute individuals who post memes deemed offensive to Christianity.
LGBTQ activists in the country have complained to police about offensive and sometimes violent comments and memes. Among other threats, some read, "f****ts should be pummeled" or "snuffed out" and "it's not a sin to thrash gays," Radio Free Europe reported on Thursday.
Although Russian police have failed to act on these threats, other individuals in the country who have posted memes judged to be blasphemous or mocking Christianity have been detained and jailed. In one high-profile case, Daniil Markin, a 19-year-old film student in the Siberian city of Barnaul, currently faces up to five years in prison for posting a meme comparing the Game of Thrones character Jon Snow to Jesus Christ. Another man is under investigation for criticizing Russian Orthodox Patriarch Kirill for wearing an expensive wristwatch and then having it clumsily photoshopped out of an image.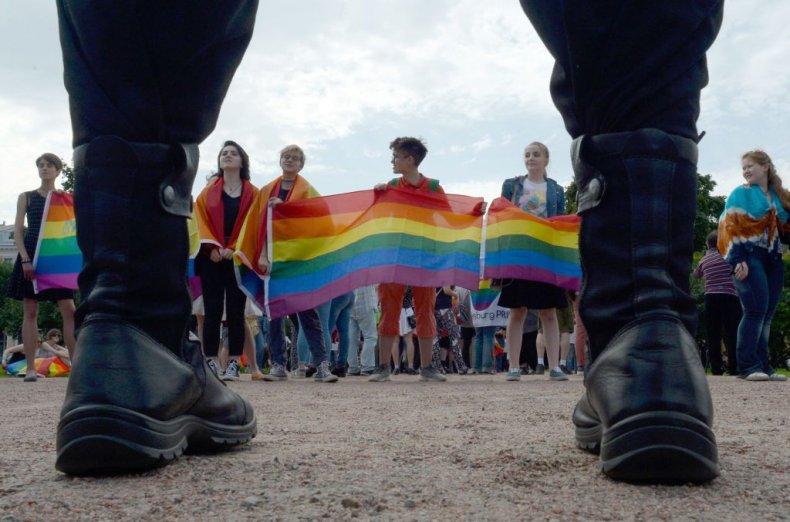 Despite the concern for religious believers' sentiments, Russian police have responded with indifference to complaints from LGBTQ activists regarding online hate.
"The texts examined are not aimed at forming among readers a negative attitude toward individuals or a group of individuals singled out by nationality, race, religion, or social affiliation," one police response read, according to Radio Free Europe. Although officers recognized that the threats did target gays, they determined that the law does not protect the LGBTQ community from online hate speech.
"The police said LGBT individuals are not a social group, and for that reason you can't stoke hatred against them," Anna Plyusnina, a lawyer with an LGBT Resource Center in the country, told the news site.
Gay relationships are not criminalized in Russia. Nevertheless, legislation—often referred to as the "gay propaganda law"— places restraints on portrayals of LGBTQ relationships as equal to heterosexual unions. Moscow claims it does not discriminate against sexual minorities, and that the law is simply in place to protect children. However, the LGBTQ community faces significant social stigma within the country.
"Russia's 'gay propaganda' law is just a flimsy excuse to discriminate against LGBT people and is abjectly harmful to public health in the process," Human Rights Watch said in a May statement. "Factual, positive, and affirming information about sexuality and health is essential for adults and children, including for HIV prevention."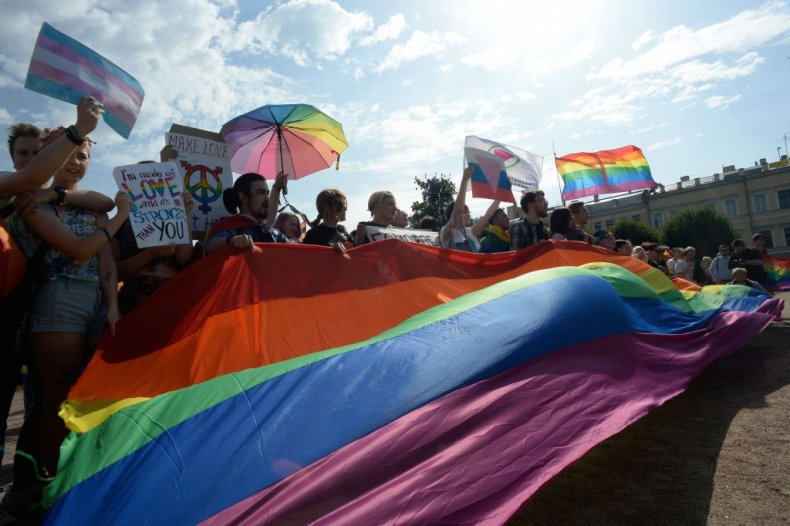 In a move to protect religious sentiments, Russian President Vladimir Putin signed a controversial law in 2013 that criminalized "public actions" that "clearly disrespect society" and are aimed at "insulting believers' religious feelings." As a result, simple actions—such as posting memes seen to be critical of Christianity—have led to felony charges for numerous individuals.
Meanwhile, threats and persecution against the LGBTQ community continue without a reaction from police. Authorities, using the "gay propaganda" law, instead have cracked down on LGBTQ activists and rights groups.
The legislation is "being used as an instrument to spread fear and uncertainty among LGBTI activists across the country," Amnesty International said in an October statement. "We reiterate our call on the Russian authorities to repeal this legislation and respect every person's right to freedom of expression."