Russia's state-owned gas company Gazprom announced that it will cut ties with Kiev-based Naftogaz—a decision that could lead to gas shortages in European Union countries and in the already beleaguered Ukraine.
The decision was made after a Stockholm court ordered Gazprom to pay Naftogaz over $2.5 billion for failing to meet contractual obligations. The Russians responded by immediately launching procedures to terminate its gas supply contracts with Ukraine.
In Kiev, the government ordered all schools and universities to close in an effort to save gas to heat the snow-covered country. Russia's move also sparked concern in Europe, which gets around 30 percent of its gas from Russia, around half of which is transported through Ukraine. When Russia cut gas supplies to Ukraine in 2009, it left much of Europe freezing during the middle of winter. But analysts argue that it is unlikely Russia will want to replicate that debacle at a time when it is pushing to assert its dominance over Europe's energy markets.
"Both sides would pay high reputation costs if the gas transit was disrupted, so both Kiev and Moscow will work to preserve stable transit of the gas onward to other markets," Brenda Shaffer, an energy analyst at Georgetown University, told Newsweek. "Disruptions to Ukraine are different for Gazprom than disruptions to its chief and high paying gas market in Germany."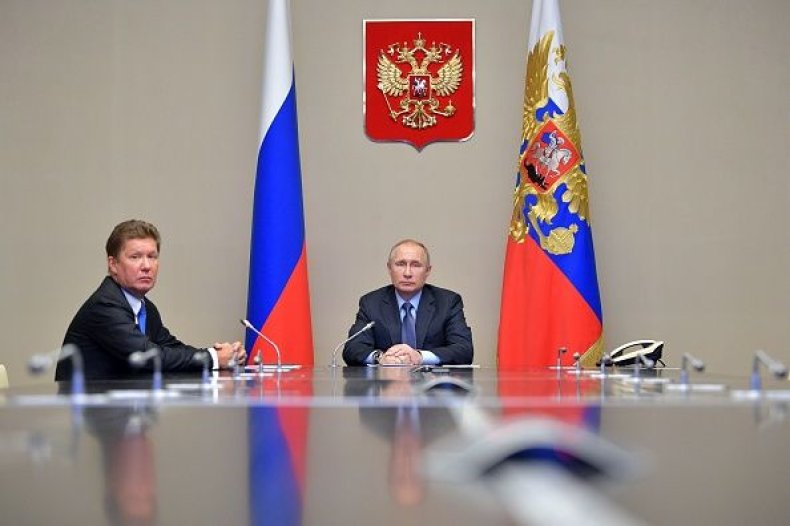 In fact, Russian officials have attempted to assuage the concerns of their European counterparts. Russian Energy Minister Alexander Novak told European Commission Vice President Maros Sefcofic there was no immediate threat to Europe's gas supplies. However, Novak ominously suggested that this could change once Gazprom's contracts with Naftogaz are fully terminated.
The decision to cut gas transit deals with Ukraine could be strategic, however. Russia is currently pushing to build a new pipeline that would bring Russian gas to Europe through the Baltic Sea, bypassing Ukraine. European Union members are divided over whether the project is a good idea. Stopping gas distribution to Ukraine might be a way to demonstrate to Europe why the additional pipeline is needed, experts say.
"Russia had already threatened that it will terminate gas transit via Ukraine by end of 2019. Gazprom's current posturing could be to raise concern in Europe about the future stability of its gas imports and thus to raise support for its controversial Nord Stream 2 pipeline that would cut Ukraine out of the gas transit business and deliver Russian gas directly to Germany under the Baltic Sea," Agnia Grigas, senior fellow at the Atlantic Council and author of the book The New Geopolitics of Natural Gas, told Newsweek.
Russia has been attempting to cut Ukraine out of its energy deals with the European Union ever since 2014, when agrassroots revolution demanded that the country's leadership forge stronger ties with Europe than with Russia.