Russia Fighter Jet Intercepts U.K. Aircraft Over Black Sea
Russia has said it scrambled a fighter jet to intercept a Royal Air Force plane that flew near its borders on Thursday.
In a statement carried by state news agency RIA, the Russian Defense Ministry said that "the reconnaissance aircraft RC-135 of the British Air Force tried to approach the state border of the Russian Federation in the region of the southwestern part of the Crimean peninsula."
RIA said it sent a Su-30 jet to accompany the British plane "about 30 kilometers [18.5 miles] from the border of the Russian Federation," and that the British plane turned back as the Russian plane approached.
Moscow annexed Crimea from Ukraine in 2014 and considers it Russian territory, although this claim is not recognized internationally.
Russia was angered this summer by a number of reconnaissance flights over the Black Sea where NATO countries carried out military drills near the Russian border.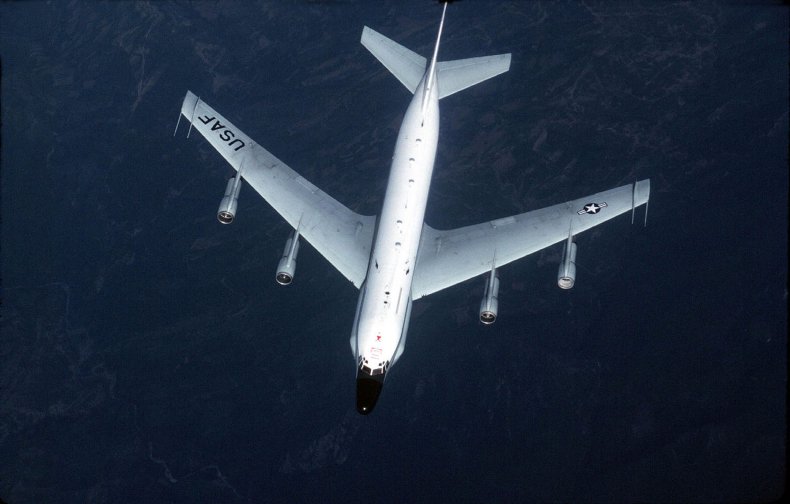 Also on Thursday, Russia's defense ministry criticized the "growing military activity of the United States and its NATO allies in the Black Sea region" and referred to an increase in activity of navy, air and naval reconnaissance and strategic aviation.
"This unscheduled exercise near our borders points to aggressive U.S. actions absolutely unprovoked by Russia that create a threat to regional security and strategic stability," it said in a statement (via Tass).
The statement referred to the intercept of the British aircraft and said that Russian Aerospace Force's anti-aircraft missile troops had detected four NATO reconnaissance aircraft within 24 hours.
U-2S and RC-135 reconnaissance aircraft and two P-8A Poseidon maritime patrol planes were spotted over the northwestern and central parts of the Black Sea, Tass reported.
Tensions are growing between Moscow and the alliance over the Black Sea region, which Russia considers its backyard.
Tass reported that the Russian missile cruiser Moskva and the frigate Admiral Essen are tracking the deployments of U.S. warships in the Black Sea.
"We view the military activity of the U.S. and its allies in the Black Sea region as an effort to study the prospective theater of military operations in case of Ukraine's preparations for a use-of-force scenario for settling the conflict in the southeast," the Russian defense ministry said.
Ukraine, a U.S. ally that has made no secret of its ambitions to join NATO, has complained of a Russian troop build-up next to its border.
Newsweek has contacted NATO for comment.
This story has been updated with additional information.