Russia Election Winner Says Vote Was Rigged, Refuses to Accept Victory
A Russian Communist Party candidate has refused to accept her recent election victory, saying that the voting was rigged.
Daria Bagina, 23, ran for Moscow's parliament in Constituency 37 and won all the districts there this past Sunday. But in a series of tweets Tuesday she said she does not recognize the voting results and does not consider her win legitimate.
The recent local and regional elections in Russia took place against the backdrop of Ukraine's military counteroffensive in the southern Kharkiv and Kherson regions. Over the past two decades, Russian elections have been notorious for allegations of fraud and rigging.
"I have received a lot of congratulations, but there is nothing to congratulate me on," Bagina tweeted. She alleged that the Moscow mayor's office "meanly threw in" votes for her, using remote electronic voting.
"I do not recognize the results of such a vote, and I cannot consider my mandate as legitimate," Bagina said. "I still have a lot to figure out in order to understand why this was necessary and what I should do with it later."
Bagina wrote that in her six years in politics she has never felt so "morally disgusting."
"Thanks to those who during these days found the opportunity to support, give advice and help me in finding the right solution," she said.
A biography on the website of the Russian Federation's Communist Party says that Bagina was an assistant to State Duma Deputy Denis Parfyonov and then an assistant and adviser to Moscow City Duma deputy Lyubov Nikitina. Last year, she was nominated as a deputy candidate in by-elections for Moscow's 37th constituency.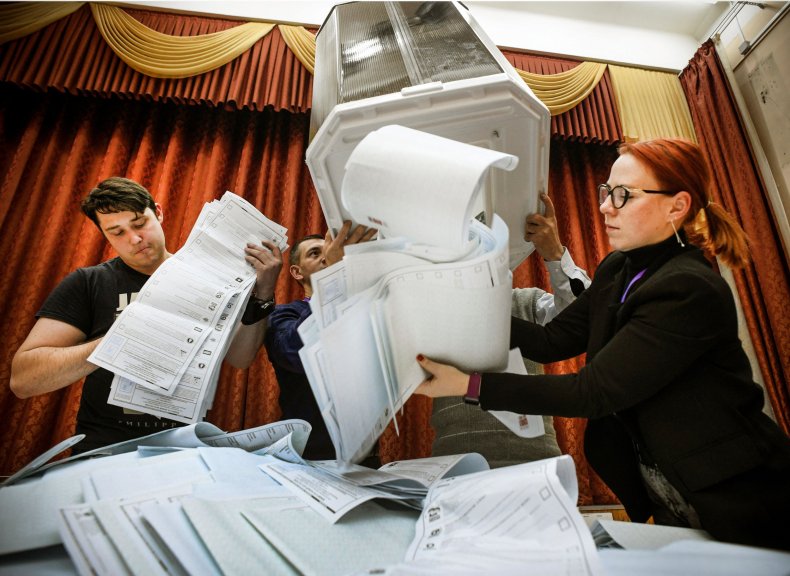 Speaking to Balkanist magazine last September about her Constituency 37 election in 2021, Bagina said her victory was "taken away by remote electronic voting fraud, just as it was for the other Communists who ran for the State Duma."
"There is no longer even an imitation of free elections in Russia. Even during the pre-election race, the Communists were attacked by the administration of City Hall. This calls the results and legitimacy of the 2021 elections in Russia into question," she said.
President Vladimir Putin's ruling party has frequently won elections by massive landslides, but it has tried to maintain democratic legitimacy by allowing other parties to participate in races.
So-called sham referendums on joining Russia were supposed to be held in Kherson to coincide with the Russian elections. But Kirill Stremousov, a Kremlin-installed leader in the region, said they had been "paused" because of a security situation.
Stremousov, deputy head of the Russian-appointed military-civilian regional administration, told state TV channel Rossiya-1 that local officials are focusing on protecting Kherson residents amid the Ukrainian counteroffensive, according to Russian state news agency Tass. Kyiv is trying to retake the region, which was seized by Russian forces in March.
Ukrainian Foreign Minister Dmytro Kuleba has called the referendums a "sham" and "fake," comparing them to a similar referendum that was held in Crimea before it was annexed by Russia in 2014.
Newsweek reached out to Russian authorities for comment.