A top Russian lawmaker said Moscow's mission in Syria was nearly complete, with the Syrian government set to restore control over the country's eastern border and the Islamic State militant group (ISIS) almost entirely defeated.
Vladimir Shamanov, chairman of the defense committee in Russia's lower house of parliament, told state media Monday that he expected the Moscow-backed campaign by the Syrian military and its allies, including militias supported by Iran, to defeat ISIS in its final stronghold in the eastern province of Deir Ezzor by the end of the year. The statement coincided with Russia's renewed effort with Iran and Turkey to achieve a political solution to the six-year war and the Syrian government's condemnation of a separate U.S.-led battle against ISIS in Syria.
Related: How the U.S. lost the war in Syria to Russia and Iran
"In general, we can say that major tasks of Russia's military operation in Syria have been almost accomplished," Shamanov said, according to the state-run Tass Russian News Agency.
"We expect that by the end of this year, government forces will restore control over the eastern border of the Syrian Arab Republic and the Islamic State won't exist anymore as an organized military structure," he added.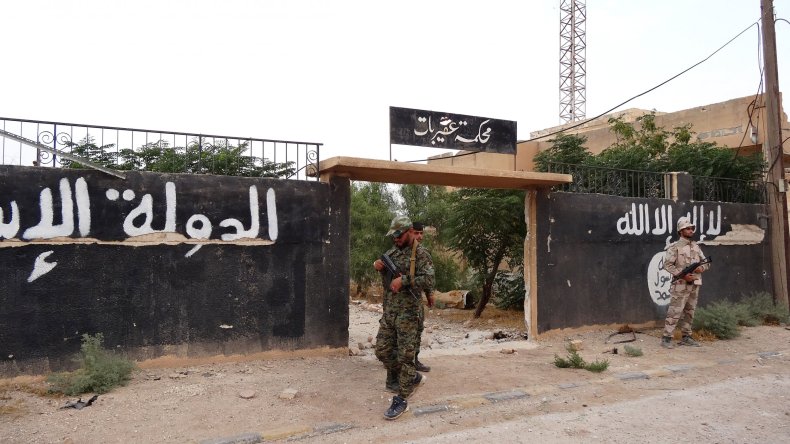 Russia's military intervention in September 2015 helped turn the tides of war in favor of Syrian President Bashar al-Assad and his embattled armed forces, which have been fighting an uprising by rebels and jihadis since 2011. The joint campaign has been criticized by human rights groups for reportedly accumulating a high number of civilian casualties, but it has also accelerated ISIS's losses and allowed Russia to gain a greater foothold in the Middle East.
Viktor Bondarev, defense committee chairman in Russia's upper house of parliament, told Tass Monday that 95 percent of Syria's territory had been freed from ISIS control and that "scaling down Russia's presence in Syria when we finish the operation to liberate it will be a natural and reasonable move." Moscow has, however, signed long-term agreements with Damascus to maintain control over air and sea bases on Syria's western coast, a stronghold of government control since the beginning of the conflict.
As the Syrian military continued to pierce through ISIS territory on its way toward the eastern border with Iraq—where the jihadi group originated and has since already been mostly defeated—officials from Russia, Iran and Turkey commenced the seventh round of negotiations between the Syrian government and rebel leaders in the Kazakh capital of Astana. The three countries have sought to finalize their plan to create four de-escalation zones across Syria in order to safeguard civilians caught in the deadly conflict.
Russia's state-run RIA Novosti news outlet also cited Monday an unnamed source familiar with the Astana talks as saying a multi-ethnic Syrian congress dedicated to reforming Syria's constitution on behalf of all parties may convene as early as next month. Alexander Lavrentyev, head of the Russian delegation, said the idea, which was revealed by Russian President Vladimir Putin earlier this month, "is still being discussed," according to Reuters.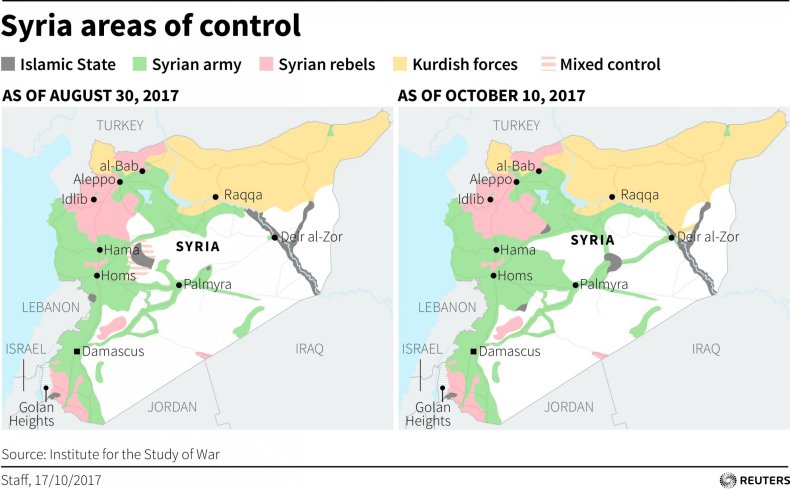 While the Syrian government has succeeded in retaking the majority of the country, it still faces pockets of rebel groups, some sponsored by Turkey, and the influential, U.S.-backed Syrian Democratic Forces, a mostly Kurdish coalition of Arabs and ethnic minorities that controls a large portion of northern Syria. The U.S.-led campaign, which also faces scrutiny over mass civilian deaths, announced earlier this month its victory over ISIS in the jihadi's self-proclaimed capital of Raqqa.
The state-run Syrian Arab News Agency cited an official source at the Syrian Foreign Ministry as saying the ministry condemned the U.S.'s unapproved presence in Raqqa and anywhere in Syria. Bondarev told Tass the U.S.'s intention to create a friendly military council in Raqqa "once again confirms their [coalition's] aims, which are far from fighting IS," using an alternative acronym for ISIS.
Kurdish militias have both fought with and against the Syrian military through the complex conflict, and tensions have risen as they both contend for oil-rich ISIS territory in Deir Ezzor. As Assad's position improves and Kurdish groups doubt the U.S.'s long-term commitment to their goals in Syria, however, Kurdish leaders have shown willingness to swap oil fields seized in Deir Ezzor for better relations with Damascus and potentially greater autonomy in the north, according to reports cited by the Institute for the Study of War and other experts previously cited by Newsweek.