Russia on Defensive as Ukraine Holds Advantage, Ex-Kremlin Aide Admits
Russia's military strategy is no longer to "attack" in eastern Ukraine, as Kyiv "solves several problems" by investing further resources in the contested city of Bakhmut, according to an ex-Kremlin aide.
Writing on Telegram on Tuesday, Sergey Markov, a former adviser to Russian President Vladimir Putin, said Ukraine's focus on Bakhmut offers Kyiv more time to mobilize, train and equip troops for a wider counteroffensive in the war that is now in its second year.
Moscow's fighters, meanwhile, have to "wait for a big offensive" and then "try to defeat it," deciding whether or not to approach a possible peace accord or fight back, Markov wrote.
The battle for control of the destroyed Donbas city of Bakhmut has lasted months and dominated coverage of the war in Eastern Ukraine. Russian forces have advanced in and around the city, according to Western analysts, but Ukrainian soldiers continue to defend the settlement, Ukraine's military has said.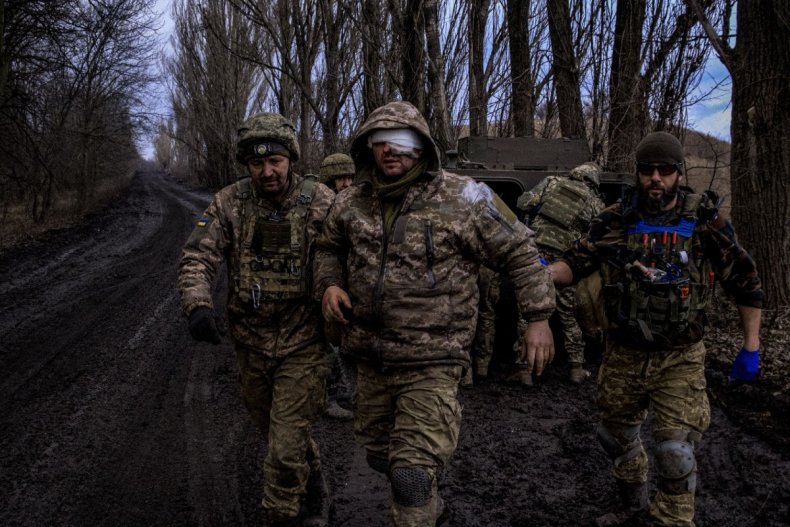 This month, Ukrainian President Volodymyr Zelensky said his top military officials would "find the appropriate forces to help the guys in Bakhmut" as Kyiv doubled down on its commitment to defend the city.
Bakhmut, as part of the Donetsk region, is in the eastern Donbas. Zelensky's investment in defending the city "symbolically makes Donbas Ukrainian," Markov wrote.
"Zelensky is trying, by pouring Ukrainian blood on the land of Donbas, to make the land of Donbas Ukrainian in the eyes of the population of Ukraine," he added.
The international community recognizes Donetsk and the neighboring Luhansk region as part of Ukrainian territory. Since 2014, Moscow has supported Russian separatist fighters, and has illegally annexed the territories.
By concentrating on Bakhmut, Zelensky also buys time to fortify the Donetsk cities of Slovyansk and Kramatorsk, as well as putting forward the "image of the heroic army of Ukraine with high morale," Markov said.
Russia's military strategy will also focus on these two cities, Markov added, with Bakhmut acting as a "gateway to them."
On Monday, the Washington, D.C.-based Institute for the Study of War said that despite Russian advances in and around the city, Ukraine was continuing to defend it. Ukraine's General Staff of the Armed Forces said on Tuesday that Moscow's troops were still attempting to capture the city, adding that 740 Russian soldiers had been killed in Ukraine in the past day.
In an operational update on Tuesday, Russia's defense ministry said "up to 150 Ukrainian servicemen" had been killed in the previous 24 hours in the Donetsk area. Neither casualty count could be independently verified by Newsweek.
On Monday, Serhiy Haidai, Ukraine's governor of the Luhansk region, said Kyiv's forces were "waiting for weather conditions to improve" to launch a counterattack. The head of Ukraine's ground forces, Oleksandr Syrsky, said on Telegram on Saturday that it was "necessary to gain time to accumulate reserves and start a counteroffensive, which is not far off."
Newsweek reached out to the Kremlin by email for comment.