Russia Denies Accidentally Bombing Onlookers During War Game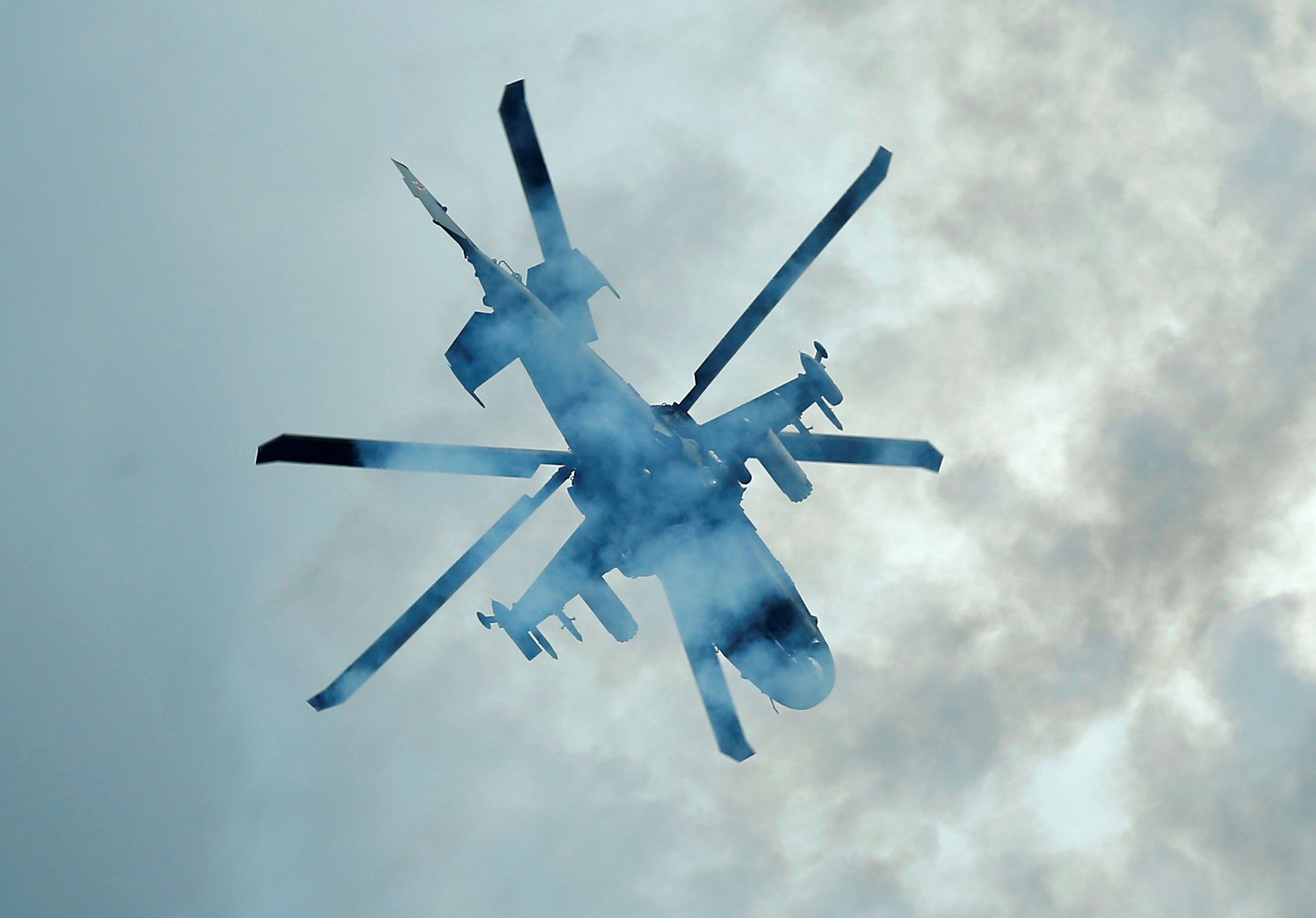 Russia's Ministry of Defense has denied that footage spreading online that shows what appears to be a Russian military helicopter firing into a crowd of onlookers is from its ongoing war games with Belarus.
The phone camera footage posted by a YouTube user, who has since deleted it, but shared by several non-government news outlets Tuesday, shows two Russian military helicopters flying over a rural field, where a handful of civilians have parked their cars to watch the aircraft.
A curl of smoke twirls by one of the Ka-52s and within a second, the missile tears through the terrain with a devastating bang, scattering soil and flares next to the photographer, who flees quickly.
The video was first reported on by Yekaterinburg-based news site 66.ru, claiming the incident took place at the Luzhskiy range near St. Petersburg, over the last couple of days shortly before President Vladimir Putin's visit there yesterday. The news outlet claimed the helicopter misfired arounf 500 meters from its intended target. Local St. Petersburg newspaper Fontanka obtained footage of the hit from another angle, reporting that three missiles struck at once, blowing up a vehicle parked on the ground.
A user on Russian social media website VKontakte has also uploaded what they claim to be cockpit footage of the hit, dating it to Sunday and also marking its location as the Luzhskiy range. Another VKontakte account shared a photograph with a local, citizen-run page that documents traffic accidents in the region of what he purports to be an official record of the incident, which dates the hit to September 16, noting two cars were damaged and three people "lightly" injured.
Putin's spokesman Dmitry Peskov refused to comment on the issue Tuesday, telling journalists to instead refer to the Ministry of Defense.
The Ministry of Defense has specifically denied that such an incident took place Monday as part of the war games. Russia's Western Military District told Interfax in a statement Tuesday that the reports of air force incidents during the drill were "conscious provocation or somebody's personal idiocy." The district, however, appeared to confirm the video's validity with a vague estimation of when the incident took place—during summer training.
"One of the helicopters' aiming system mistakenly locked a target," the district's statement said. "As a result of the hit by an unguided rocket, one of the trucks without people in it was damaged."
If reports are correct, this would be the second serious incident involving Russian military equipment misfiring in training near St. Petersburg. On September 7, a Russian tank's line of fire ricocheted into a nearby building for military engineers, killing one and injuring five.