Russia Denies Role in U.S. Protests, Says They Are Result of Policies Toward Race Relations
Russia has denied playing any role in the unrest that has broken out across the United States in response to the police killing of an unarmed black man, despite recent accusations the country had interfered to incite them.
On Sunday, White House national security adviser Robert O'Brien told ABC News that Russia may be seeking to take advantage of the U.S. turmoil via social media campaigns and former national security adviser Susan Rice told CNN the entrance of certain entities seeking to incite violence among otherwise peaceful protests was "right out of the Russian playbook."
But Anatoly Antonov, Moscow's envoy to Washington, told the Rossiya-1 channel Wednesday that Washington officials were attempting to find a Russian link to mass protests and demonstrations that have rocked major U.S. cities for more than a week in the wake of George Floyd's death in the custody of Minnesota police last Monday.
"Even in this situation, where the country has encountered such serious problems, some are trying to find a Russian connection and accuse Russia of intervention in the United States' internal affairs. Allegedly we instigate what is happening here," Antonov said in comments translated by the state-run Tass Russian News Agency.
"This is utterly wrong. Everything that is happening in the United States is a result of the policy that has been conducted in the U.S. in the field of inter-ethnic and inter-racial relations. It is an explosion of the contradictions that have been simmering for a very long time," he added.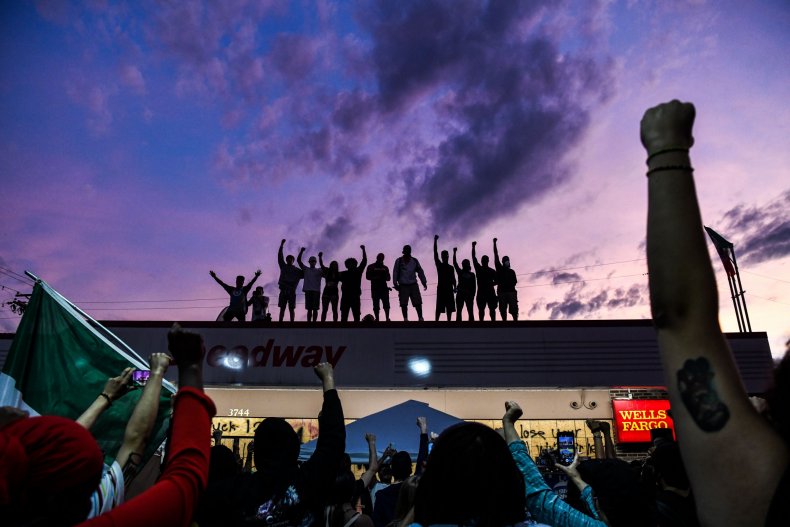 Antonov said "nobody is rejoicing" over the situation in the U.S. "People are losing lives. We do see what attacks are being committed by the marauders and provocateurs, who never miss a chance to take advantage of peaceful demonstrations," he added.
The Russian diplomat said that U.S. issues involving inter-ethnic tensions and widespread allegations of police brutality as "fresh evidence of human rights violations and double standards" and that he and his colleagues "are very much worried over the situation in the host country," he added.
"We wish to see its recovery," Antonov said. "We wish to see order and people's constitutional rights restored as fast as possible. This would let us cooperate normally."
The statement comes as Senator Lindsey Graham of South Carolina investigates Hurricane Crossfire, the FBI's investigation into Russian election interference and the Trump campaign. Both Trump and Putin have repeatedly denied working together to help Trump to win the 2016 election.
The Kremlin has deemed the issue an internal affair of the United States. The Russian Foreign Ministry has weighed in on Floyd's death, however, saying Friday it "could not fail to pay attention to the extraordinary situation that has taken place in the United States."
The statement noted this was not an isolated incident and named prior incidents in which African-Americans were killed by U.S. police officers. "The United States has certainly accumulated systemic human rights problems: race, ethnic and religious discrimination, police brutality, bias of justice, crowded prisons, and uncontrolled use of firearms and self-defense weapons by individuals, to name a few," the ministry said at the time, urging Washington "take effective measures" to rectify the situation.
The U.S. has also regularly accused Russia of human rights abuses. The State Department's latest annual human rights country report released in March accused Russia of using violence against those participating in unsanctioned protests and arbitrarily detaining them.
Trump on Monday warned he would invoke the 1807 Insurrection Act, a rare move giving him authority to deploy U.S. troops domestically as demonstrations turned violent in some cities, leading to looting, arson and destruction of property. At least 11 people have been reported killed in or around the protests, which Trump said had been infiltrated by "domestic terrorists" aligned with loosely-affiliated left-wing group Antifa.
But on Wednesday, Defense Secretary Mark Esper broke with the president, saying he does "not support invoking the Insurrection Act" under the current circumstances as authorities again braced for another potential night of chaos.