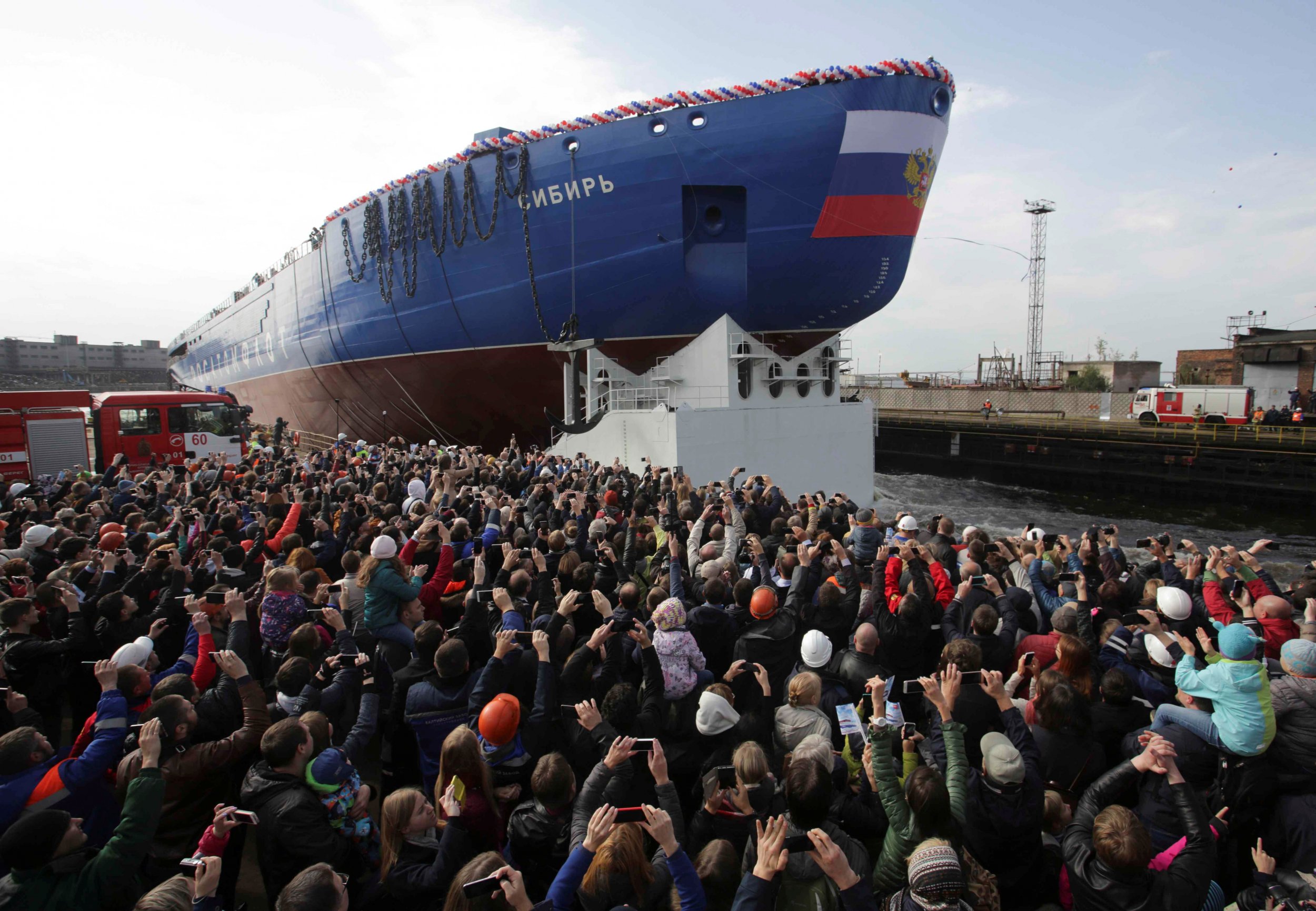 Russia has launched the world's largest nuclear-powered icebreaker ship in a bid to expand its strategic presence in the resource-rich, but unforgiving, terrain of the Arctic.
The massive vessel, named Sibir (Siberia), was developed as part of a huge push by the Rosatom State Atomic Energy Corporation to open up crucial shipping lanes in the icy Northern Sea Route, where climate change and commercial competition have attracted international attention. Sibir, one of three nuclear-powered icebreakers described by the state-run Tass Russian News Agency as "the world's largest and most powerful" of their kind, replaces a retired Soviet-era ship of the same name. The new Sibir's manufacturers have set out high expectations as it was floated Friday for the first time.
Related: Russian navy warship heads for Greek vacation hotspot before joining Syria war
"Thank you for your hard work and for the rebirth of the sector. Sibir has its predecessor—the icebreaker that was commissioned in 1977 and has already seen long service. Its absolute record was set in May when it reached the North Pole. I wish today's Sibir to also break the record," Rosatom Director General Alexei Likhachev told Tass.
"I'm sure that today we will make another step forward for developing the Arctic and the Northern Sea Route," United Shipbuilding Corporation President Alexei Rakhmanov said.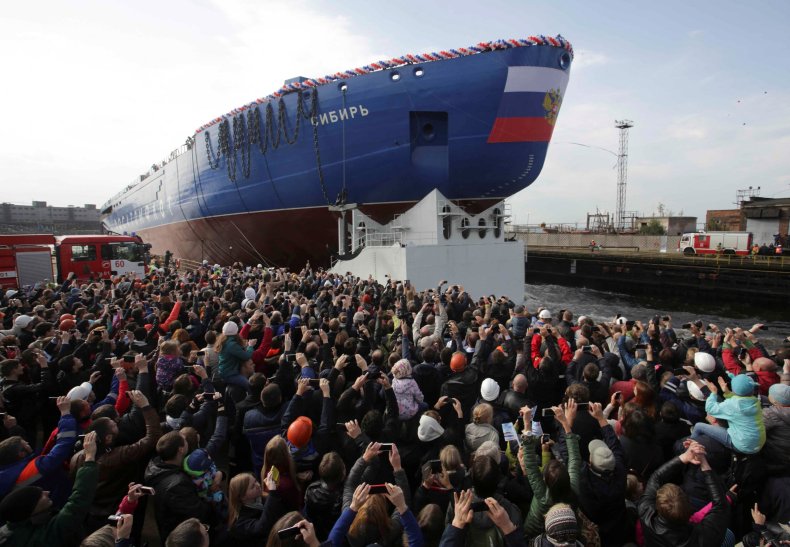 Russia is the only country in the world that produces nuclear-powered icebreakers, and the latest ship's dual nuclear reactor engine easily outpowers gas-fueled competitors. Sibir reportedly weighs 33,500 tons and is more than 576 feet long. Vyacheslav Ruksha, head of state-owned Atomflot, said Russia's development of the Sibir and two more nuclear icebreakers, including last year's Arktika and the upcoming Ural, gave Russia clear dominance in the Arctic.
"Nuclear energy ensures Russia's undisputed leadership in the far north," Vyacheslav said, according to The Independent.
"But only with nuclear icebreakers can our country fully unveil all possibilities and advantages of the Northern Passage to the world," he added.
Rising temperatures in the Arctic are gradually thawing natural oil and gas reserves estimated to be worth up to 35 trillion dollars and nuclear icebreakers such as the Sibir are capable of creating shipping routes in otherwise unpassable icy waters.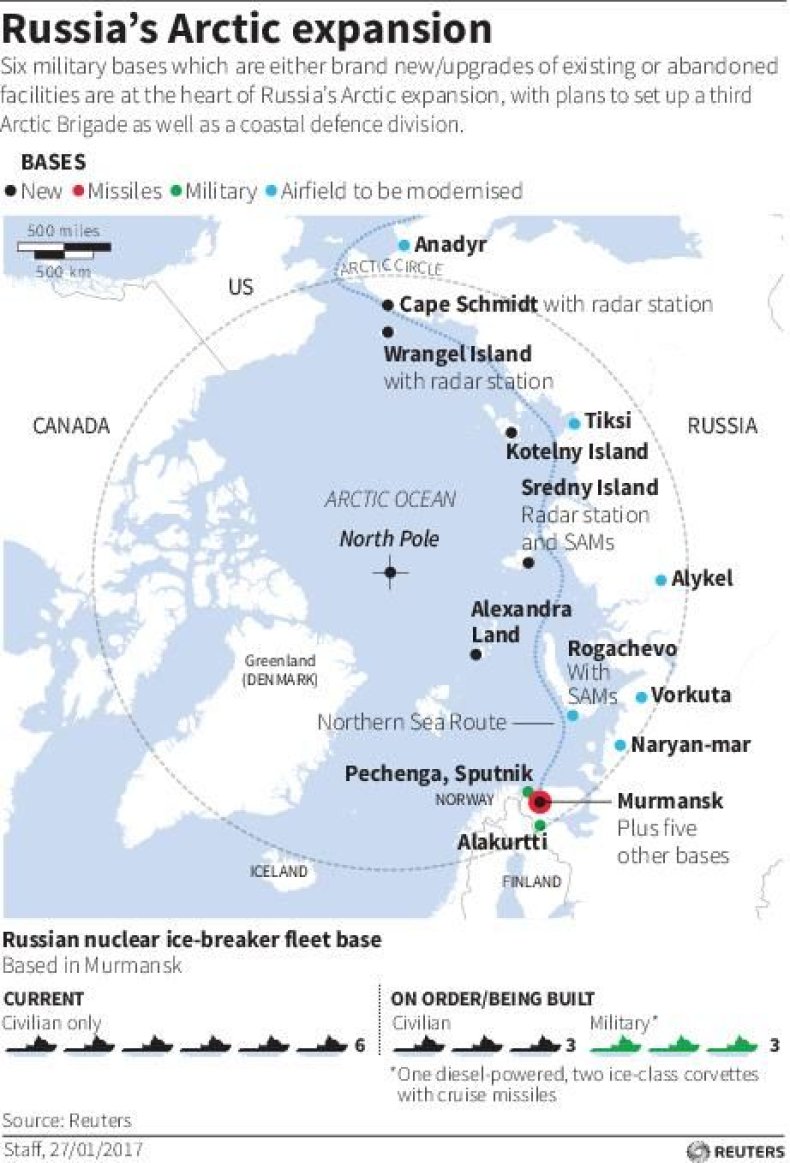 In addition to economic interests in the Arctic, Russia has increasingly looked to expand its military foothold in the region as well. Weeks after Russian President Vladimir Putin urged his generals to prioritize "defense of [Russia's] interests in the Arctic," Russia's Defense Ministry released a virtual tour of one of its northernmost military installations, called "Arkticheskiy Trilistnik," in April. The following month, Russia conducted a submarine-launched intercontinental ballistic missile (ICBM) test in the nearby Barents Sea.
The local government of Russia's arctic Arkhangelsk province announced Thursday plans to unveil packages encouraging tourists to visit the region, according to Tass.