Russia Says U.S. HIMARS and Warehouse Full of Ammo Destroyed in Strike
Russia has said it destroyed a High Mobility Artillery Rocket System (HIMARS) in its latest claim of a successful strike against the weapon the U.S. has supplied Ukraine.
Russian Defense Ministry Spokesman Lieutenant-General Igor Konashenkov said that his country's forces had successfully struck the multi-rocket launch system which has allowed Ukraine to target Russian command centers and ammunition depots.
"Around ​​Kramatorsk in the Donetsk People's Republic (DPR), a HIMARS launcher and a warehouse with ammunition for it were destroyed," Konashenkov said in a video briefing on Saturday, according to state news agency Tass.
He said that strikes "by operational-tactical and army aviation, missile forces and artillery on military facilities on the territory of Ukraine continue."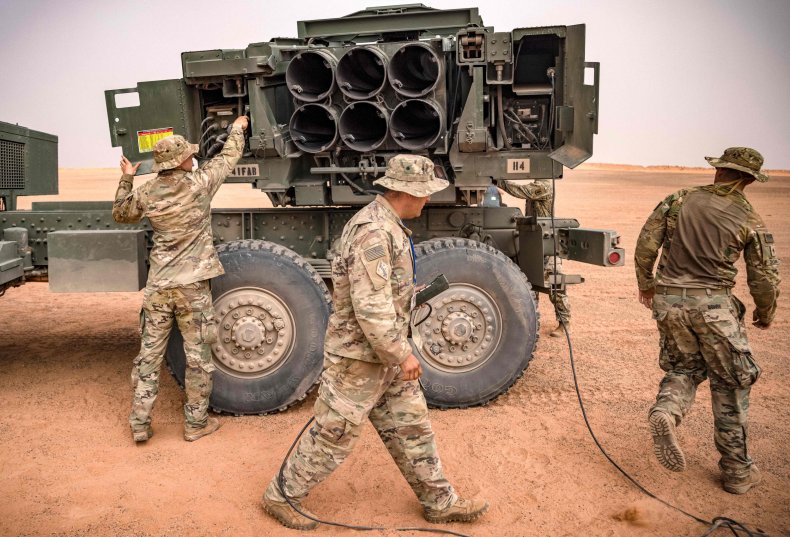 Russian forces had also destroyed two Mi-24 helicopters on a helipad in the Domanevka area of ​​the Mykolaiv region, he claimed. "Four command posts, manpower, weapons, military and special equipment in 143 districts were also hit," he added.
Russia's claim has not been independently verified and Newsweek has contacted Ukraine's defense ministry for comment.
Moscow has made a number of unverified claims in recent weeks that it had successfully targeted HIMARS that were supplied to Ukraine's forces.
Also on Saturday, Russian foreign ministry official Alexander Darchiev reiterated statements that the Ukrainian military was using HIMARS to carry out strikes using U.S. intelligence, a charge which Washington has denied.
Moscow has repeatedly criticized the U.S. supply of weapons to Kyiv, with Darchiev telling Tass that Washington is "increasingly becoming a direct party to the conflict."
However, as previously reported by Newsweek, retired United States Marine Corps Colonel Mark Cancian said that the ammunition that the U.S. has given Ukraine for the systems could be depleted in the next three or four months.
He told Newsweek he estimated that the U.S. had given Ukraine about 10,000 HIMARS missiles and as such, "will have to reduce the number of missiles provided because the stocks will be running low."
"I think there will be a series of discussions inside the Pentagon," Cancian added.
HIMARS' missiles known as Guided Multiple Launch Rocket Systems (GMLRS) have a range of more than 50 miles. HIMARS also launch its weapons and can move swiftly away before enemy forces locate the launch site and have been credited with helping Ukrainian forces hit significant Russian targets.
Since the start of the war on Febraury 24, the U.S. has sent $9.1 billion worth of military assistance to Ukraine including helicopters, drones and heavy artillery, in addition to HIMARS. The arms include 7,500 Javelin anti-armor missiles and 1,400 Stinger anti-aircraft missile