Russia Destroys Last Bridge Out of Heavily Occupied Severodonetsk: Governor
A Ukrainian regional governor says the last bridge leading out of Severodonetsk is destroyed, creating dire conditions for people remaining in the city that's become a central battleground in the conflict.
Serhiy Haidai, governor of Luhansk Oblast in eastern Ukraine, on Monday gave an update on the plight of the eastern Ukrainian city in an interview with Radio Free Europe and on social media. While Haidai said Ukrainian forces continue to resist Russian advances in Severodonetsk, the development indicates fighting has intensified in a city that could be pivotal to the Kremlin's war effort.
Describing conditions for people remaining in the city as "extremely difficult," Haidai said in the interview that "evacuation is impossible." He said that Russian forces have also destroyed the city's gas, water and electricity infrastructure, in addition to what he called "huge problems" with medical care.
"All the bridges have been destroyed, so it is impossible to bring anything to the city today, unfortunately," he told the news outlet.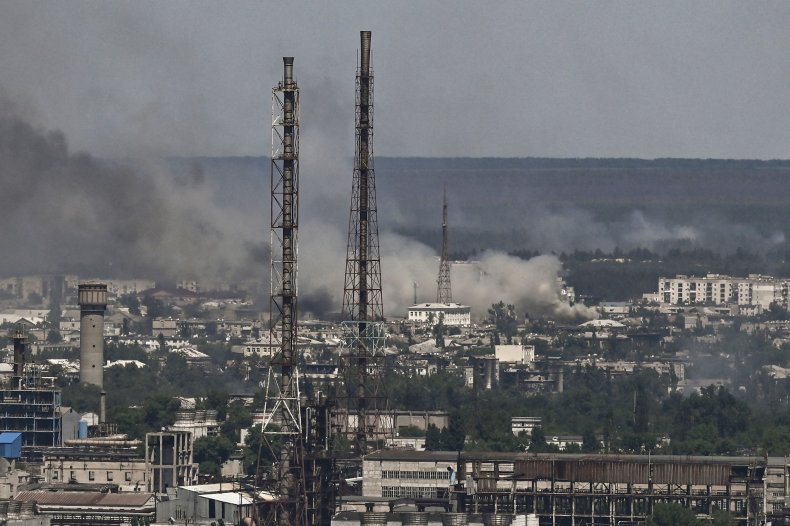 While the Russian military controls 70 to 80 percent of Severodonetsk, Haidai said in a Facebook post that communication with those remaining in the city is still open.
After seeing its effort to take Ukrainian capital Kyiv scuttled early in its invasion, Russia has turned to the Donbas region in eastern Ukraine, which has a large population of Russian speakers and two breakaway regions friendly to Moscow.
Ukrainian President Volodymyr Zelensky said earlier this month that Russia's current war effort could hinge on Severodonetsk and said he anticipated a "fierce" battle over the city. Russia has seen early success in the fight for the city, with the general staff of Ukraine's armed forces saying Russia forced its way into the city center.
Zelensky said in a speech Monday that the battle in Donbas "will surely go down in military history as one of the most brutal battles in Europe and for Europe."
"The price of this battle for us is very high," said Zelensky. "It's just scary. And we draw the attention of our partners on a daily basis to the fact that only a sufficient number of modern artillery for Ukraine will ensure our advantage and finally the end of Russian torture of the Ukrainian Donbas."
Eduard Basurin, a separatist leader, said on Monday that Severodonetsk had been effectively blocked off after Russian forces blew up the last bridge connecting it to Lysychansk, according to Radio Free Europe.
Newsweek has reached out to the Russian government for comment.