Russia Detains 'More Than a Thousand' Protesters in Election Protests
Russian authorities arrested more than 1,000 people as protests swept the country's bigger cities, overshadowing local elections.
The protests, which were announced by anticorruption critic Alexey Navalny last month, rallied against one of the Russian government's most incendiary policies of recent times: an increase in people's retirement age to boost the economy. Navalny spent the day in jail—police regularly put him in custody ahead of his public rallies—but supporters gathered across the country, waving Russian flags and singing the national anthem as riot police swarmed them.
At least 452 people were arrested in St. Petersburg, according to independent watchdog OVD-Info, which published the names of everyone purportedly in police custody. Local media estimated that the number exceeded 600. The country's second city saw the most arrests for the day, after Navalny's camp accused authorities of finding a last-minute reason to declare the rally illegal.
"Today was very good," a post on Navalny's blog read. "In St. Petersburg we were permitted a protest for the first time in two years, but then 'unexpectedly' a pipe burst in the designated venue. The permission was rescinded, even though it is impossible to do this legally."
In Yekaterinburg, central Russia, police arrested 183 people. By the end of the day, police stations in Krasnodar, Omsk, Perm, Moscow and Tver all had dozens of new detainees as the watchdog published a list of 1,018 arrested protesters.
A huge social media push mobilized activists to take to the streets on the back of a wider public dislike for a policy from the Kremlin that has seen a rare unity of criticism across generations and political affiliations. Russian President Vladimir Putin's personal rating has suffered to a degree unseen in years after he endorsed the increase of pensions for men from 60 to 65 and from 55 to 60 for women.
Read more: Most Russians now say they are ready to protest Putin's pensions reform
Central concerns with the reform stem from the fact that the Russian public has endured a volatile ruble, a recession, rising costs and fewer foreign consumer goods in shops over the past four years, but must bear another brunt of the country's economic woes. In the case of Russia's men, their life expectancy now barely eclipses the new retirement age, prompting genuine concern that many Russians may forego their pensions entirely, dying before they can claim it. Protesters on Sunday waved around placards reading "I want to live to see my pension," while others posted online with the hashtag "survive till the pension" (#ДожитьДоПенсии).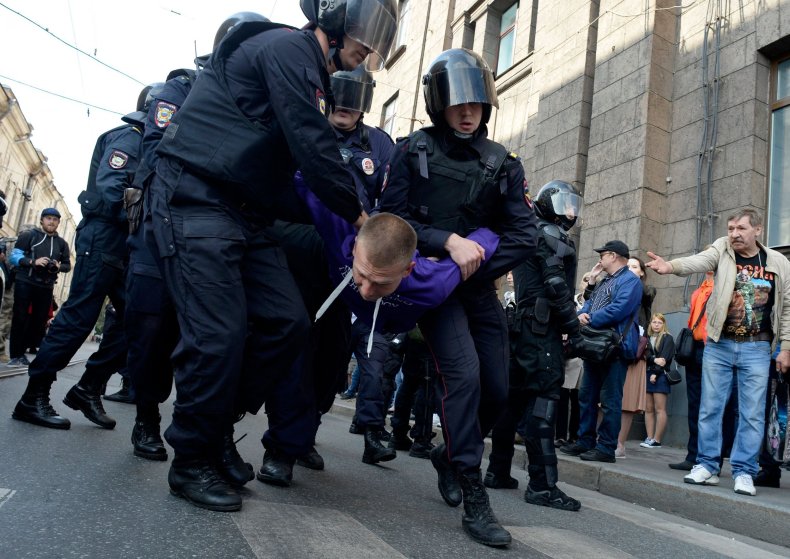 The government attempted to rush the pensions reform through parliament while Russians were preoccupied with hosting the World Cup this summer, but opposition for it emerged almost immediately. Putin has not yet signed the bill but has already defended it as a necessary change, offering minimal concessions on the terms of the reform.