Top Russian Diplomat Erupts at TV Guests over Nation's Lack of Allies
Russia's Foreign Ministry spokesperson, Maria Zakharova, has said in a fiery exchange that Moscow has "only two allies," which are the Russian "army and its navy."
Zakharova's exchange with a fellow guest during an appearance on Russian state television was translated and published by journalist Julia Davis on Sunday.
Introducing the discussion about Moscow's Western allies during the broadcast, political scientist Aliaksei Dzermant suggested that "during earlier phases of Russia's conflict with the West, Russia usually had Western allies." He argued that at various points in history, such as when Russia faced French Emperor Napoleon Bonaparte in the 19th century, Moscow and London had been allies with a "common interest."
Bringing up the example of World War II when he said the said the Soviet Union worked with Western allies against Adolf Hitler from 1941, Dzermant was cut off by Zakharova.
"In World War II, did we have many allies before 1943-44?" Zakharova asked. She then added: "When did they become our allies?"
She later told the guests: "They [Western countries] made their choice of becoming our allies only when they realized who is winning. Let's not harbor any illusions about their allegedly high humanitarian standards. They never had them there."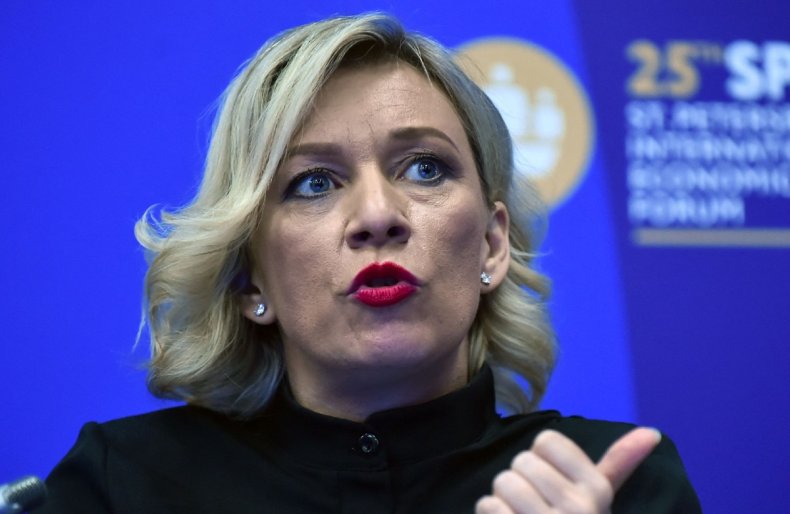 Returning to his point, Dzermant compared Soviet alliances formed during the latter part of World War II with today's Russia, where "we see that we don't have, and won't have, allies in the West."
"In this regard, will we get comparable allies in the East? Can we consider Iran or China in this capacity? Or will they also expect decisive victories and observe in whose favor the scales will tip?" he asked Zakharova.
The Foreign Ministry spokeswoman then responded that the "entire premise that we ever had allies in the West is wrong."
"It was a big mistake on the part of our elites to believe that foreign countries will help us," she added. "Russia has only two allies: its army and its navy."
Posting on her Telegram channel on February 10, Zakharova had said Russian diplomats will "resolutely rebuff the attempts of unfriendly states to isolate our country in the international arena."
Zakharova said Russian diplomatic efforts would focus on "unleashing the potential of cooperation with constructive partners," including in the Middle East, Africa and Asia-Pacific.
On the same day, Russian Foreign Minister, Sergei Lavrov, echoed a similar message, saying Moscow was fortifying its relationship with non-Western countries.
"We can affirm that the West's plans to isolate Russia by surrounding us with a sanitary cordon have been a fiasco," Lavrov said following a tour of Africa.
Saying the U.S., U.K. and the European Union had "orchestrated" anti-Russian sentiment, Lavrov said Moscow was nevertheless "strengthening good neighborly relations in the widest sense of this concept with the international majority."