Russia Hit Dnipro With 'Carrier Killer' Missile Made To Destroy Ships: Kyiv
The Russian missile that has claimed dozens of civilian lives after striking an apartment building in central Ukraine was designed to strike aircraft carriers at sea, according to the Ukrainian armed forces.
On Saturday evening, the missile hit a multi-story apartment building in the city of Dnipro leaving at least 35 people dead, among them two children, the Dnipropetrovsk regional governor, Valentyn Reznichenko, said on Monday. In a post on Telegram, he said 75 people had been injured, including 14 children, and search and rescue efforts would continue.
However, Dnipro's mayor, Borys Filatov, told the Reuters news agency that the chances of "saving people now are minimal," and the agency reported that rescuers in the sub-zero temperatures were using periods of silence to help locate those potentially screaming for help underneath the rubble of the building.
A spokesperson for the Ukrainian Air Force said on Saturday that the missile used to strike the apartment block was one dubbed a "carrier killer," and "designed to destroy aircraft carrier groups at sea."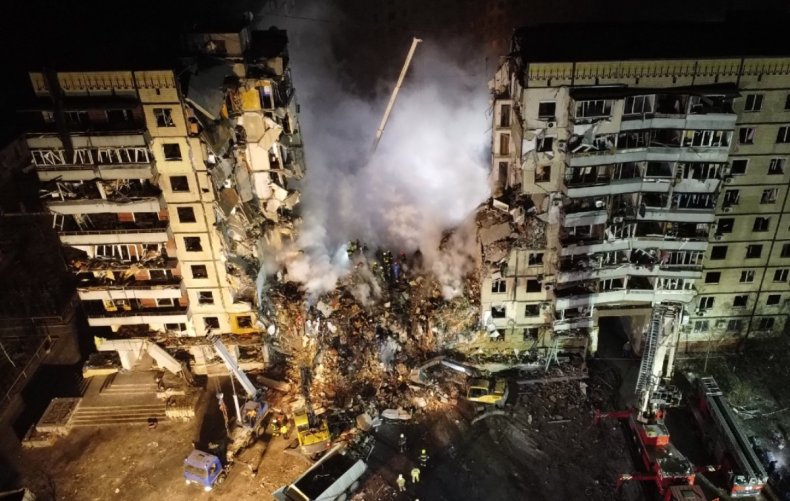 Yurii Ihnat, quoted by Ukrainska Pravda, added that the Kh-22 missile can also be equipped with a nuclear warhead.
According to Ihnat, the missile had been launched from a Tu-22M3 long-range bomber. He compared Saturday's strike to a Russian attack on a shopping center in the central Ukrainian city of Kremenchuk on June 27, 2022, which Kyiv's forces said involved an air-launched Kh-22 cruise missile, designed to target warships.
Ukrainian President, Volodymyr Zelensky, shared a video of the aftermath of the strike shortly after the attack, in which thick smoke can be seen rising from the rubble where the apartment block had previously stood. Rescue vehicles and teams can be seen shining flashlights into the smoke, and the surrounding buildings, although still standing, sustained significant damage.
Ukraine's Prosecutor General's office claimed Russia's 52nd Guards Bomber Aviation Regiment was responsible for the strike.
Following the attack, Lieutenant General Nikolai Oleshuk, Commander of the Air Force of the Armed Forces of Ukraine, said Ukraine did not have the technology to intercept Kh-22 missiles.
Ukraine's armed forces have "no fire devices capable of shooting down this type of missile," according to Oleshuk, who claimed that none of the 210 Kh-22 missiles fired at Ukraine since the outbreak of hostilities on February 24 had been intercepted by Ukrainian air defenses.
Among the systems capable of shooting down incoming Kh-22 missiles is the Patriot, Oleshuk said, which was part of the military aid package unveiled by the U.S. Defense Department in December.
Washington is sending one Patriot air defense battery to Ukraine, and the Pentagon said on January 10 that up to 100 Ukrainian soldiers will travel to the U.S. to receive training on the air defense system.
Newsweek has approached the Russian Defense Ministry for comment.