Donald Trump Is Learning the Cost of Business in Russia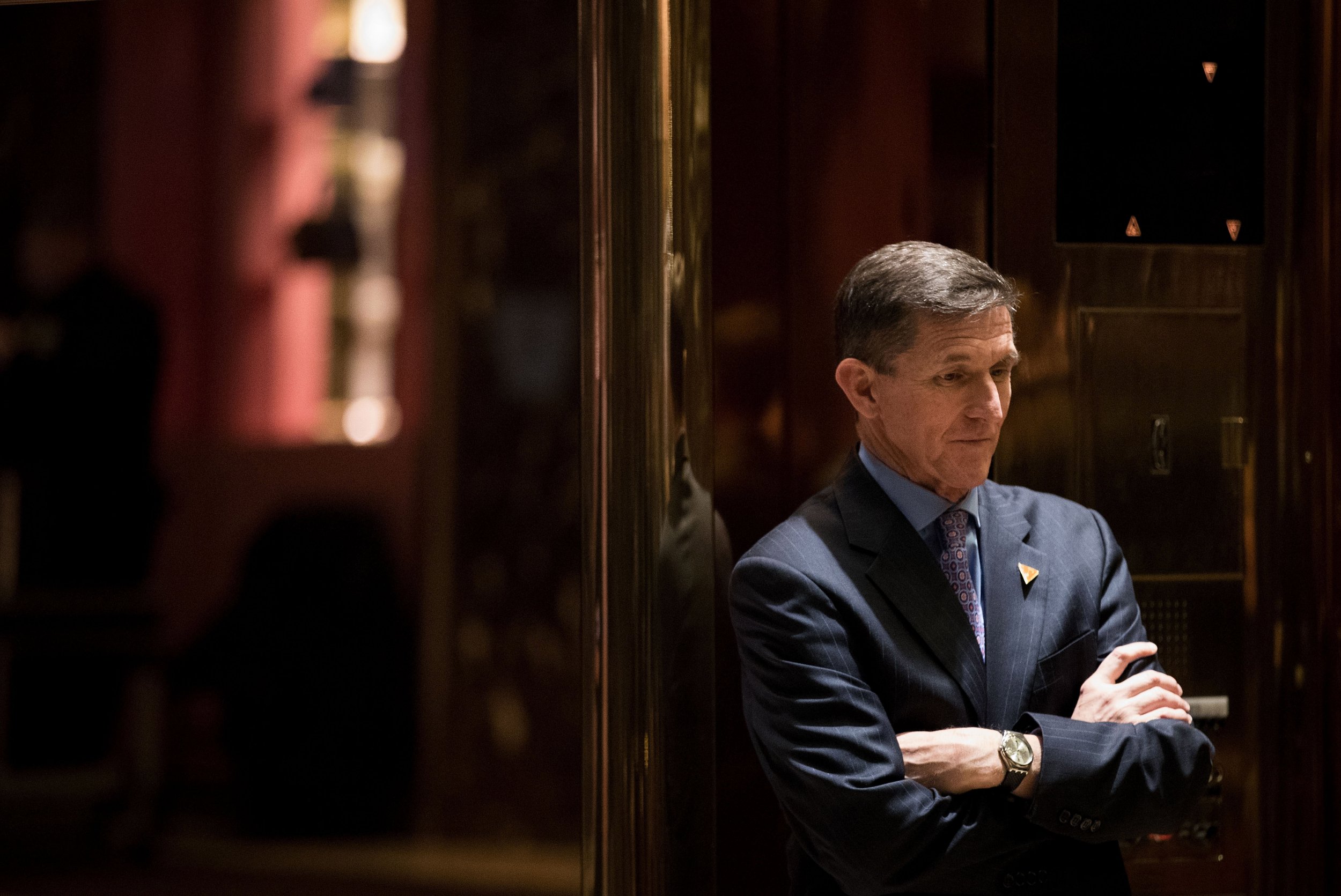 Donald Trump has a Russia problem. Throughout his chaotic campaign, and into his free-wheeling presidency, critics have accused his administration of being unusually, inappropriately close to Moscow.
On Monday night, these allegations claimed their highest-profile victim. A mere 24 days into his role as Trump's national security adviser, Michael Flynn resigned, saying he had inadvertently mislead then Vice President-elect Mike Pence about his phone calls with the Russian ambassador. According to leaks from current and former U.S. officials, Flynn discussed easing sanctions with Russia before Trump had even taken the oath of office.
Hours after Flynn left, a new blow struck the Trump administration. On Tuesday, the New York Times reported that several of Trump's aides had been in regular contact with Russian intelligence officers and members of the government.
One of the implicated people, the Times' sources say, is Trump's former campaign chairman Paul Manafort, who worked as an adviser for the former Ukrainian President Viktor Yanukovych, a close ally of Russian President Vladimir Putin. He denied the charges. "I have never knowingly spoken to Russian intelligence officers," Manafort, who has done business in Russia, told the Times.
Read more: Trump campaign had contact with Russian intelligence, New York Times reports
That may be true. But when you are dealing with Russian associates, as Manafort—who holds business interests in both Russia and Ukraine—reportedly was, you surely must be aware that there is a possibility of surveillance from Russian intelligence officials, according to several people who worked in Russia. "It is almost impossible for me to believe that somebody who worked for Yanukovych, who has those connections, who was heading the Trump campaign, is not being approached by people in the Russian government constantly," says Jamison Firestone, co-founder of the Russian law firm Firestone Duncan.
Current members of the U.S. government agree. "Manafort, he's no rookie, you think he would have a better experience level with this," says a State Department official, speaking to Newsweek on condition of anonymity as they were not authorized to speak publicly on the matter. "This is why you practice very, very discreet protocols when you are dealing with Russians. Not even just with Russians, but when you are in Russia. You have to be impeccable in your behavior, because you just don't know who you are dealing with." (Manafort has not returned Newsweek's requests for comment.)
A British private investigator who asked to remain anonymous because of the sensitivity of his work echoed the official's concerns. "Manafort is clearly being disingenuous," the investigator told Newsweek. "Or else he is phenomenally stupid."
Every major company in Russia has what is known as an "economic intelligence unit," staffed with up to a dozen members with prior links to the Russian secret services, he adds. When these Russian operatives depart the service, they never truly leave, but are placed on what was once known as the "active reserve list," to be called upon at the state's beckoning. Many Russians that foreign businessmen "talk to are intelligence officers, there's no way of getting around it," the investigator says. "It's so pervasive."
Firestone, who fled Russia in 2010 following the death of his employee Sergei Magnitsky, tells Newsweek that Russian intelligence officers would have flocked to a man like Manafort. "[He] is at that level where you get approached by two types of people: intelligence officials who look like businessmen, and government officials."
Kremlin spooks, Firestone believes, are particularly attracted to anyone with links to the U.S. government, U.S. security issues or, to a lesser extent, the oil and gas industries.
The question is: If Russian intelligence officers approached other members of team Trump, who may have also conducted business in Russia, or with Russian associates, would they have known who they were really dealing with?
"In most cases, when you're approached by Russian intelligence, you don't know it," says Scott Blacklin, the former president of the American Chamber of Commerce in Russia. Blacklin, who now runs a consultancy in Washington, D.C., believes that Russia's security apparatus likely monitors most, if not all, Americans working within the country. "Most of the time it's just observation," Blacklin says. "Very rarely is it engagement and recruitment."
But when observation turns into something more, it can get seriously nasty. One U.S. lawyer, who worked in Russia and asked Newsweek to remain anonymous, said that the Kremlin's observation isn't always passive. They're looking for kompromat (compromising information), he told Newsweek. "Sex, affairs, financial problems, alcoholism—they study the profile of someone and find their vulnerability and exploit that."
Blackmail is a messy business, however, and one that Blacklin says Russia wouldn't deploy often. "They don't want complications," Blacklin adds. "The simplest thing is to create a nexus of relationships."
Firestone believes he experienced this firsthand after his client the Hermitage Fund reported that government officials and organized criminals had taken over their companies. Immediately after notifying the Russian police, but before that fact was made public, his phone rang. "I was invited in to meet the head of a big Moscow company," Firestone says. "This was someone who was possibly an intelligence official who had been tasked with, these people are onto something, let's find out what they know."
The fictitious businessman is a trick that Firestone says he knows well. "Sometimes they have too much information to be normal, sometimes they're asking you to do something that just doesn't seem right," he says. To sweeten the deal, money might be offered, either in exchange for services rendered, or in the anticipation of future help. "It's very hard not to get sucked in," Firestone adds.
The accounts of American businessmen, British investigators and government officials also serve as a warning to Trump's team: it's no easy feat to work in government and deal with foreign entities, not least ones who might wish to harm U.S. interests. They say it is an environment all too different to the business world, with its own rules of conduct.
"There is a naivety amongst a lot of people [in Trump's administration]," says the State Department official. "When you're not in the government, you may practice secrecy and discretion in your business practices. But there is a different sort of perspective you have once you join the government and you realize you are exposed to the reality of what the world is," he continues. "You have to be careful."