Russia Just Laid the Trap to Start Ukraine War
Russian-backed separatists in eastern Ukraine have accused Kyiv of rolling out military hardware in preparation for a strike, further stoking fears that a miscalculation could lead to war.
An unnamed representative of the people's militia of the self-proclaimed Donetsk People's Republic (DNR), which has been embroiled in conflict in the Donbass region since 2014, told RIA Novosti that weapons were being "actively drawn to the areas of the contact line to form strike groups."
The DNR representative described how "multiple launch rocket systems, armored formations and equipment for destroying minefields" had arrived in the area.
Earlier, the militia of the self-proclaimed Luhansk People's Republic (LPR), Andriy Marochko, told the Russian state-run news agency that Kyiv had placed launch rocket systems and howitzer artillery to the line of contact in Donbass. Both Moscow and Kyiv are accusing the other of provocations and the latest claims raise the specter of war.
Experts have presented Moscow's annexation of the separatist republics as one possibility on a continuum of strategies the Kremlin is considering, ranging from a diplomatic end to a full-scale invasion.
In December, President Vladimir Putin accused Ukraine of committing "genocide" against the Russian-speaking population in Donbass. This could be a pretext for deploying Russian troops and seizing the parts of Donetsk and Luhansk regions controlled by Kyiv.
Citing an unnamed Ukrainian diplomat, The Moscow Times reported that the Kremlin could deploy troops to Donbass to test a western response.
Russian forces are widely believed to have been in Donbass since 2014, backing LPR and DNR forces, although Moscow has always denied any involvement in the region.
However, on Wednesday, Vladimir Vasilyev, the parliamentary head of the ruling United Russia party, gave a show of support to the forces that Moscow claims not to back—by saying Russia should deliver military supplies to separatist republics.
This move would be "to deter aggression, as well as to take all necessary measures to ensure the safety of citizens," he told the state-run Rossiya 24 channel.
Earlier on Wednesday, Senator Andrei Turchak, United Russia's general council secretary, had said Moscow should "increase their defense capability and deter the military aggression clearly being prepared by Kyiv. The Kyiv regime must be stopped," The Moscow Times reported.
Alexander Khrebet, from Ukrainian news outlet Zerkalo Nedeli (ZN.UA), told Newsweek that the authorities in Donetsk and Luhansk "constantly complain to Russia that Ukraine is conducting aggression against them. This tactic has not changed since 2015, after the large-scale fighting in Donbas ended.
"Recently, though, there have been more and more complaints about NATO countries supplying weapons to Ukraine." This uptick started after Ukraine began using the Turkish strike drone Bayraktar in late October 2021.
"Such complaints continued after promises and actual deliveries of weapons from the United States and other NATO countries, in particular Latvia and Lithuania.
"It seems to me that Russia does not need a pretext to support the so-called Donetsk and Luhansk People's Republics, as it has been doing it for eight years," Khrebet said, adding that Russia's "direct and open non-military support" of the separatists "is already in place."
Russia has amassed more than 100,000 troops by Ukraine's border and has repeatedly denied plans that it plans to invade.
However, Ukrainian military experts argued in an article in the Ukrayinska Pravda newspaper that there were not enough Russian troops for an all-out offensive and escalated cyber-warfare from Moscow was more likely.
"A full-scale invasion to capture most or all of Ukraine in the near future seems unlikely," they wrote.
Moscow awaits written responses to its demands, which include guarantees that Ukraine will not join NATO and a drawdown of the alliance's presence in eastern Europe.
Meanwhile, President Joe Biden has sought to present a united front among Western countries, declaring "total unity."
Pentagon press secretary John Kirby said some 8,500 combat-ready U.S. troops were on high alert but they would only be deployed if NATO activates a rapid-reaction force, but there are no plans to deploy to Ukraine itself.
Amid the ramped-up rhetoric, Russian foreign affairs spokeswoman Maria Zakharova accused the U.S. of "wanting to morally destroy the citizens of Ukraine."
She compared Kirby's comments that Russia had "no intention right now of de-escalating" with those made by Alexey Danilov, the secretary of Ukraine's National Security and Defense Council, who said there was "no reason...to assert that there will be a full-scale offensive" by Russia.
On her Telegram channel Monday, Zakharova wrote that Kyiv had been "begging" the U.S. "to lower their rhetoric, but Washington is pushing its own line."
Meanwhile, Fiona Hill, a former national intelligence officer for Russia and Eurasia who advised Presidents George W Bush and Barack Obama, said Putin's goal was not just ending hopes of Ukraine joining NATO, and taking more territory, but "to evict the United States from Europe."
She wrote in The New York Times: "As he might put it: 'Goodbye, America. Don't let the door hit you on the way out.'"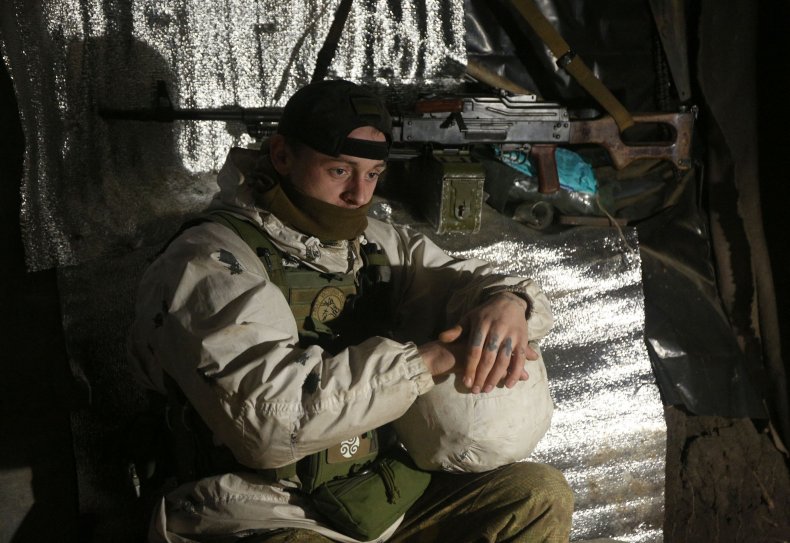 Update 01/26/22 11:30 a.m. ET: This article was updated to add new information.
Update 01/27/22 11:15 a.m. ET: This article was further updated with comment from Ukrainian journalist Alexander Khrebet.