Russia, Losing Ground in Kyiv, Now Says 'Main Goal' to Free Eastern Ukraine
Russian troops are looking to reconvene in eastern Ukraine as they continue to lose ground in the capital of Kyiv.
General Sergey Rudskoy, the head of the main operational directorate of the Russian General Staff, said during a Friday briefing that the military will be shifting its focus onto the eastern regions of Ukraine.He said that Russia will no longer try to claim other cities in the country but will attempt to "liberate" the east—particularly the separatist region of Donbas. He also claimed that the "first phase" of this new plan was already complete and that Ukraine's "combat capabilities have been significantly reduced."
Donbas contains the two separatist republics of Ukraine, the Luhansk and Donetsk People's Republics. According to Rudskoy, 93 percent of the Luhansk Republic has been liberated already, while 54 percent of the Donetsk Republic has had a similar fate.
"Initially, we did not plan to storm them in order to prevent destruction and minimize losses among personnel and civilians," explained Rudskoy, "and although we do not rule out such a possibility, however, as individual groups complete their tasks, and they are being solved successfully, our forces and means will concentrate on the main thing—the complete liberation of Donbas."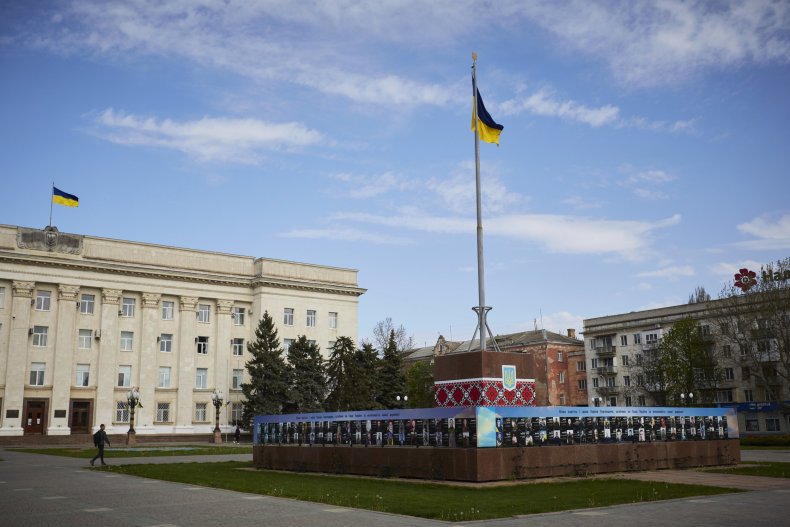 The change in plans is something that the U.S. has been aware of and has monitored closely. According to an anonymous senior U.S. defense official who spoke with ABC News, airstrikes are still targeting the city of Kyiv, but they believe that the Russian army will be moving elsewhere for cities to claim. Specifically, they appear to be eyeing the eastern Ukraine separatist region of Donbas as their next big target.
"We think they are trying to not only secure some sort of, more substantial gains there as a potential negotiating tactic at the table," said the official, "but also to cut off Ukrainian forces in the eastern part of the country."
The official also gave an update to the southern city of Kherson, which previously was claimed by Russian forces. That victory might be short-lived, the official claimed, as the army's influence doesn't appear to be as stable as it was originally. This instability is due to Kherson's status as a port city. While protecting all parts of Ukraine is important, the reclamation of Kherson will be extremely important as it will help restabilize the Ukrainian economy. With Ukrainian forces most likely already preparing for a reclamation, Russia's army could be stuck.
"It's a significant port city," the official told ABC News. "If they have ground desires on Odessa [in southern Ukraine], losing Kherson and therefore putting their troops between Ukrainians, you'll be sandwiched between Ukrainian forces in Kherson and those in Mykolaiv."
While it's unknown what exactly will happen with this new shift in Russian military plans, more casualties are expected to come because of it. The United Nations reports that over 1,000 civilians have died in the conflict since it began.
Update 03/25/22, 5:12 p.m. ET: This story was updated with additional information.