The World Anti-Doping Agency (WADA) has handed a four-year ban to Russia, preventing the country from participating at the 2020 Tokyo Olympics and the 2022 FIFA World Cup.
Russia, however, will be allowed to take part in next year's European soccer championships, when it will also be one of the competition's host countries.
That is because UEFA—European soccer's governing body—is not considered a "major event organization" when it comes to anti-doping verdicts.
WADA lists as major event organizations all the bodies that govern a sport at a global level, such as FIFA, FINA—the International Swimming Federation—and IAAF—International Association of Athletics Federations.
FIBA and UCI—the governing body of world basketball and cycling respectively—also fall in the same category.
A UEFA spokesman told Newsweek that European soccer's governing body had "no comment to make on the matter" and indicated WADA's ruling had no impact on Euro 2020.
Russia qualified for the tournament as runner-up in Group I and has been drawn in Group B, along with Denmark, Finland and Belgium.
Significantly, the country is among the host venues for the event, with St. Petersburg's Krestovsky Stadium set to host Russia's games against Belgium and Finland, as well as Belgium's clash against Finland.
Unlike Euro 2020, however, the FIFA World Cup in Qatar two years later is among the events affected by the ban.
Russia's Anti-Doping Agency (RUSADA) has 21 days to appeal the sentence. If it does so, the appeal will be referred to the Court of Arbitration for Sport.
Should the ruling be upheld—and there is no indication it won't—the Russian flag will not be flying in Qatar for the 2022 FIFA World Cup, nor in Tokyo for the summer Olympics next year.
The sentence, however, poses a major logistical headache for world soccer's governing body.
The European section of the 2022 World Cup qualifiers is scheduled to begin in March 2021.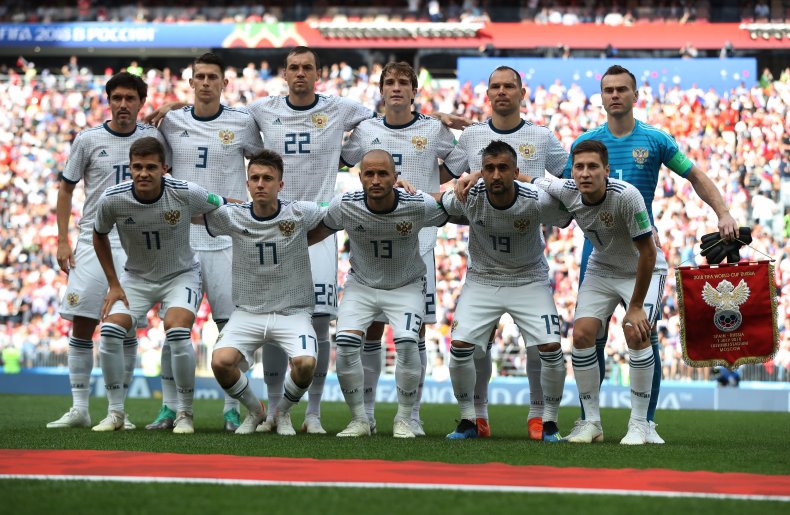 The draw will depend in part from the result of Euro 2020 and of the 2020-21 UEFA Nations League—a biennial tournament that pits together UEFA members.
Should Russia be allowed to take part in both events—which both fall under UEFA's jurisdiction—it could find itself in a position to qualify for a tournament it is currently banned from.
FIFA is well aware of the potential complications laying ahead.
"FIFA has taken note of the decision taken by WADA Executive Committee today," a spokesperson for world soccer's governing body told Newsweek.
"FIFA is in contact with WADA and ASOIF—Association of Summer Olympic International Federations—to clarify the extent of the decision in regards to football."
It remains to be seen whether different sports will adopt a similar approach and Russia will be allowed to compete in continental tournaments.
"The FIVB will not comment on the RUSADA compliance situation until the full legal process, including all appeals, has concluded," the FIVB—the international volleyball federation—told Newsweek in an emailed statement.
It is worth noting, however, that the four-year punishment is not a blanket ban on Russian athletes.
Russian athletes will be allowed to compete as prove they are not linked with the doping scandal and that they have remained clean, they will be allowed to compete under a neutral flag.
Last year, 168 Russian athletes took part in the Winter Olympics in Pyeongchang, South Korea, under a neutral flag.
The same applies to athletics, where Russian athletes have competed under the IAAF flag since 2015 and 30 of them took part in this year's World Athletics Championships as "Authorized Neutral Athletes."
As part of Monday's ruling, Russia has also been banned from bidding for the right to host the 2032 Olympic and Paralympic Games.
Uncommon Knowledge
Newsweek is committed to challenging conventional wisdom and finding connections in the search for common ground.
Newsweek is committed to challenging conventional wisdom and finding connections in the search for common ground.
About the writer
Dan Cancian is currently a reporter for Newsweek based in London, England. Prior to joining Newsweek in January 2018, he was a news and business reporter at International Business Times UK. Dan has also written for The Guardian and The Observer.