Russia Duma Deputy Says Kremlin Fighting 'Fourth Reich' in Ukraine
Russian state Duma deputy and federal television talk show host Vyacheslav Nikonov said on Wednesday that his country is fighting against a "Fourth Reich" of "imperialist states" on the territory of Ukraine.
"The force that came against us in the Great Patriotic War is forming back up," Nikonov said.
In Russian, the phrase "Great Patriotic War" refers to the Soviet Union's nearly four-year struggle against Nazi Germany, which invaded the USSR on June 22, 1941. It does not take into account the official Soviet support for Hitler's Germany up until that time, including the Nazi invasions of Poland in September 1939 and France in May-June 1940, and during the Battle of Britain from June-October 1940.
Nikonov sees a new fascist coalition forming against Russia with the help of the West.
"The block of imperialist states will not be complete until it coincides with the Hitler coalition," Nikonov said live on the air of Russia's First Channel. "We're talking about a Fourth Reich. And what kind of Fourth Reich would it be without Finland? How do you have a Fourth Reich without Norway? How do you have a Fourth Reich without Japan? It's all forming back up."
The comments came in the context of a discussion about potential NATO membership for Finland and Sweden, along with talk of the possible inclusion of Japan in the new AUKUS alliance, a trilateral security pact among member states Australia, the United Kingdom and the U.S.
"Among the Asian countries, Japan is unique in that it hates most of all who?" Nikonov asked rhetorically.
"The Americans," one of his guests answered incorrectly.
"Russia," Nikonov, in his role as host, corrected. "The Japanese hate us as a result of American propaganda. We see the same thing in Ukraine."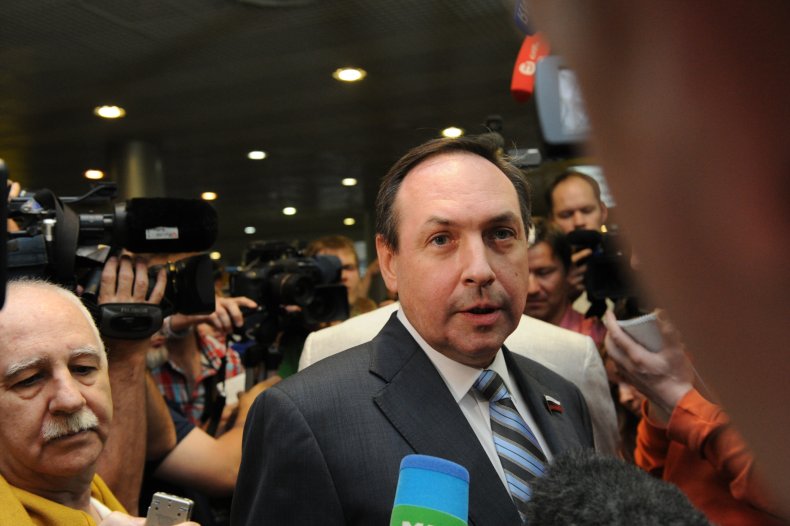 After Nikonov's panel of experts was given a chance to offer up commentary about how "the expansion of such military blocs is an indicator of preparations for war," and "the Americans are building up regional sparring partners against Russia and China," the Duma deputy host took back the floor to offer his final word.
"That's why it's so important what we're doing in the international arena," Nikonov said. "We are forming, if you will, an 'anti-imperial coalition' or a 'coalition of countries free from American domination.' It's the only way to stop this evil."
"What our heroic military forces are doing in Ukraine is putting a stop to these imperialists," he added. "Strength is in strength. Our task is right. Victory will be ours."