Russian Economy Crumbling as Officials Reveal Inflation Set to Soar to 20%
Vladimir Putin's invasion of Ukraine is expected to hit the pockets of Russians hard with inflation for the rest of the year set to soar.
Alexei Kudrin, chairman of Russia's accounts chamber, a parliamentary financial body, said that preliminary estimates showed base rate inflation could reach as high as 20.7 percent in the 2022/2023 financial year.
Since Putin's invasion of Ukraine on February 24, the U.S. and the international community have imposed tough sanctions.
These include targeting oligarchs and financial institutions such as Alfa Bank and Sberbank, as well as critical major state-owned enterprises.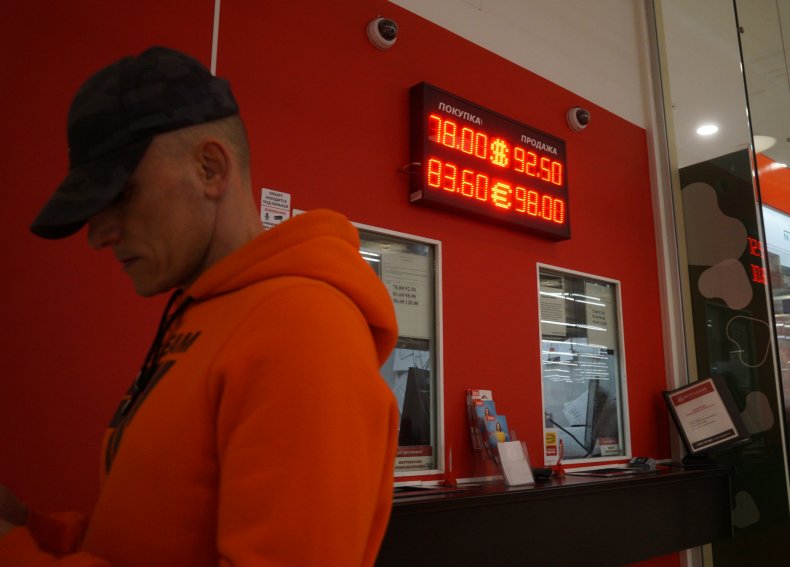 Kudrin, a former finance minister, said that "the economy is going through a difficult period" and that even a more conservative inflation forecast of 12.4 percent still meant that "the uncertainties are very large."
"This is a crisis that is bigger than the 2009 crisis, bigger than the pandemic crisis," Kudrin said, according to news agency RIA Novosti.
"Of course, we are forced to admit that the real incomes of the population will decrease," he told Russian lawmakers.
The impact of the Western sanctions imposed on Russia will make themselves felt in the coming months and years, according to analysts.
Earlier this month, Capital Economics projected that Western sanctions would shrink Russian gross domestic product by 12 percent this year while its inflation forecast was higher than Kudrin's—at 23 percent year on year.
Meanwhile, the European Bank for Reconstruction and Development has projected the Russian economy would shrink by 10 percent this year, making it the country's deepest recession for almost 30 years.
Annual inflation in Russia accelerated to 17.62 percent as of April 15, its highest since early 2002, Reuters reported, as sanctions and a volatile rouble spiked prices.
In March, Russian inflation reached an annual 16.7 percent, CNBC reported, but the central bank cut its main interest rate from 20 percent to 17 percent earlier to mitigate the impact of sanctions.
The World Bank has projected that Russian GDP will shrink by 11 percent this year, which according to CNBC would mean a hit of around $200 billion to the economy.
The IMF last week said the Russian economy would contract 8.5 percent in 2022 and a further 2.3 percent the following year.
On Monday, White House press secretary Jen Psaki said the U.S. is likely to impose more economic sanctions against Russia soon and that "no one is safe from our sanctions."
Adding further pressure on Russia is the prospect it might default on its foreign debt after the U.S. Treasury blocked Moscow from using frozen dollars in American banks.
Update 04/27/22, 11:15 a.m. ET: This article has been updated with further information.