Russian Military Enters Syria Area Left by U.S. Allies After Donald Trump's Withdrawal Announcement
The Russian military has entered an area of northern Syria once held by U.S.-backed, Kurdish-led forces who have opted to hand over control in the wake of President Donald Trump's announcement of a troop withdrawal from the conflict-ravaged country.
Footage shared Tuesday by the Russian Ministry of Defense showed Russian military police vehicles driving through the streets of the area near Manbij, a city located in the northeast of Syria's Aleppo province. Control of the city has changed hands multiple times since 2011, when rebel and jihadi uprising forces forced the Syrian government to withdraw. A mostly Kurdish force known as the Syrian Democratic Forces have been the most recent administers.
Located on the frontlines of three rival campaigns in Syria, however, the Syrian Democratic Forces have ceded positions to the central government, an ally of Russia and Iran, as the U.S. planned to withdraw roughly 2,000 troops embedded along local allies battling the Islamic State militant group (ISIS) for fear of a potential offensive by Turkey and its own local partners.
"Today we started patrolling the security zone near the city of Manbij and its surroundings," Russian military police spokesperson Yusup Mamatov said Tuesday, according to the state-run Tass Russian News Agency. "The task is to ensure safety within the zone of responsibility, to control the positions and movement of armed groups."
Manbij was seized by insurgents in 2012, as the U.S. and regional allies such as Israel, Qatar, Saudi Arabia and Turkey sponsored efforts to oust Syrian President Bashar al-Assad, who they accused of human rights abuses in his move to crack down on growing dissent. Just two years later, however, ISIS overran the town as an increasingly Islamist opposition lost land and influence to the militants that would go on to take over half of Syria and neighboring Iraq.
Also in 2014, the U.S. formed an international coalition to begin bombing ISIS and, the following year teamed up with the Syrian Democratic Forces to battle ISIS as Russia entered the fight on Assad's behalf. In two separate campaigns, the U.S.-backed Syrian Democratic Forces took on ISIS across northern and eastern Syria, while the pro-Syrian government offensive targeted both the militant group and various insurgent organizations elsewhere across the country.
The Syrian Democratic Forces assumed control of Manbij in 2016, only to find themselves threatened by a new foe. Turkey opposed U.S. support for the Syrian Democratic Forces, whose core element—the People's Protection Units (YPG)—Ankara linked to an ongoing Kurdish separatist insurgency at home. Pentagon-backed Kurdish fighters found themselves targeted by formerly CIA-sponsored rebel groups now being primarily endorsed by Turkey.
This period also saw cooperation between Russia and the Syrian Democratic Forces, which allowed Syrian troops to take over some positions in the common interest of blocking any advance by Turkey and its rebel allies. In early 2018, pro-government forces also worked alongside Kurdish fighters in an unsuccessful attempt to thwart a Turkish takeover of the nearby northwestern Aleppo district of Afrin.
Turkish threats have loomed over Manbij ever since, even as the U.S. send troops to conduct joint patrols. As the Syrian Democratic Forces claimed major victories against ISIS in Syria's far east, Turkish President Recep Tayyip Erdogan against vowed to escalate and, after the Turkish leader phoned his U.S. counterpart, Trump announced he had ordered the Pentagon to begin a timely, phased withdrawal of troops from the country.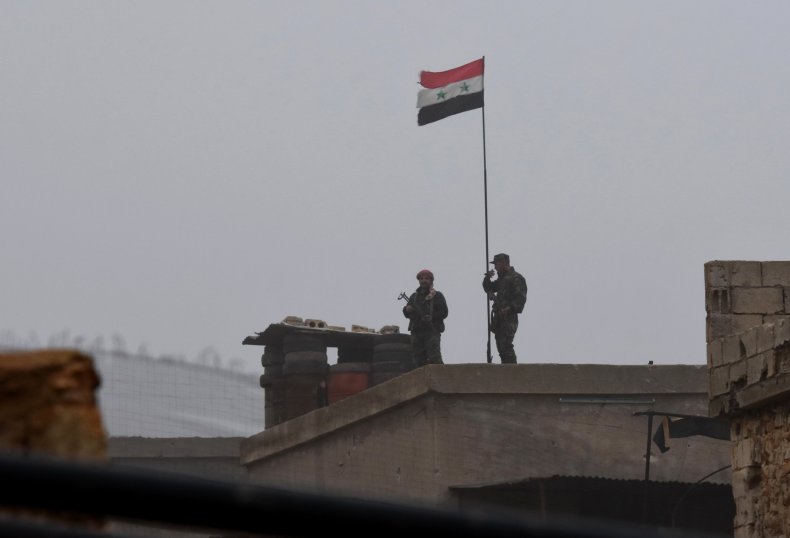 The news was met with opposition from senior lawmakers and officials, four of whom—Defense Secretary James Mattis, lead anti-ISIS coalition envoy Brett McGurk and Pentagon chief of staff Kevin Sweeney—have since resigned. Trump has argued that ISIS had been defeated to the point that U.S. troops were no longer needed and Syria, Russia and Iran would need to step up.
A number of Trump officials, however, have actually attempted to expand the anti-ISIS mission to include expelling forces suspected of being under Iranian command and ousting Assad from power. Russia welcomed the U.S. departure as the Syrian government considered the Pentagon's presence illegal from the beginning.
At a time when regional countries had been rebuilding ties with Assad, the Syrian Democratic Forces too have sought to advanced oft-stalled talks between their self-ruling administration and Damascus, which has only considered granting a limited degree of autonomy to such Kurdish-held regions. Late last month, Syrian troops were seen officially raising the national flag in areas of Manbij, where Russia has now sent patrols to prevent any potential violence between Turkey-backed forces and Kurdish fighters.
"Since January 7, 2019, Russian military police units started patrols along 5 km security zone near Manbij city on the al-Arimah - Yulanli - Saydiyah - Dali Fa'r - Bawz Kij route 27 km long," the Russian Defense Ministry's Center for Reconciliation and Refugee Affairs said Tuesday in its latest daily bulletin.
Turkey has also amassed troops, equipment and allied Syrian rebel groups near Manbij as confusion surrounded the timeline of an anticipated U.S. exit and the possibility of ongoing U.S. support for Kurds.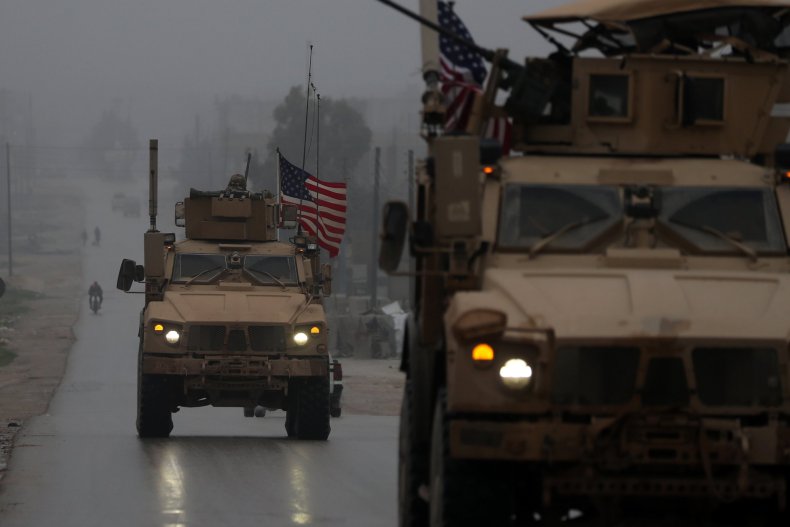 During a press conference Sunday in Jerusalem, White House national security adviser John Bolton vowed unwavering U.S. support for Israel against their common foe Iran in Syria. He also described lingering U.S. objectives "that condition the withdrawal" from Syria, which included protection for Kurds that fought ISIS. He then set out for Ankara, but Erdogan canceled a planned meeting between them Tuesday as the Turkish leader warned Bolton had made a "serious mistake" during a speech to members of parliament.
Meanwhile, Secretary of State Mike Pompeo also deployed to the Middle East to speak with Jordan and members of the Gulf Cooperation Council, in hopes of securing U.S. support for Trump's plan and to further coalesce against Iran. On the eve of his departure, Pompeo told CNBC News on Monday that "President Erdogan made a commitment to President Trump" that "the Turks would continue the counter-ISIS campaign after our departure, and that the Turks would ensure that the folks that we'd fought with, that had assisted us in the counter-ISIS campaign would be protected."
Erdogan, however, has denied making any such concession. His spokesperson Ibrahim Kalin said during a press conference Tuesday that Turkey further expected the U.S. to hand over control of its bases in northern Syria to local rebels groups and take back the arms it provided to Kurdish fighters.