Russia's Naming of Military Units After European Cities Is Provocative, Experts Say
Russia has renamed several of its military units after European places, including the capitals of Germany and Poland.
President Vladimir Putin signed the decrees on Saturday and the new names were made public on Monday. Among others, the 68th Tank Regiment was renamed for Berlin and an army regiment was renamed for Warsaw, Radio Free Europe reported. Other units and regiments were named for cities and places in Romania, Belarus and Ukraine.
At a time when tensions remain heightened between Russia and NATO, the move appears provocative despite Moscow's claims that the names are only intended to "to preserve glorious military and historic traditions." However, the "historic traditions" of these places in relation to Russia would come from formerly being part of the Soviet Union, which officially dissolved in 1991. As Radio Free Europe pointed out, the new names are reminiscent of the World War II era, when Josef Stalin held power in the communist state.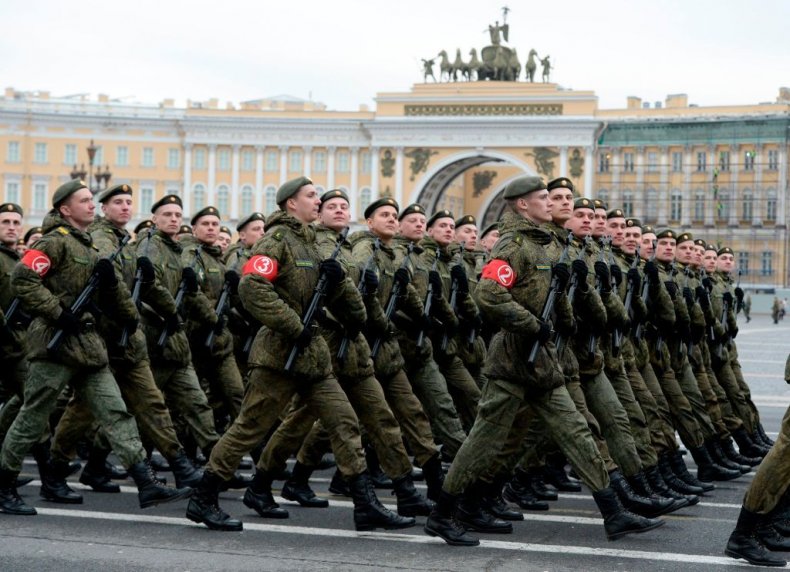 Back in January, Moscow made a similar move, renaming a regiment of the Russian air force after Tallinn, the capital of Estonia. That decree said that the decision was meant to "raise spirit of military obligation" and "preserve holy historical military traditions," The Independent reported.
Derek Averre, an academic who specializes in Russian foreign policy at the University of Birmingham, in the U.K., told the British news site that the move was likely intended to be "provocative."
"Russia is concerned that its influence is being further marginalized in the Baltic States and the dual NATO-EU enlargement has been pushed further eastwards," Averre said. "The Russians like to make a point and as part of that, the strategic narratives of Soviet Russian glories in the past."
The academic explained that in recent years, Moscow has made use of these "narratives" to present Russia as the historic "savior of Ukraine and Eastern Europe."
Europe has eyed Russia's expansionist ambitions wearily in the wake of the country's 2014 decision to support separatist Ukrainian rebels and annex the Crimean peninsula. Russian neighbors Norway, Poland, Sweden, Estonia, Latvia and Lithuania have expressed their concerns, fearing Moscow could make similar moves against their sovereignty.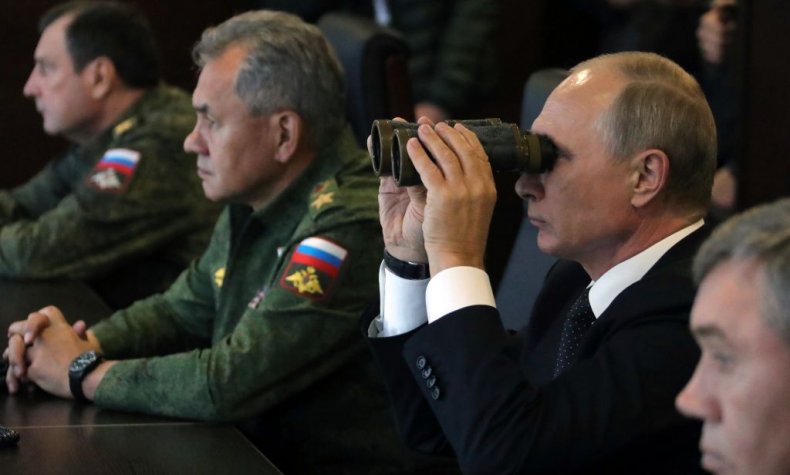 In early June, Russia promised "consequences" in response to Norway's plan to more than double the presence of U.S. Marines within its borders starting next year. In May, reports circulated suggesting that Poland had offered $2 billion for the U.S. to permanently station troops within its borders. The Kremlin responded to the reports, saying such a move could "lead to counteraction from" its side.
As for Washington, under the administration of President Donald Trump, tensions have increased with traditional European allies and NATO. At the same time, Trump has expressed a desire to improve ties with Moscow. With regard to Ukraine, Trump has distanced himself from taking a firm stance on the future of Crimea. However, national security adviser John Bolton emphasized last week that the U.S does not consider Crimea to be part of Russia and does not plan to recognize the annexation.
Putin and Trump plan to meet in Finland's capital, Helsinki, on July 16 following a NATO summit, an official White House announcement confirmed last week. The two leaders have crossed paths twice since Trump began his term in office, however both times the meetings came on the sidelines of larger summits.